Yesterday we got our 4th confirmed Hindenburg Omen signal with all the others occurring over the last two weeks.  We had a similar occurrence in September last year before the October swoon.  A Hindenburg Omen is not a timing tool nor does it mean a crash will happen.  It simply means that a correction of 15% or greater has a 25% chance of occurring over the next four months.  So the window is between July and October.  In fact all corrections of 15% or greater over the last 30 years save one have had an Omen signal precede the correction.  Stated another way the pre-conditions for a big correction or a crash have been met and the clock runs over the next 4 months.
Most of you know I am a bear and I have been positioned as one for many months.  I have margin ammo to add to my positions should I gather more confidence.  At the very least for you bulls this should serve as a heads up that the underlying market internals are not healthy.  My belief is that this is the most dangerous stock market we have ever seen since the inception of the Dow Jones Averages in 1876.  The Global Central Bank manipulation has extended this cycle 13 moths longer than the previous record of 60 month advances which occurred in the bull market tops of 1987 and 2007.  Cycles can be stretched but not denied and I would contend that manipulation makes the hang over that much worse. The market is having trouble here at its 161.8% Fibonacci extension form the 2007-2009 low.  The 161.8% Fibonacci level is the Golden Ratio in nature and I suggest the market will have a very difficult time making it through this level in addition to all the fundamental headwinds that are beginning to appear.
I am not recommending you short this market today as we could make marginal new ATH's from here.  However, I think the risk reward is very skewed to the downside as we are now in the crash window and 13 months beyond the previous 4 year cycle advance record.  View this post today as a Public Service Announcement rather than a prediction or a recommendation.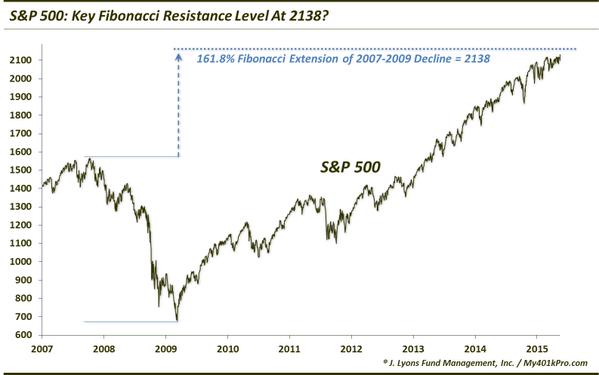 Comments »