Code Rebel (CDRB) a Maui based enterprise software firm had an IPO on May 19th.  The stock was sold through Burnham Financial and they priced about 1 million shares at $5.00 to raise $5 million.  Since the IPO the stock is up 640% and currently sports a $450 million market cap.  Their revenues and losses in 2014 were $223,000 and $679,000 respectively- a mere 1,800x Revenues.  Their premier product is iRAPP® terminal services products that allow users of Windows-based personal computers ("PCs") and Apple Inc. computers ("Macs") to simultaneously access programs on their PCs and Macs through a single device using a single monitor, mouse and keyboard.  They claim they are the only working product on the market but site Citrx, Microsoft, VMware and Red Hat as competitors.  Last time I checked they are not shabby competitors.
So what is wrong with an enterprising young CEO tapping the capital markets to raise money to grow his business?  Absolutely nothing, except this should not be a public company.  This is an early stage company that should be in the portfolio of a VC fund.  Why didn't they go that route instead? Maybe because they couldn't.  In the DotCom era IPO's of venture capital stage companies were routine at the end of the cycle.  Most of them were zeros once the capital markets closed.
Code Rebel qualifies as an emerging growth company which allows them to skirt a host of reporting requirements (buyer beware).
I found out about the company from a friend who is a software engineer on the island and he asked is this legit?  Yes it is likely legit in that it is a legal company and is registered with the SEC.  Is it worth $450 million? I will let you all be the judge of that.  I will provide some pieces to the puzzle that might suggest the valuation borders on the absurd and insane.
Arben Kryeziu is the CEO of the company but he is also the CEO of Bump Networks which apparently shares the same address and offices as the public company Code Rebel.  From the SEC filing of Code Rebel the address is:
Code Rebel Corporation
77 Ho'okele Street, Suite 102
Kahului, Hawaii 96732
(808) 871-6496
I snapped these photos today.  They mention the affiliation with Bump Networks in the S1 but since this is an enterprise class software company with a $450 million valuation I thought they might like to have some signage so their enterprise customers can find them when they visit.  My photos will show that a Code Rebel sign does not exist.  Surely a $5 million IPO deserves a sign…no?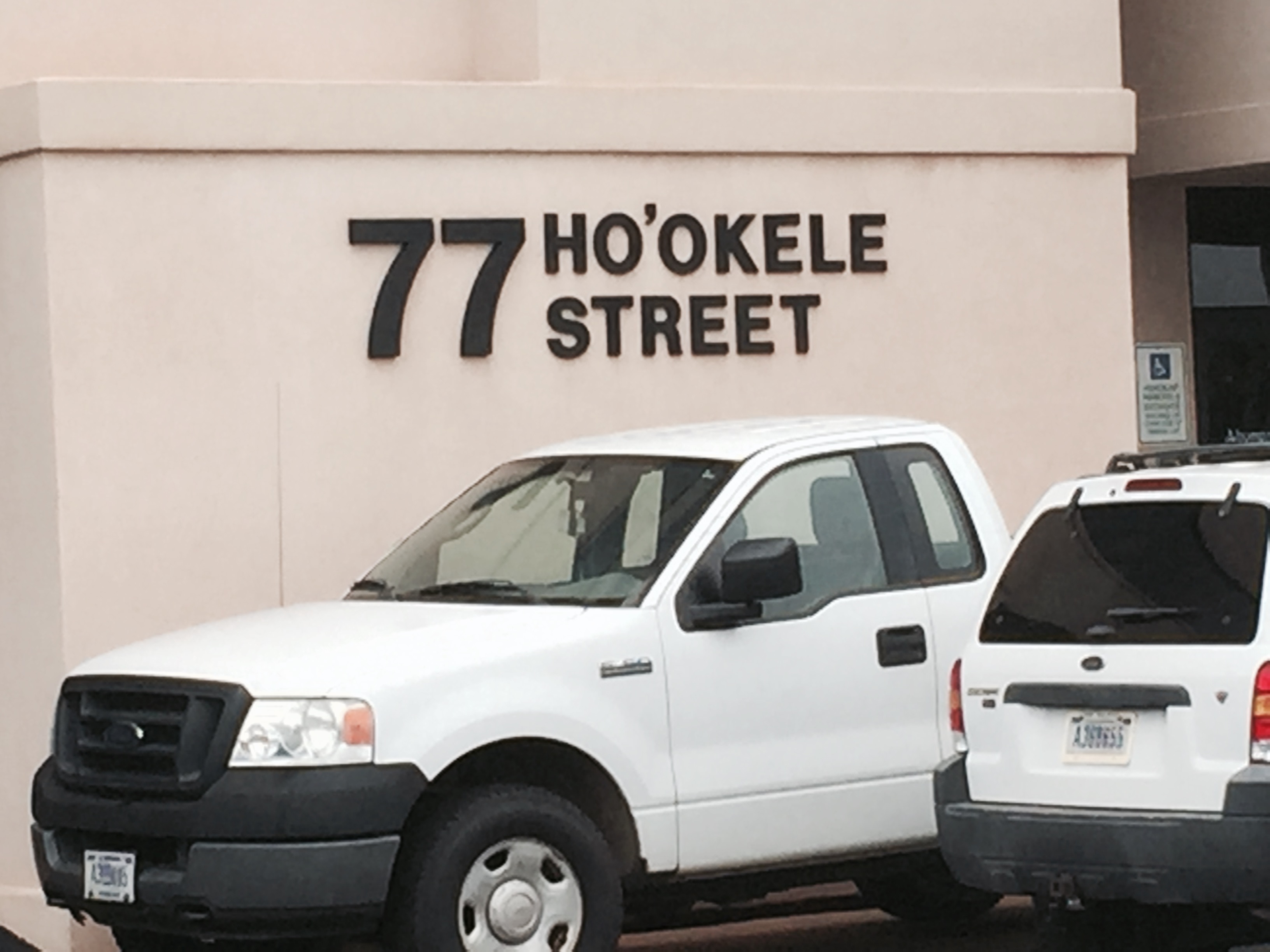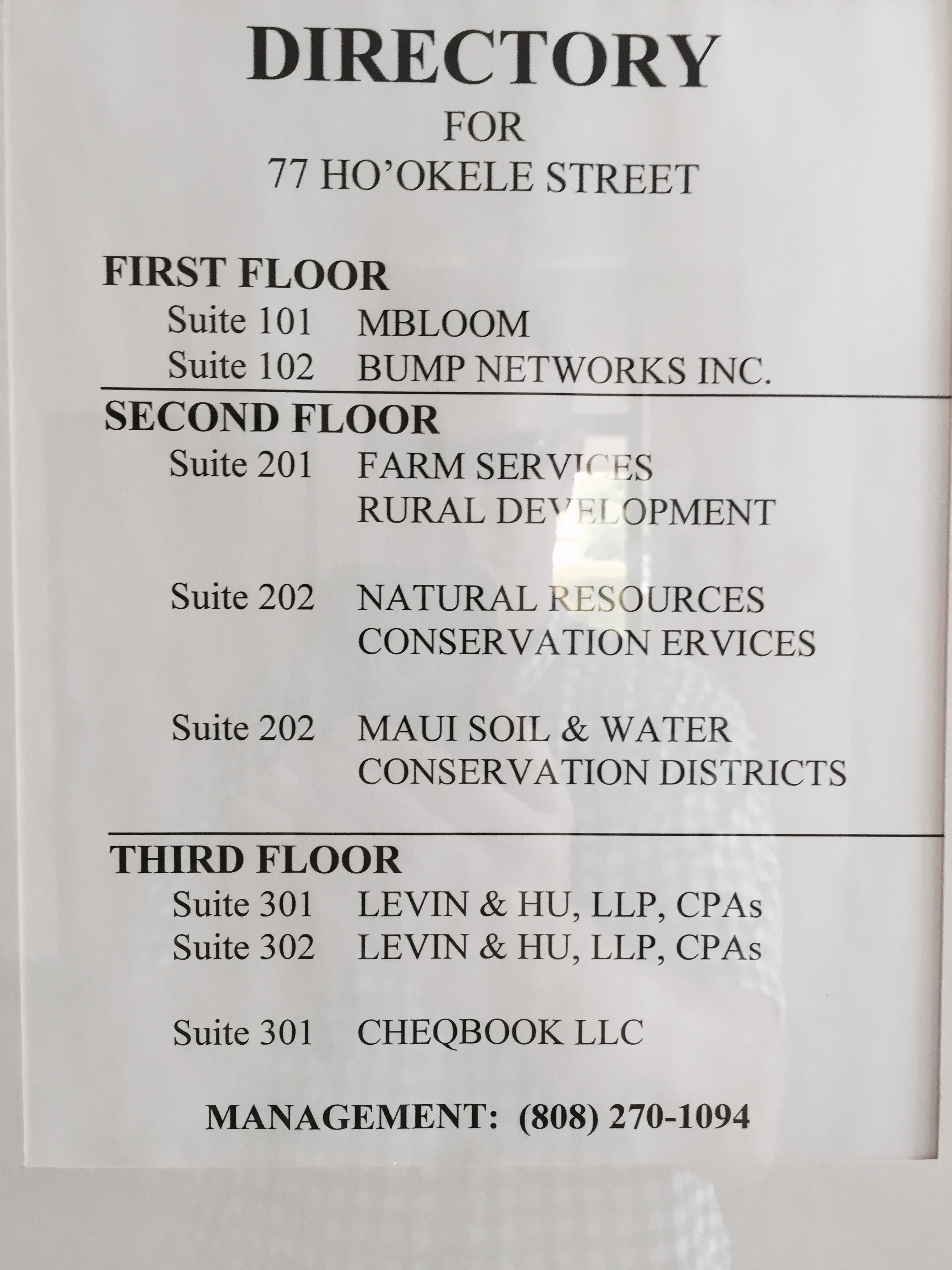 Additionally, the CEO was embroiled in a bit of controversy on the Island of Maui which may have pushed him into the very accommodating public markets via Burnham Financial:
http://www.bizjournals.com/pacific/news/2014/07/17/maui-fund-mbloom-in-conflict-of-interest.html
And finally last week the CEO Arben was featured on Fox Business Making Money with Charles Payne.  They were waxing philosophical about tech disruption, VC markets and Arben's company.  Arben plans to use the $5 million to expand his business and roll up other companies.  When asked about profits and revenues he was rather modest in that he said he could not disclose.  Funny but I thought he filed an S1 to IPO.  However, he did say they will be on the path to profitability shortly.  Charles asked "Your are not VA Linux?"  In case you are not familiar with LNUX here is the wikipedia description:
VA Linux Systems took its stock public in an initial public offering (IPO) on 9 December 1999, under the stock symbol LNUX. The IPO offered shares at $30, but the traders held back the opening trade until the bids hit $299. The stock popped up to $320 later in the day, and closed its first day of trading at $239.25—a 698-percent return on investment. However, this high-flying success was short-lived, and within a year the stock was selling at well below the initial offer price. As of 2005, this was still the most successful IPO of all time. The stock price reached an intra-day peak of 54 cents on 24 July 2002. It then soared more than 1,000 percent to an intra-day high of $6.38 on 11 September 2003. As of 26 November 2006, the stock closed at $4.64.
You can tell Charles and the panel had no clue who this guy was or the fact that CDRB was trading at 1,800 times revenues.  They should have at least pressed him for some revenue figures since he was already public.  At the end of a long Bull Market people don't do work or really care anymore because making money is so easy.  Charles needs folks to fill the chair.  Arben was only too willing.  You can be the judge on this nonsense but if I look out a year this is trading sub $5.00 unless I am missing something.  I would not short this just yet as the float is thin but put it on your radar screen.  The bull market is aging and just washed up on the shores of Maui.  Below is the Fox Video of Arben's interview. Arben speaks in the beginning and again at minute 10.  Enjoy the farce that is our capital markets.
If you enjoy the content at iBankCoin, please follow us on Twitter