I don't know how I feel about this whole 3D printing thing, I want it to succeed, but I feel it's like Industrial Hemp– an uphill battle. The other thing I am trying to figure out, is this stuff is made out of plastics, polymers, and metal alloys? Why not just use a cast, or a CNC machine? I think that's the issue here, you already have companies like Dupont, that can do anything with plastics, and every "Hot Rod Shop" has a CNC machine.
I understand these require pouring materials into a mold– that presents challenges for consistency, –and cutting material away from a block of metal like Aluminum, creating waste, but what is the cost to switch? Is it the right thing to do for the environment, in that it wouldn't require as much mining, but would it not have a negative reaction elsewhere?
Here's what current printers use, from WikiPedia:

Look at XONE's chart, it's ridiculous, and like a frat boy that does a bunch of blow in Vegas for his friend's 21st birthday, it gets way up to the top of the world. These longs are on a coke binge, doing shots of cheap tequila, then heading to the nearest bathroom stall for some "key bumps."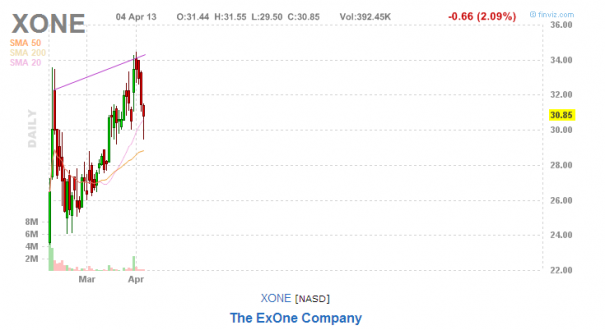 You thought you were cool last night, PAL, but you never were. You might have the talent, PAL, but where's the need? You have to convince the big boys that you belong to be there. All your "profits" are great, but what are you making? How are you changing the world? If you fill some small little niche that makes people's lives/business processes better, that's great, but that doesn't deserve a ~16% surge in one month since your IPO. You're a short, unless you can prove me otherwise, Friendo-PAL.
Maybe I'm wrong, but I would rather try to get in early with a tight stop, then wait for it to capitulate, and only pick up 5%. I'm short this thing, with a stop at 8% above my cost basis of $31.12– ( $33.06). I think this thing gets kicked down the proverbial stairs, all we need is a little pullback, and it's gone. Think about when it IPO'd? Right at the end of a record hitting bull run.
I have to read some "sell-side" stuff, and see if "The DR" can help me build a model. I honestly thinks it breaks $30 soon, and wouldn't be surprised if it tested the 50 day SMA– HOLY SHIT! I just used a technical term –down near $28.70. If it breaks that, and the overall market is pulling back, it's going down into the $25 range.
Just my opinion.