I've almost been hit by a Google Bus three times.
Twice on 19th Avenue during my commute to Los Altos in Silicon Valley, and once crossing the street in my own neighborhood.
When my friends come visit form other locales they are shocked by the high use of mobile apps:
"Dude, we'll just take Lyft Line"

"What's a Lyft?"

…

"You rent your car out to strangers?"

"Yeah man, otherwise it is just sitting there, and the less people that have to own their own cars, the easier it is for me to find parking."

…

[Getting out of the Lyft] "Don't you have to pay the driver?"

"Nah dude, the app pays them with my card."
They're also not used to seeing exotic cars just parked on the street in neighborhoods, like this: (that's an Audi R8 V10)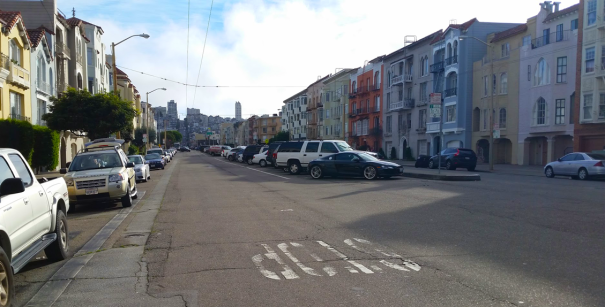 It's not all hipster science fiction come to life, it's expensive, and it only seems to be getting worse.
I'm all about Manifest Destiny, and I see a lot of that here. Unfortunately, there also seem to be some folks that are moving here because it is trendy, and are here purely to consume, not produce. That's great when there is not a surplus of producers, but when the bid's hitting the ask, and more, it makes it hard for a lot of people. If a couple wants to live comfortably in a one-bedroom apartment in my neighborhood they need to make–while putting a tiny amount away for a rainy day–about $180,000 a year combined. That will never buy you a house though, the only way you can make that and buy a house is if you work for a company that goes public. The two-bedroom flat above us recently sold for $1.97m(mm for the old finance folks out there), the folks who lived in it before only did so for like 15 months. They bought it for $1.27m, and made the difference in the process. On average you need a downpayment of 20%, for $1.27m that would be $254,000, so how did they get that?
Well he works for a software company and she works for a social media platform, he sold some of his stock, and she sold some of hers after the lockup expired. Bingo, there's the down payment. Now this sounds great, like "come on down, anybody can do it!" This isn't always the case though. In the case of buyers, there's a lot of rich kids moving here because it's trendy, and racking up their families' credit lines. They may not even be a substantial portion of the population, but with the ability to hit the ask so hard to achieve, their presence is definitely felt. In the case of being able to cash out an IPO, this is not always the case either.
I shorted ZNGA for the first time north of $12, I kept covering pieces, and adding shorts. I closed a large amount of shares around the $5 and $3 mark. Now, most of my friends who've had companies go public are worth about $500k when it IPOs. Most of them are specialists, or manage a team, so let's say that most folks are worth $250k out of the gate. If they rode it to $5 they're now only worth $102.5k in a stock that is capitulating. It's not just losing the money, but the volatility, look at GRPN, TWTR, and YELP. If you work there and think you have a great product do you ride it out "knowing" that eventually people will realize you have a good product? Or, do you sell–even some of your shares–and then to go to work wondering if you should sell more, or if you shouldn't have sold in the first place? I'd guess the vast majority of folks don't consider it, they just have a large part of their paycheck inserted into the employee stock program. Either option sucks, if you are optimistic and do your job but the company fails you lose it all, if you sell some, you're sitting there wondering if that was a good choice or not. Maybe you don't care, you sold your stock for a down payment on a Porsche GT3, but I'm just trying to be logical.
Well the market comes back to touch my life, even when I am not actively trading. But, that's the reality of the far reaching financial instrument. I'm currently in a UX design program utilizing real clients and instructors that are actual professionals in the field–I just finished week 3 of 10–if everything works out the way I hope it will, I will either land a job as lead UX designer at a startup, or a member of a small UX team at a startup. Otherwise, I will find myself as a junior designer at a large publicly traded tech company. Right now I am looking like a pretty high draft pick, but I have to remain humble and not try to make this a competition.
If I land with a startup, that hopefully goes public, or a publicly traded company, I will be managing risk accordingly. I will separate my market analysis from my product analysis, scaling off stock when I think appropriate, and adding to the stock buying program in the same sense. That might seem messed up to some people, because you "NEED" to be 100% committed to your product, but UX design teaches you that users don't always act in a logical matter. Neither does the market, in fact it is the antithesis of logical these days. If I was to sell on the first lockup expiration, or after a year at the public company, then maybe I can buy the place upstairs?
I have a lot of problems with SF: taxes, politics and especially extravagant bull shit like The America's Cup–tickets were too expensive for anybody but rich people, look at the target demographic, and not to mention the cost to the city and its residents–but I love the innovation and thinking. People are really trying to find ways to make people's lives easier in an overcrowded world, in a responsible way. Plenty of people are in it just for the money, but those apps don't do that well. Users don't always mean profits, but users mean changing the world as we know it. Social Media has changed the world in so many ways it's unfathomable, and it will only continue to evolve. Monetizing that is challenging, but the effect is obvious and overreaching.
MIght we see user's views exceed dollar returns in equity valuation, or am I just living in a bubble? Arguments could be had for both, and I'd love to hear your opinion in the comments.
Note 1: I did 3x 5 min rounds on the heavy bag today, my hands are wrecked, and my left knee is barely there.
Note 2: VCs are pretty smart money, if they exit on IPO, what does that say for the company? What if they sell a large portion of their shares?
One last thing, when you say to yourself "how the hell did that piece of shit get VC funding?" I've run into this scenario twice.
At two different tech meetups while talking to folks, I was commenting on the trouble I was having getting funding for my startup, and both times a guy said he had just raised x-amount of funding, both in the millions. When I checked out their startups on AngelList, and looked at the main investors, the investors had their same last names. A quick google and trip to Wikipedia verified that, in fact, their main investors were their fathers. This isn't to say that their products are bad–I don't think either is useful–but that's awesome they get to try and live their dreams. The rest of us, however, have to do it the hardway.
The following is me when I hear someone trying to pitch their startup on the 30x bus in the morning, or maybe it's me when I notice someone's farted on the crowded bus.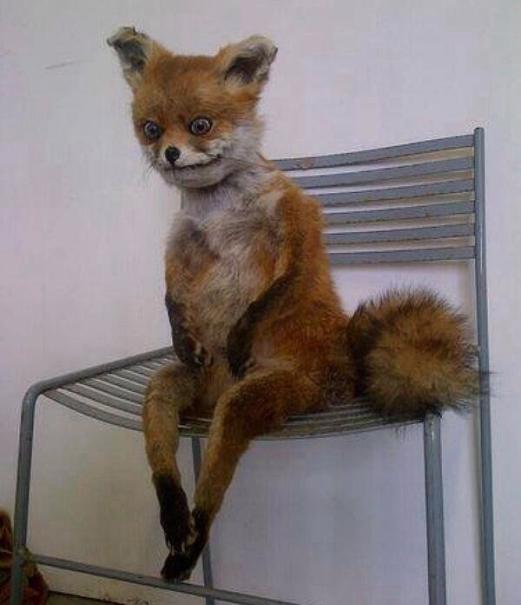 Thanks for reading,
The Once and Future Rhino