In the previous post Floating Relative Strength: Bears Have the Edge, we examined the results from a study which had one selling short the SPX next open anytime RSI(2) closed greater than 90 for 3 days in a row. The study also showed the results for buying the SPX anytime RIS(2) closed greater than 90 for 3 days in a row.
The current study will examine the opposite of the previous one. Anytime RSI(2) closes beneath 10 for 3 days in a row, one will buy the SPX next open. We will also look at the opposite side which is to sell short the SPX after the entry criteria is met.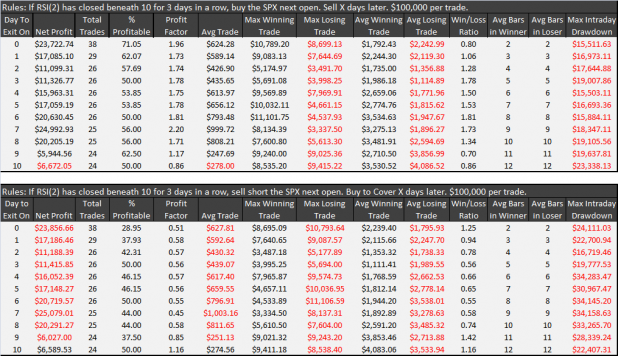 As expected, the contrarian purchase after a depressed RSI(2) has the edge. Selling the opening of the 8th day yields the highest net profit.
On the short side, one would have to suffer for at least 10 days after the entry in order to see any positive expectancy.
The measure "Day to Exit On" is calculated in a way that might be confusing. The buy/sell short is made at the open of the day following the 3 days of depressed RSI(2). The day of entry is treated as day 0. The next day is treated as day 1. The trade is sold on the next open, following the Day to Exit On. If the Day to Exit On is day 0, then the trade is sold on the next open, which is really the open of the 2nd day, counting the entry day. Hence, Avg. Bars in Winner is calculated at 2.
It may be worth noting that this setup has had 11 fewer trades than the opposite setup, which is 3 days of RSI(2)>90. This is likely due to the upside bias of the markets.
Finally, the SPX is showing an RSI(2) reading of 12.22
The Market Rewind Blog has a similar study published here: RSI Mon Sez – Falling RSIs, Think Ahead! This study shows immediately higher odds of a next day gain after a depressed RSI.
If you enjoy the content at iBankCoin, please follow us on Twitter