Of particular interest to those who trade with signals provided by RSI(2) is the tendency of the measure to portend a reversion to the mean. When RSI(2) crosses an upper threshold, it is often a signal to close longs or to sell short. Similarly, when it crosses a lower threshold, it is often a reliable signal to cover shorts and initiate longs.
What makes trading RSI(2) exciting is that when markets begin trending, rather than reverting to the mean, RSI(2) will often stay elevated, or depressed, for extended periods of time. When it stays elevated, it appears to me that it just floats for days at a time, not really moving up or down. Unfortunately, a floating RSI(2) can be painful when one was expecting a quick move in the opposite direction. I know the last 3 days have been painful for me, as I've been net short the S&P 500.
I decided to take a look at any edge this setup might provide. What I tested was going long or short the SPX after RSI(2) closed above 90 for 3 days in a row. The test then closed the trade out X days later.
 I was rather embarrassed after I completed the study to realize that today the SPX just missed having its RSI(2) close above 90 for a third day in a row. RSI(2) closed at 88.07 It is probably close enough to still make the study applicable to the next few days of trading.
Results are below and cover 10 years of data for the S&P 500.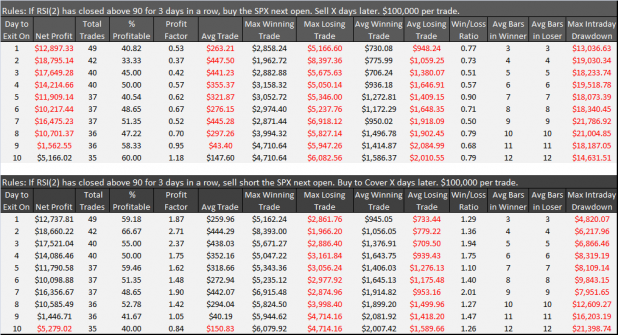 The top sheet shows the results for going long the SPX after the setup, and the bottom sheet shows the results of shorting after the setup.
It appears that the Bears have the edge over the next 8 days, with the next 3 days showing a good likelihood of a pullback.
There are a few other metrics that should be of interest. I particularly find the difference between the drawdowns to be significant. Also, the profit factor for the shorts is roughly 4x that of the long side.
Caveats:
After 10 days, the longs start working much better and show good net profits which peak near the 25th day.
Had I looked back another 30 years or so, the long trade would have out-performed the short side, even over a shorter time frame. RSI(2) did not always work well as a mean-reversion measure.
__________________________________________________________________________________________________
I included the chart of DIG as it shows an excellent example of a floating RSI(2).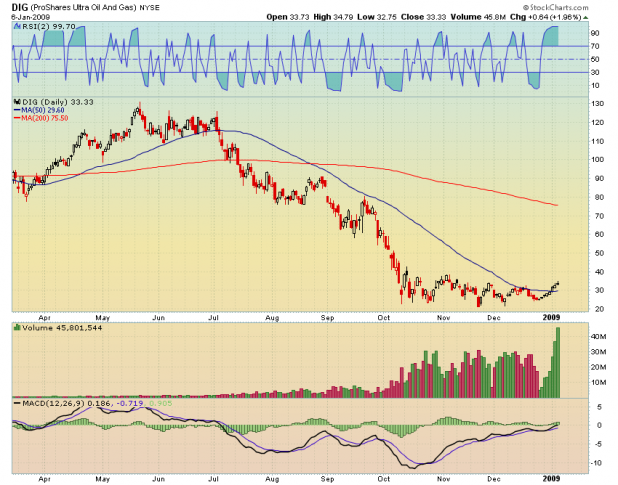 If you enjoy the content at iBankCoin, please follow us on Twitter