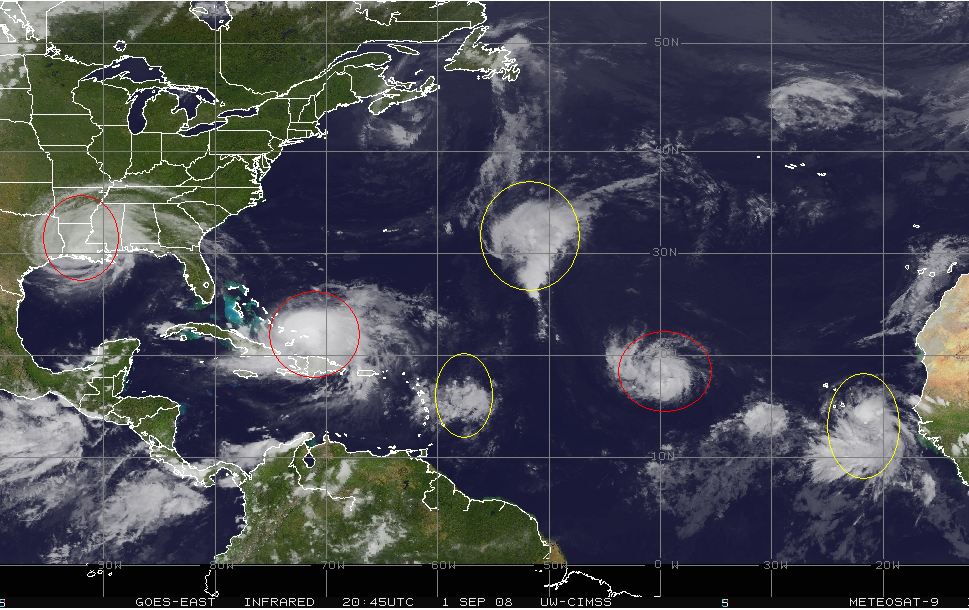 Image: Red: Named Yellow: Threat areas. From West to East: Gustav, Hanna, 90L, 97L, Ike, Proto-Josephine.
There are six areas of interest in the Atlantic, 4 of which have already/are likely to develop. which is the most I've seen in my life and is probably the maximum theoretically possible, speaking from an oceanic real estate perspective. Should we have Gustav, Hanna, Ike and Josephine all at once, it would tie the rather ignominious record of 4 active storms, set most recently in 1995. Also, should Josphine form by tomorrow, 2008 will only be 10 days off the record-setting pace of 2005.

The NHC's 2pm Tropical Outlook was nearly a page long and listed, in addition to the three named systems, the three threat areas. At the conclusion, it ended with its usual "Elsewhere…Tropical cyclone formation is not expected during the next 48 hours." I totally cracked up. There really isn't anywhere else for stuff to develop. Navigating the Atlantic right now is akin to walking through a minefield, with really, really big mines.
Hurricane Gustav
Hurricane Gustav made landfall this morning near Cocodrie, La as a 110 mph borderline Cat 2/3 storm, in line with what I said yesterday, but apparently well below what the commodities traders were anticipating.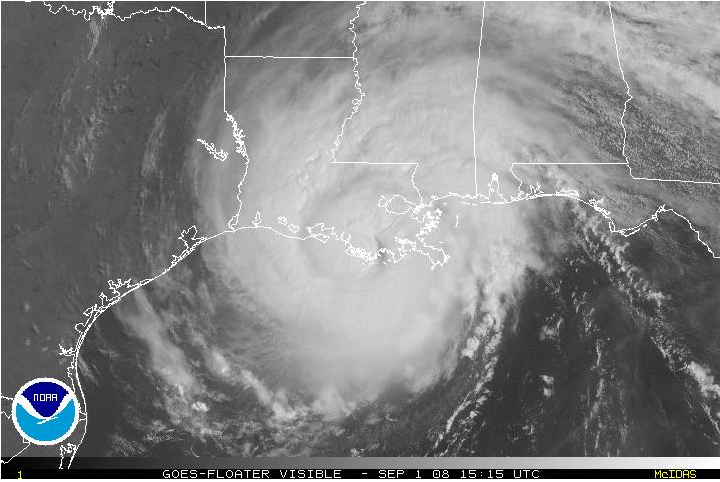 Image: Gustav at landfall.
Despite the storm passing over the densest concentration of rigs in the Gulf, Oil and Natural Gas futures are getting schlacked to the tune of 4-5%, especially surprising considering what is behind Gustav. Despite any moaning and groaning about this one "petering out," the National Hurricane Center actually did a very good job with the track forecast. They had been projecting a Louisiana landfall west of New Orleans since the storm was over Jamaica, four days ago. Not bad at all. Sure, there were some issues with the intensity forecast, but better safe than sorry, I suppose. All they would have had to do was to read my posts where I've been espousing a "two category reduction" (from a Cat 4 to a Cat 2) for the past several days.
Gustav is now a flooding threat. It is forecast to stall and give parts of Louisiana, Arkansas, and Texas over 10 inches of rain.
Well, tomorrow is going to suck for those long oil stocks. No other way about it. Energy is getting taken to the cleaners today on the assumption that damage from Gustav will be minimal. Normally, when a trade doesn't work, I take the loss and move on. Not this time. I consider the sell-off to be overdone, considering both the macro-scale economic situation and what else is in the tropics right now. In addition, when Katrina hit, there was a couple day lag until commodity prices rose as damage was surveyed. Thus, I plan to stand my ground and hold. But no buying the dip
Hurricane Hanna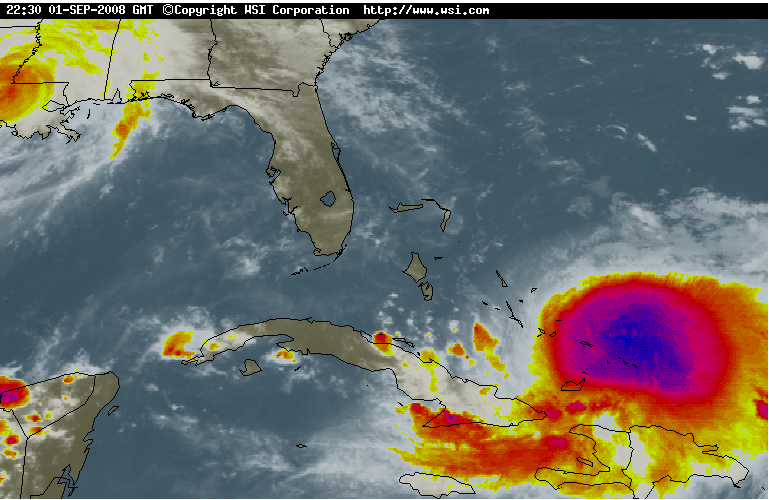 Image: Infrared of Hurricane Hanna, a very large system that strengthened in spite of hostile conditions. Gustav is visible in the upper left and its outflow is responsible for the strong shear over Hanna.
Hanna put on an impressive burst of intensification in the last 24 hours and is now a very large 80 mph hurricane. The storm is over the Bahamian waters of the western Atlantic near the Turks and Caicos which have a TCHP that is much warmer than normal, which likely fueled its intensification. The outflow from Gustav to the west is inflicting a strong 25 knots of shear on Hanna, so it is rather impressive that the storm was able to intensify under such conditions. Conditions will remain unfavorable and I suspect that Hanna will not be able to maintain its strength for too much longer. I would not be surprised to see it weaken back to a strong TS at some point in the next 2 days. However, It appears that atmospheric conditions will become more favorable forstrengthening in the next 2 or 3 days, and Hanna should regain hurricane strength.

The storm is sliding very slowly to the SSW right now, but a turn to the NW is anticipated over the next 24 hours. The NHC and the computer model guidance takes the storm into Georgia or north Florida as a 100 mph Cat 2 storm.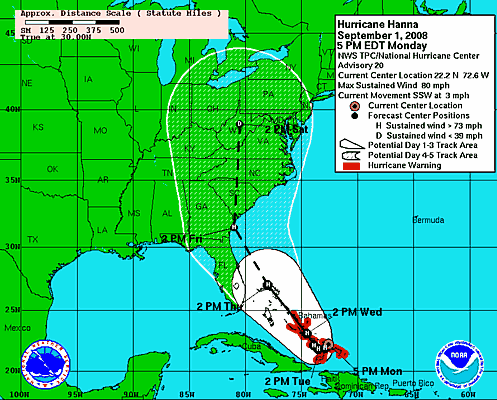 Image: Latest NHC track showing a climatologically unusual landfall in Georgia.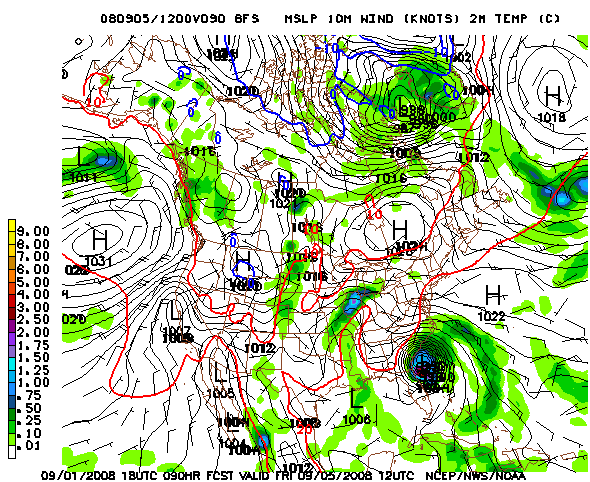 Image: Latest GFS model showing a strong hurricane making landfall in Georgia. Note also the "L" in the Gulf. That is actually Gustav, or what's left of it, which the GFS says will eventually drift back over water.
During its burst of intensification, the center of Hanna relocated nearly a full degree to the south. The steering currents become more westerly with decreasing latitude and I would not be surprised to see the forecast path shift further south in the next day or so. Right now, it doesn't appear that Hanna will directly impact the oil/gas infrastructure, but a south and west adjustment to the path could take Hanna into the GOM.
Tropical Storm Ike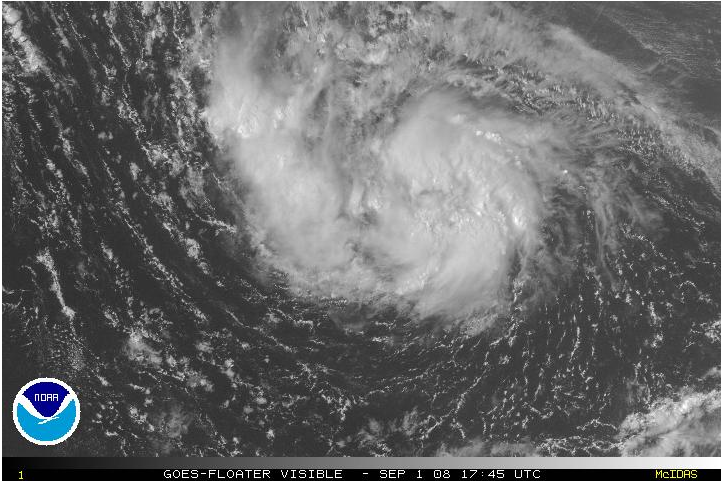 Image: A large, organizing TS Ike
Tropical Storm Ike developed quickly this morning out of a westward moving wave midway between Africa and the Leeward Islands and is now a 50 mph storm. It should move W to WNW over the next 4-5 days before a building ridge forces it to the west or even west-southwest. Long term models show the storm as a threat to Florida and the GOM.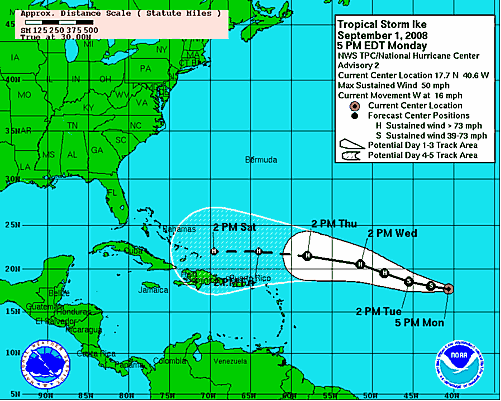 Image: NHC track for TS Ike.
The NHC takes the storm to a 90 mph hurricane in 120 hours. I believe that this may be conservative. Large Cape Verde-type storms such as Ike either seem to either dissipate or blow up into monsters. Thus, I give Ike a 10% chance of dissipating, a 10% chance of remaining a TS, a 30% chance of becoming a Cat 1 or 2 hurricane, and a 50% chance of becoming a major hurricane. This is significantly above the NHC's current outlook. Call me crazy. Of all the storms out there, I believe this one is the biggest threat to the Gulf. I would not be surprised if Ike turns out to be the worst storm of the season. Expect to hear many "I don't like Ike" jokes in the coming days.
Threat Areas
Invest 99L , "Proto-Josephine," moved off the coast of Africa this morning. It is well organized and already appears to be a tropical depression. Typically waves fizzle for a while after they lose the warm, unstable air of the continent before refiring once they tap the ocean. So, it will be interesting to see if the system can hold itself together. I give the storm a 60% chance of becoming Josephine in the next 36 hours. Tropical systems that develop this far east very rarely impact land, and I believe TD 10 will be no exception. I give the system an 80% chance of recurving well east of the Leeward Islands.
Invest 90L is a small area of disorganized showers located just east of the Leeward Islands. Although pressures have been falling, atmospheric conditions are unfavorable for development. The system is forecast to drift erratically for the next few days. I give it a 30% chance of developing. Once it starts to move, it will probably enter the Caribbean.
Invest 97L is a tropical/subtropical hybrid moving NNW across the open waters of the Atlantic to the east of Bermuda. It is not a threat to land and should move northward out to sea over the next few days. I give it a 25% of developing into a named system.
Lastly, here is a short preview about what I have in mind for the rest of the month. Expect daily posts with updates as conditions warrant. Posts will usually be posted sometime in the evening between 6-8 pm.
I will be on a Department-sponsored field trip to the Big Island of Hawaii to "study" the volcanoes and surrounding weather patterns from the 6th-12th (At Harvard, not only are we elitist pigs, but we don't even have to pay for the best stuff). I am not terribly pleased with the timing, considering the active tropics, but I'm not beating myself up over it. I have written/am writing "rainy day" posts that an associate of mine will post while I am away. If I am able to reach a computer and aren't too tired from all the surfing, I will also have live updates, should conitions warrant.
September Preview
Here is the subject matter that I hope to cover during the course of the month:
–Daily Tropical Updates
–Stock picks (both weather-related and otherwise…I am in fact a balanced trader. I only talk about the weather and my energy positions to try and offer something unique)
–My opinions on Global Warming including arguments for and against as well as market plays. (During the week I am gone)
–Other cool stuff
Note: All posts (except this one, where it's at the end) will also begin with a Calvin and Hobbes comic strip, mainly because I can. Calvin is the man, and I believe that every man should have a childhood like his. If Calvin traded stocks, he would rival the Fly

Disclaimer: Lots of storms, lots of time to watch them.
If you enjoy the content at iBankCoin, please follow us on Twitter