Given that the market is in a narrow range, it is very easy to get overbought or oversold. My oversold indicator is now at 32 on SPY. Once under 30 it is oversold.
We wait to buy when it moves back above 30. Why? Because there is good and bad oversold. Bad oversold is dropping below 30 and staying there. Good oversold is a quick drop under 30 and then a bounce back above.
Yesterday I noticed the most active ETF to trade was VXX.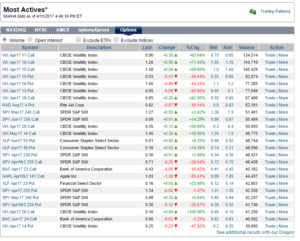 Also, the top 7 option contracts to trade were VIX related, either calls or puts. The top four were all calls.
Boys and girls this sets up for a nice rip your face off move up to 2400. Tax selling is now complete . Can we rally from here? Yes. Will we rally from here or a bit lower? That is the $64,000 question but it seems a good time to start nibbling.
If you enjoy the content at iBankCoin, please follow us on Twitter