The classic trade is a gap open or a gap down. Last Friday we had a gap down and that was the low for the day. In fact, the Russell 2000 was able to climb above support by the close. The S&P 500 and Dow Jones Industrial Average did not.
Today we had a gap open took us down to SPY's Friday last two hour high, to the penny at $188.39, not once or twice but now three times. First at 9:50 and then 11:20 and now 12:10 before recovering in both cases before this latest drop.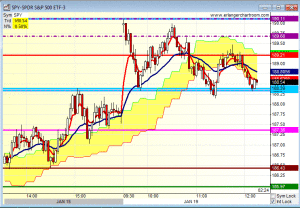 This is an odd pattern and one candidly I cannot recall seeing very often in the last eight months, since July. Usually a gap open that fails early on never recovers. Or a gap open, sticks and stays above the 5 minute range and then the one hour range to close near the highs. Today SPY is really trying to hold the gains. We need to watch closely. My gut says it is a coin toss where we go this afternoon, to new highs or another puke,
Recent comments from me have been very technical in nature BECAUSE we are at such a point in time. Normally, I do not need to go this granular. Hopefully this gives you some color that you are not getting from other inputs.
If you enjoy the content at iBankCoin, please follow us on Twitter