I must start this post with my sincere thanks for the comments you all left me on my semi-retirement post. I was treuly moved by your comments.
Because when one semi-retires from something, no one wants to hear that the semi-retiree has been doing nothing. That would represent pure laziness and sloth. Why would one semi-retire if he was going to do nothing? Indeud, I have been enjoying semi-retirement, having recently purchased a beautiful piece of property on the Cacapon River, West Virginia's cleanest river.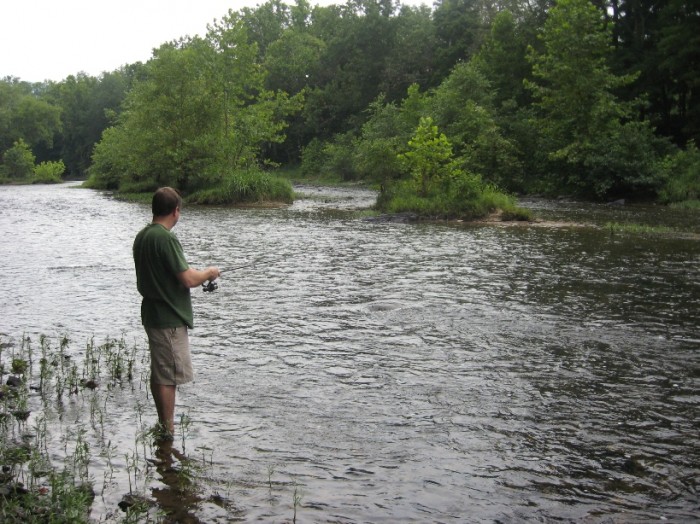 I caught a nice smallmouth shortly after this picture was taken.
So life is good. Which is a nice segue to the reason I am posting this, which is that my Fidelity Sector Fund Rotational System killed it in July, and surged ahead of its $SPY benchmark.
The system rocketed up 7.5% in July, once again outperforming $SPY, which gained only 5.2%. The system is also outperforming $SPY in August, but the month is not even half-finished.
Year-to-date, the system has logged gains of 20.8%, and that is net of fees, commissions, etc. $SPY has gained 19.1% YTD.
The top five ranked Fidelity Sector Funds are as follows:
FSAVX (Automotive)
FSRPX (Retailing)
FBSOX (IT Services)
FSRBX (Banking)
FSPHX (Healthcare)
The system rotated into some new funds last week. It is currently holding FSAVX, FSRBX, and FSRPX.
I'll leave you with a little chart porn. Below is the equity curve and monthly performance for the system, starting in 2012. I use 2012 because that is when I started trading the system in real-time. Click on the graphic to make it larger.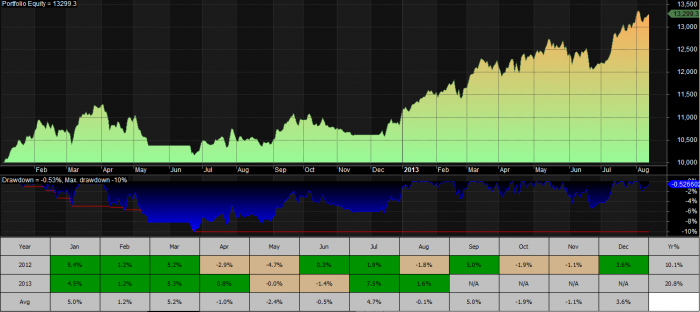 Best to everyone!
If you enjoy the content at iBankCoin, please follow us on Twitter