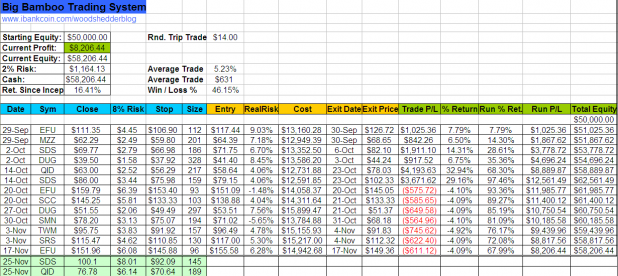 Highlighted above in a pleasing green hue are the two system picks for the Big Bamboo. For the uninitiated, these diETFs are to be bought on the open. We will exit these positions the morning after RSI(2) closes above 80.
I have decided to begin tracking the system with an 8% stop and 2% at risk, instead of the 4% stop and 1% at risk. Recent volatility has made the 4% stop too tight. Had an 8% stop been used from the beginning, the system would be at a 77% win rate.
Those that have been following this system are aware of the work we have done on the stops, and other metrics. We are still working on stops that adapt to market conditions. I encourage those who are new to the Big Bamboo to check the archives, located here: Big Bamboo Archive. The archives have some cool posts such as equity curves for different stops and position sizes.
I have also updated the spreadsheet to be color coded. The light blue headings are for the pre-entry calculations, the yellow headings are for the post-entry calculations, and the green headings cover the calculations that happen post-exit.
__________________________________________________________________________________________________
There are more picks for tomorrow, but the system will only take 2 a day, while holding a maximum of 4 positions. It will always take the top two most liquid diETFs, of all the choices.
Obviously, the system is looking to catch a pullback. Whether it materializes before the stops are hit is anyone's guess. I will be taking the signals on the open, but I'm not sure yet about how much I'll risk, or what type of stop (ATR or %) I'll use.
Volatility is still running extremely high on these diETFs. For example, 1 ATR is equal to 12%, for QID. In other words, the QID daily average true range is spanning 12%. A more conservative stop strategy may choose to use an ATR multiple stop. Backtesting shows that 1.25ATR performs well.
Charts are included. I have added an ATR(10) indicator in case anyone wants to experiment with ATR stops.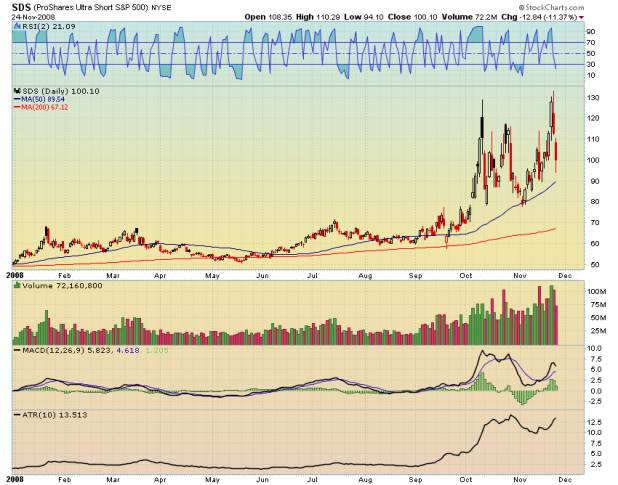 [[SDS]]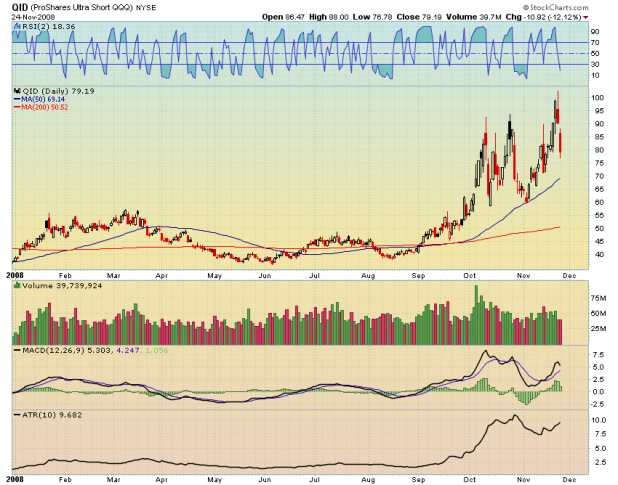 [[QID]]
If you enjoy the content at iBankCoin, please follow us on Twitter