Earlier this week, it was noted that I have an oversold indicator that through time is highly correlated to The Fly's oversold indicator. My model reaches oversold when below 30 on a daily basis. SPY was at 29.21 when we wrote intraday. QQQ and IWM were in the low 20s. The problem all week long is that the score on SPY could not close below 30. It did last night, see the chart from last night's close.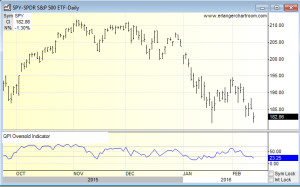 The trick noted earlier this week is you do not start buying until above 30. We are now at 38 intraday.  So now is the time to take those list of names that you would like to buy and begin to nibble or just buy an ETF like SPY if you want to buy the market.
The key point from here is getting the indicator above 50 and staying there. That will indicate a potential move of 100 to 200 points could be in the cards. Enjoy the weekend.
If you enjoy the content at iBankCoin, please follow us on Twitter