Back in late 2012 and into 2013 we blogged here and in our stock picks went 8 for 9 and left one position open, Taser (TASR). The one loss dropped a whopping -2%, Sturm Rugr (RGR). If you travel back in our blog history, you will see that all we do is "throw touchdowns".
We went long Taser at $7.67 on 12/17/2012 and it is now at $15.43 for a gain of $7.76 or 101%. We note the stock ran to a peak of  $35.95 and while we think it could get there again we are pretty confident it will trade north of $20 this year. We still like this name.
On to new picks, we like Barrick Gold (ABX). I run a daily screen that looks at stocks on a monthly and weekly basis. The goal is to find where the monthly price action is still a struggle but the weekly is set up to rip. I also make sure there is legitimate buying in the name and that from a relative standpoint the stock is beating the S&P 500 and its sector.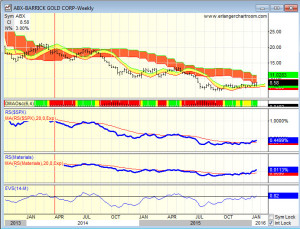 Barrick Gold hits all these criteria AND it is just below its 200 day moving average. Once it plows above this level, buyers will push it higher just because it moved above its 200 day moving average. We know this is stupid but that is how the game is played.
Barrick Gold is a good play as gold begins its assault to new highs in the coming years. After deflation takes hold then hyper inflation takes off. Just look at Venezuela where interest rates are now 21% and inflation is at 720%.
As deflation fails then you move into hyper inflation. More on this in the next week. For now holding some gold makes a ton of sense. So much for $800 gold.
P.S. I am doing some work because the Packers and the Giants are no longer relevant and I am indifferent to those that remain. It is only background noise this afternoon.
If you enjoy the content at iBankCoin, please follow us on Twitter