I stated over a week ago that the short squeeze would be epic and I was correct about that.  What about the signal to get short that I had discovered?  So far it is inconclusive in that neither bull or bear signal has been triggered.  So where does that leave us right now?  Squarely in NO MAN'S LAND.  Since we last convened here we have seen that the ECB has decided to panic and throw the kitchen sink at the problem with the surprise Investment Grade Corporate bond buying in addition to the other candy.  There is also talk of Chinese Fiscal stimulus and we have the Fed and BOJ on deck this week.  Commodities and credit spreads have improved dramatically and european bank CDS have tightened as well.  Basically it has been a wide spread risk on rally.
Do we have the all clear signal yet?  From a technical standpoint the damage is still on the charts and this rally has not even turned up the declining 200 day moving average yet.  Interestingly the S&P is just below the 2040 level where we launched the crash from in August.  Also the VIX (chart below) is resting on its ascending trend line that has been established since the crash in August last year. In fact it closed on the trend line Friday.  Every time we get to this trend line it has marked a short term top in the market since August within a few days.  Additionally,  something meaningful has happened in the last 4 days.  The Vol of the vol (VVIX) had been making lower lows and lower highs since December and it bottomed out at 79 on March 4th.  Since then it has diverged significantly from the VIX.  The VIX rolled back over but the VVIX has risen back to 92.  It's a divergence that I will be monitoring as we go through this topping process.  What is says to me is that all is not well just yet.
Fundamentally credit spreads (HYG Chart below) have improved but only back to levels seen just after the August crash.  The key will be to see if the momentum here stops and reverses.  If it continues to improve then the bear case gets weaker.  If one goes back in history to the financial crisis we had counter trend rallies in credit much larger than this one we are now seeing before the final lows.  I am not convinced that all is well given that the defaults have not even started yet.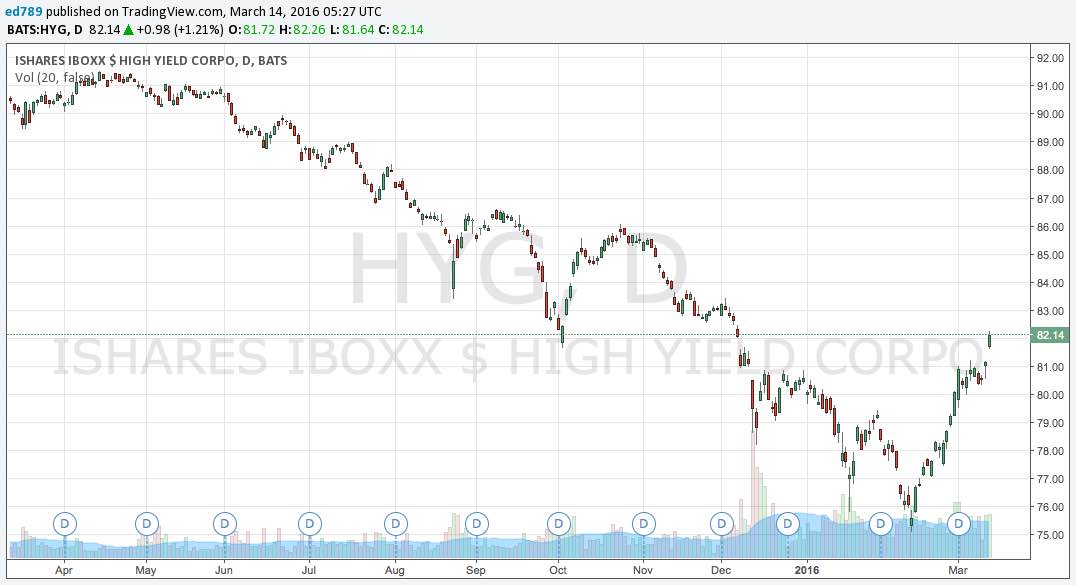 The other issue we have is corporate earnings.  We continue to see earnings growth on a TTM basis (chart below) decelerate since September of 2014 (-11%) which coincided with the end of QE oddly enough.  Currently the PE on the TTM is 21.5 while in June of 2013 the PE on the same amount of earnings was 17.5 at a S&P level of 1650.  Ask yourself this question: Are things better or worse now? Geopolitical risks are higher, credit spreads are higher, default rates are moving up and Trumpism has revealed that the economic statistics in the US are clear fabrications.  Trump would have zero support if that were not the case.  Bottom line the market PE, current earnings and the downtrend on the charts tell me that we will see at least 1650 by Summer.  To be bullish at this valuation level on these earnings you need to see multiple expansion or earnings acceleration.  Given the withdrawal of liquidity since QE's end and the rate hikes I contend Multiple expansion will be near impossible and I don't see meaningful earnings improvement due to the rolling of the credit cycle and waning of financial engineering of EPS from QE.  The market will lead improved earnings of course but technically the case can not be made for an improved earnings picture at all.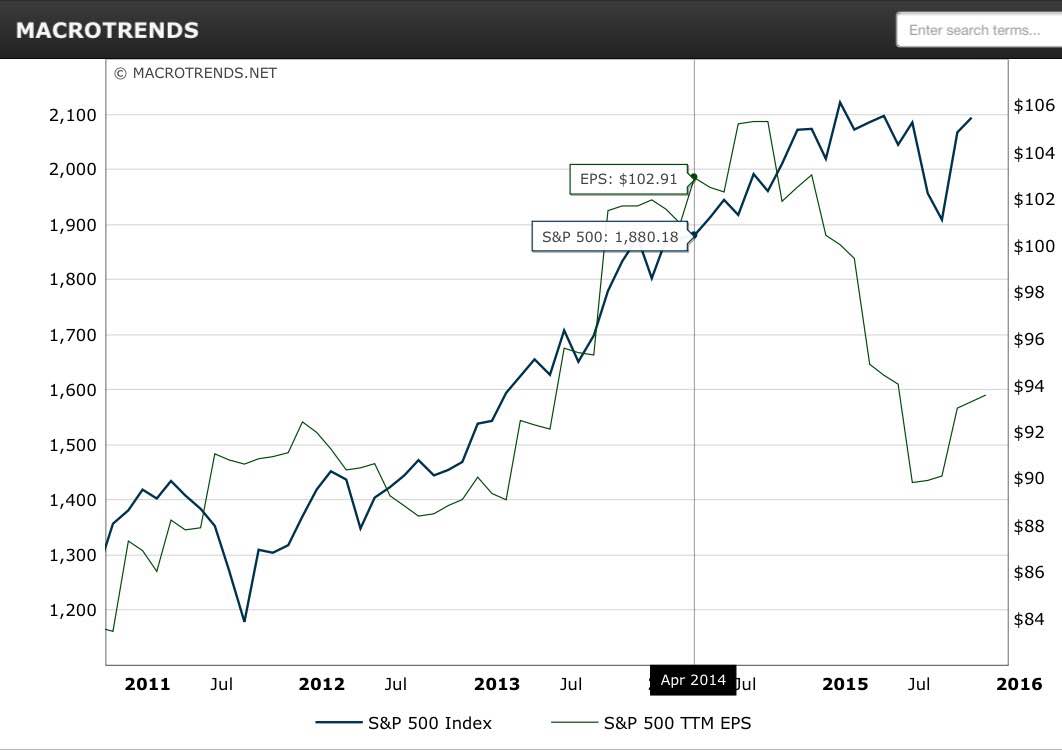 My best guess is the market will waste time up here over the next five days to see the hands that the Fed and BOJ are dealing.  Don't get too complacent as it has not paid to get long stocks or the market when the VIX is at these levels given the new Volatility regime.  My expectation is actually for higher highs this week because too many folks want to short this market which means it won't roll just yet.  Also we have options expiration week which is notorious for pin action to maximize dealer profit.  We have had an 11% move in four weeks but also keep in mind the last 2 V shaped rallies of October 2015 and October 2014 lasted 26 and 30 days respectively.  This rally is in day 21.  I don't think we go much higher but I do think we waste time before the next decision by the market.  My strong belief is that this is a countertrend rally in the context of a bear market.  Once we top and roll my expectation is that we take out the February 11th lows and go much lower.  Patience is the key.  If you are a bear don't get over your skies just yet.
If you enjoy the content at iBankCoin, please follow us on Twitter