What a crazy week.  The market was a schizo escapee from a mental hospital.  Even all the "entertainers" (not traders) on CNBC (Cramer was down -40% last year. He makes his money from his book, TV, and website. NOT from trading) were all over the place.  Not the folks on iBC!…
I think this week all the bloggers made nice moves in the market.  Ragin did a good job exiting his shorts and iETFs yesterday, and nailing a nice FAS daytrade.  Alpha exited his swing longs in time last Friday after riding out the hated rally.  Danny smashed the S&P index with imbeccable retracement points.  C-Addict buying beat down longs for major squeezes, then closing out shorts on Doji days.  And of course, Fly's making money on fundamental shorts.  Going back to the poker analogy, I'd say we had a "full-house" this week.  I didn't detect any trades with WoodShedder, but he did enlighten us with good studies on the Vix~SPX, and made promises of a new leverage ETF system which is what I'm excited about 2x.
Friday, I took trader honors at StockTwits for this week's trading.  What really helped was I called almost the exact bottom of today's tape when the Dow was down -90:  "Bear Trap!"  … bam, 180 point rally, from Dow -90 to Dow +90.  What's even more cool?  I was mentioned with AndySwan in the same sentence.  I feel honored.  LoL.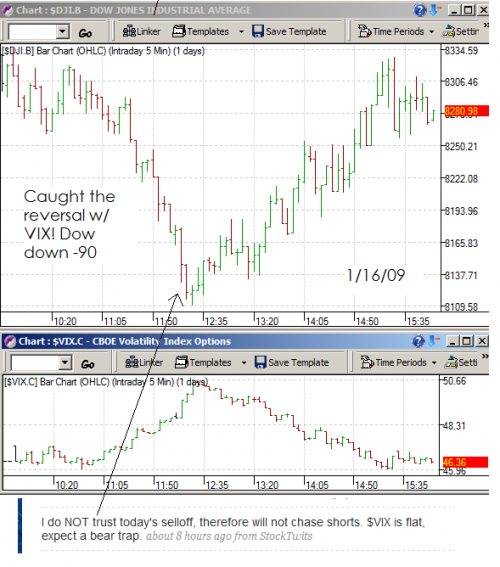 A little update on this week.
This week on the swing side was real tricky because we were moving from "momentum trading" back to "volatility trading" as the Vix picked up. Nevertheless, I'm satisfied with the way I played the transition.  I headed into Monday short DRYS, long CWT (water), CPLA (education), and short EEV as a hedge.  I shorted EEV with the intent on "losing money on it."  Well, I got what I wanted, but a little too much! Lol.  Had to close that out at -8% then -1% average out.  But that's okay, it was a hedge for our DRYS shorts that I closed out at +17%, just before yesterday's rally.
I posted earlier how the market was starting to remind me of one giant Texas Hold'em Poker game.  Over the weekend, the bulls had pocket Jacks, and the bears had off-suit Queen and Ace.  I will reveal the first card of the flop this weekend (ie, tell you who has the advantage).  Every week we flip a new card. Ok?
Glad to see iBC repping it over on StockTwits.  And glad to have you as a reader.  Collectively, we are a "human-ticker", filtering through the market and chatting about the best plays.  Now go make money!
Aloha, have a great weekend!
-gio-
If you enjoy the content at iBankCoin, please follow us on Twitter