Okay, I got one question from Mr. Brill about "day-trade setups" and how to spot them.  Well, I decided to let you in on a little bit of my technique.  Not sure if it will work for everyone, but whatever.  If you can get anything out of it, then great:
I recognize the favorable trading conditions from spot checking in and looking back, tho was on other tasks today. For perspective, how rare is this type of trading day? Not to suffer the missed chances, but to help my feel going forward how often such relatively "smooth" conditions up then down in volatility, with volume, happen on a given trading day. Implying how I guess you'll answer, what's your experience of the duration of such conditions during a really good trading day, e.g., a few intervals of twenty minutes here, fifteen minutes there? Your thoughts putting today in context may help pragmatic trading, with upcoming opportunities. Since I was not watching the live feed: how different was it for you watching the tape unfold and executing trades, than it appears looking back at the tape? The VIX and candlesticks may be the same in real-time, but if you also watch momentum indicators, they adjust as the ticks progress. Do you have any minimum number on the VIX that draws you into trading, or is it a minimum percent gain in the VIX over the previous close?  – Bob Brill

First, this is how you spot a "favorable day-trading day":
1)  Search for volatility.  Is the Vix moving, or is it flat? A flat Vix, or one that just "melts down" means there's not much fear or greed in the market.  When it's moving, then you know there will be some waves to catch.
2)  Search for news.  Are there any news events, milestone events, companies reporting that have many people waiting in anticipation? More important, what is the context of the event and how does it shape the countenance of the market?
For example, if oil is tanking, are there any news events like an OPEC meeting around the corner?  Then you know that a few day's leading up to that event will trigger movement in related stocks.
For example, is a bad president going to be removed, is a new president being sworn in office?  This was the setup I was using.  I knew that the Vix and the market would pick up at least one week before the event.   What is the context of the market? I map this out using software, but you can just list them on paper.
Here's what I mapped out going into this week, day by day:
"The market is reversing on an improper low-volume rally;
How is the big-three looking on the charts? Wedge patterns everywhere!  (a huge flag that the market will move big soon.  I no longer have to search for them, I just check out Chart Addict's, Danny's or Ragins. They usually always spot the wedge patterns and flags.
What's going on in the minds of traders? The Vix has moved up 30% in the past 10 days.  Vix on 1/14/09:

What caused this "spike"? Banks, yet again.

Where would I look to say "the Vix is too high"? Answer:  above 55.  Did we get there?  Yes.  Does it look like catalyst of the sell-off is fading?  Yes.  Therefore, put your finger on the day-trade long trigger (in this case FAS).
Other notes:  the market has had 7 straight down days, with 2 distribution in days in the past 3; expect relief rally.
what triggered those distribution days? Answer:  banks.  What stock to watch? BAC and C. Therefore, watch for this match:  C and BAC find support + Vix reverses down = get long
How is the volume? Accelerating on selling.
Which stocks are trading at imbalances? Answer:  the inverse ETFs are trading at high premiums.
Here's what goes on in my mind during the daytrade:
How is the Vix? Moving up fast, too fast.  Back above 51, but we were prepared for this:  See Paragraph 1 in "January's Clear Short Setups" http://ibankcoin.com/gioblog/?p=2721
Does it look like the Vix is "topping"? Yes… I notice the Vix has reversed and is still falling a little, even though the market continues to fall. (search for anomalies).
What is the context of the market?  Why is the Vix moving so fast today? Answer:  BAC is down 20%, single digits for the first time in years.  Bank panics everywhere.
Did C find support? Yes, get long the indexes.
Which stocks have been trading at imbalances? Answer:  the inverse ETFs, in particular, EEV and SRS.
Do these imbalanced stocks looks like their overextended path is slowing down? (pendulum theory for momentum traders)  Answer:  yes.  SRS yesterday was red, even though the market was down -70 points.  SRS was barely green when market was down -90.  (this information from the previous day is very valuable information).
Do we have a confirmation that the Vix has topped intraday and that the stocks triggering the Vix spike are bottoming? Yes, Vix =55 and C  and BAC reversing simultaneously, and continuing to reverse despite the Vix moving up! Likelihood of intraday short-squeeze just went up like crazy now that we have a match.

Where's the intraday resistance on the SPX or DJI? (the "relief-point")  Found it!  Dow @ 8055.

Did we pass that point yet? Yes we did!  8055 breakout.  Get long FAS!  FAS moves up about 14% from there.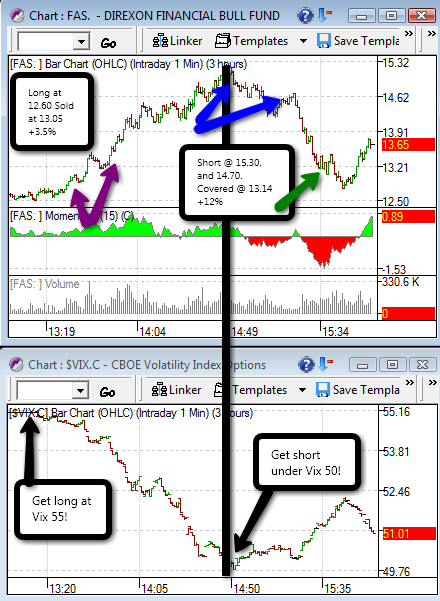 … so, I hope you can understand what was going on through my mind as I made the trades.  Due to the uncertainty of the markets in the past week (starting on Monday), I knew the rally could be "fadeable" at the close.  Therefore, in the final hour or so I switched positions and shorted FAS.  From that point on, it's mostly instinct.  If the trade is moving in your direction, there's no reason to switch sides.   Just "set-it-then-forget-it"… if I had done that on the long side, I would have had caught a huge upswing with the bulls.  Today's -200 to +80 is a very rare occurrence, and the events prior to it suggested we would have this type of day soon.  I usually cap my gains at 3% per day trade, but the move in FAS was so decisive, I released the caps.

… it most certainly dropped under 14, even 13 at the close!  And Vix =55 was most certainly the spot to go long in the morning.  Not bad, eh?  Do your homework.  Wait, that analogy is weak.  It's a war on the streets.  Make sure you're ready for battle before stepping on the battlegrounds.
Hope this helps!
Aloha,
-gio-
If you enjoy the content at iBankCoin, please follow us on Twitter