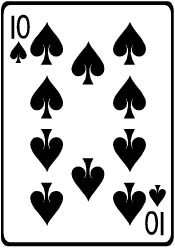 What a wild and crazy week.  The best thing about last week for me was that volume started to pick up in the market.  After last week's action on the tape, the first card on the flop appears to be a 10 of spades. Man, this really sucks.  What am I supposed to do with a 10 of spades?  This changes little since a 10 of spades gives both the bulls and the bears an advantage.  Last week provided very little in direction for me!
Once again, looking at the market's picture, we had the bulls in a slight command from November through early January.  For a review, here's the hands of the bulls and the bears…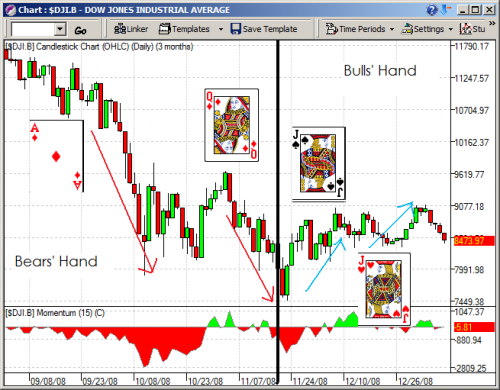 Why would a 10 of spades help both hands?  Well, for one, it takes away one more chance for the Bear's to grab an ace or queen, so that helps the bulls.  It also gives the bulls an extra spade.  It doesn't help the bears because now we're down to four cards left to draw a diamond flush.  But it does help the Bear's giving us a possibility for a straight, although still a low possibility.
… that's pretty much how it went down in the market!  On Monday-Wednesday decline provided technical damage to the indexes.  These appeared to be serious technical damage as volume started to pick up, and we were now below many of the moving averages that were providing support.  Huge win for the bears.  Looked and felt like a Queen was drawn.  However…
…here came the bulls.  Thursday's reversal was a beauty.  Volume picked up, and that provided us with a rally attempt #2 in January.  We went from -200 to +80 on the Dow which caught the bears by surprise.  Then on Friday, same thing happened.  Started up, gapped down, then rallied… another bullish intraday move.  What's good about these rally attempts is that it came after 2 distribution days on the Nasdaq.  A note about distribution days:  1)  they are bad for the long term charts, but 2) are good for short term charts because they signal a form of panic selling which is usually a flag for a relief rally around the corner.  I think the action in the Vix displayed that as we moved up big time, about 35% to the 50s, but then we bounced.
So how are we supposed to read this?  We went from "it looks like we're gonna tank" to, "oh wait a minute.  Did the market just fight back?"
In conclusion, the bulls still have the advantage after last week.  The bears had a huge chance, but I think they're kind of weak right now, perhaps afraid of Obamarama (or laters Bush) day, so they are taking a cautious position.  It's just not a good time to go heavy short in my opinion, even though going short is the correct play in the long run.  One thing that prevents me from shorting with my bazooka is that I still see some strength in leadership stocks.  Take a look at school stocks and medical stocks… despite the market selling off last week (market closed DOWN for the week), these stocks seemed to hold their ground.
So, with a stinking 10 of spades on the first card of the flop, we just have no HUGE advantage going in one direction.  Let's wait for the next card to drop before we start making some bets.  For now… "check."
-gio-
If you enjoy the content at iBankCoin, please follow us on Twitter