What will happen in 2009?  Hmm, let's see…  TSCM will be delisted, then will be re-listed on the Nasdaq as LMAO.  Removal of Bush will spark a rally.  The best time to short will be further down than you think, maybe July, after the Obama hype is over.  Detroit will upset Celtics in the second round, Lakers will win it all.  Yankees won't make the playoffs.   AAPL to the 70s as news of Jobs retirement hits investors in a negative way.  Hawaii stocks will get hit hard. 
 …….. Yeah, I have a lot of crazy ideas.  Anyway, here is my map of 2009.  I wish I put it into a timeline, but ironically, I ran out of time.  Remember, these crazy ideas are either "crazy" or just "ideas."  But all are likely scenarios, at least in my mind.  Nevertheless, predicting 2009 will be harder than we all think.  Anyway, here's a snapshot of clairvoyance for you…
Download My Predictions in a PDF Here (interactive PDF)
If you download it, click on the "+" signs to expand the map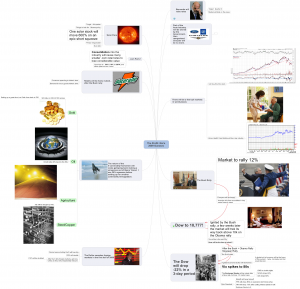 The Profit: Gio's 2009 Predictions Guesses
Bernanke will raise rates
Target: Quarter 3
Market will tank on the news
Part of the Auto Industry will be owned by the Government, then reorganized. Chrysler will be no more.
There will be a few bull markets in weird places
Invest in Water… I will buy this h2o stock
Home Health Care Bubble will be a top industry
The Bush Rally
Market to rally 12%
Everyone will be happy!
America will cheer as soldiers in Iraq come home in mass
Dow to 10,777!
Ignited by the Bush rally, a few weeks later the market will trek its way back above 10k on the Obama rally
Vix will be in the mid 30s
Now will be the time to short!!
The Dow will drop -22% in a 3-day period
After the Bush + Obama Rally Sisypean Rally
The $ will crash
A global economic faction will be formed
A global unit of currency will be the focus of this summit… hehe, not really, but that would be cool.
Vix spikes to 80s = capitulation baby!

The Exchange Stocks will be nuked after a false rally, will lose 1/2 market caps
CME to double digits
NDAQ drops 60%
ICE drops 60%
Epic Scandals
Madoff will hang himself
FFH will drop -80% on scandal (I don't know why)
TNH will drop -70% after cutting interest yields in half
Goldman Sachs to 0 …just kidding.  But it will get slammed.
The Dollar smashes foreign markets in the first half of 2009
Perma bears shorting the $ will lose big
EEV will double
After the $ kills foreign markets, get long China as they will unexpectedly rebound
FXP will be de-listed
The return of the 4-commodity-horsemen will come galloping back making a winepress out of Bears' blood. I see 30% squeezes before setting up for another commodity Armageddon.
Gold
Will rally on INFLATION scares
Setting up a great short, as Gold dives back to 700
Oil
Oil will rally 30% back to the 60s
Agriculture
Steel/Copper
TIE will be bought by RIO
Retails will be horse nuked… after the Bush rally
Consumer spending to historic lows
Demand for luxury goods historic lows
.com Part 2
Consolidation into the industry will cause many smaller .com retail sites to lose considerable value
Good bye to… BFLY, SFLY, OSTK, and other queer me-too .coms
Solar Flare
Target: 4th quarter
Things to look for: Obama policy
One solar stock will move 600% on an epic short squeeze
Enjoy 2009!  Or not.
If you enjoy the content at iBankCoin, please follow us on Twitter