I gave the VIX the kiss of death early in December , taking note that the market environment had drastically changed:  People were not selling stock after bad news!  That led to a 500 point rally.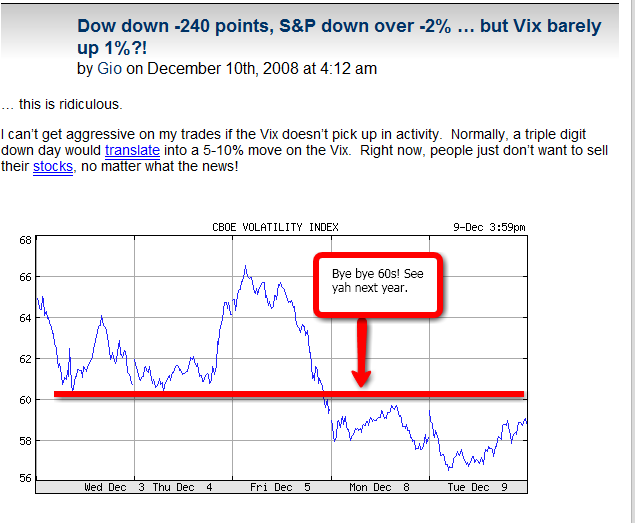 Since then the VIX has melted down over 25% in the past 10 trading days.  What does this mean?  For me, it just means this is not a good place to enter new longs, or if you already enjoyed the rally, you have to start thinking about taking profits in some of those longs.
Conversely, you may ask, is this a good time to short?  I can say it's a much better time to short than when we were in the 50s, and since then, this light volume trading has shook out most of the weak bears.  The time to short is certainly getting closer, and the Vix has almost reached my range to start shorting which was 35-39.  If I get a spike down there I will definitely start shorting.  If we throw in the double top in the VIX on November 20 = 81, then the VIX has been cut in half in about 1 month.  Since then, the market rallied over 1,000 points.
I do think we can go higher within the next 2-3 months, but as a swing trader, it's better to get out when complacency hits extreme levels, then re-enter on a dip.
If you enjoy the content at iBankCoin, please follow us on Twitter