Exide Technologies broke out from a long base in February. The stock then doubled, before pulling back to the 50 day average. I started a small position in the company after the successful test of the 50 day and added more shares last Friday on the pullback, in my discretionary account.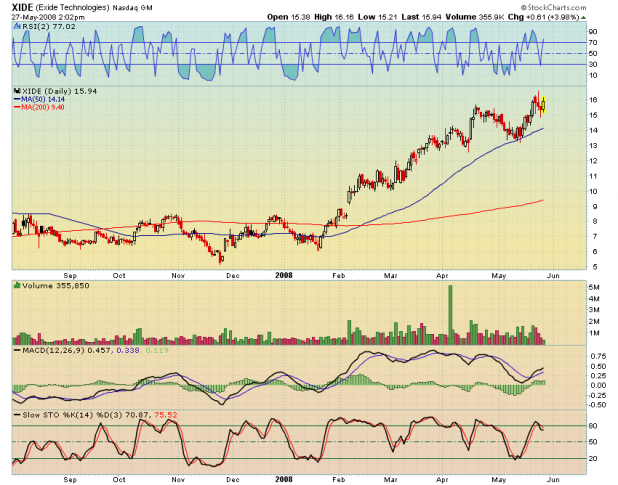 Being primarily a technical analyst, take what is coming next with a grain of salt. I've been trying to figure out what the catalyst is for the huge run, besides the technical breakout. The most that I can find on a fundamental level is that it appears the company is close to swinging back to profitability, in recent quarters.
Also, with fuel and alternative energy plays being en vogue, I think that a battery maker, especially one that provides batteries for hybrid vehicles, may be attractive here. And to help things along, they just landed a major deal to supply Bosch branded batteries to Pep Boys.
I will keep my stops on this one below $14.00, but I'm also watching to see if the 20 day moving average can stay above the 50 day.
If you enjoy the content at iBankCoin, please follow us on Twitter