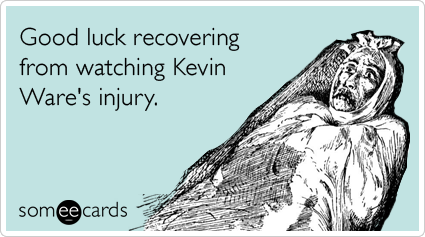 __________________________________
Everything's relative, I guess, including pain.  Today's revisit to the recent lows (and no, we're not there yet) is not as painful as, say — a bloody compound tibial fracture jutting messily out of one's shin.  That said, it sure has been a frustrating six months, hasn't it?   And yet, if you look at all the major charts, it looks like at this late point in the cycle, the worst we are going to get is a revisit to the end of February lows, which — not insignificantly– were at the 200-week exponential moving averages for most gold and silver stocks.  Royal Gold (RGLD) is still my favorite here, but you'd have to be crazy not to take advantage of the yielding plays available through NEM, AEM, and even ABX — and those are large caps you'd never see me recommending in a "normal" market.
But this isn't normal.  There's a concerted, global (read Big 8) effort to devalue currencies — and therefore reprice debt — the world over.  The only way those central banks can get away with this kind of routine, and save their debauched systems, is to get it done under cover of a "deflationary" scenario.  The easiest path to that is to keep their foot on the less liquid large commodity and precious metal markets.   This whole American Earl Revolution is a God-send to the central bankers, because it's bringing supply on line in a period of global currency inflation.  Ask yourself why oil prices have remained so stubbornly high, however, despite the onlining of so much new supply in the world's greatest petroleum consumer.
How much longer can this kind of thing go on? Until the little guy cries "uncle" as loud as Soc Gen just did?  Given that I was expecting a retest, and the large volume bars we saw at the late February lows, I am thinking this week and maybe the next will be the final washout.  I'm still holding tight to my remaining cash, however.  Like in late February of 2009, I don't expect these prices to hang around for very long once the next cycle takes flight.   That said, I think there will be ample time to take part once the bull trend resumes.
Best to you all, and Go Cards!
_____________________________________________
PS — this retrace is also an excellent time to buy some physical, if you've been holding off, including 100 oz silver bars and nice liquid gold coins like Maple Leafs or Eagles.
______________________
If you enjoy the content at iBankCoin, please follow us on Twitter