I think this year's best trades will be in the currency market.  The US has been setting the base for a long time debasing the dollar.  Now Japan is starting to respond in kind as it needs to continue to print money and debase it's own currency.
Take a look at what the US Dollar debasing has done to the Canadian dollar.  It's been pushed waaay down and doesn't look like it can go any further. The Canadians will probably retaliate this year like the Japanese have done and start printing. Below is the monthly chart over the last 5 years, looks heavily compressed and ready to POP.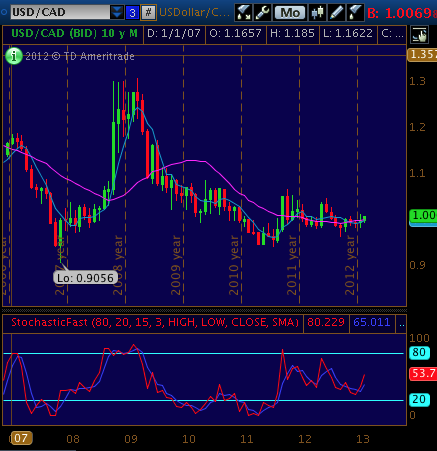 The daily chart below shows a move, perhaps the beginning of a long move up for the USD/CAD pair.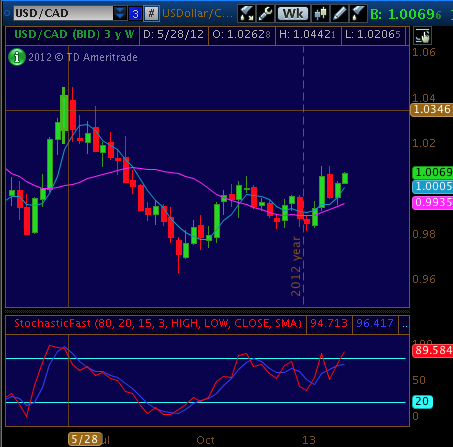 I am long the USD/CAD from the pullback to the 20ma last week @ 1.00294
Stop @ 0.99319
Similarly the British Pound looks to be a short. I'd be looking to short off a pull back to the 20 MA sitting around the 1.598 area.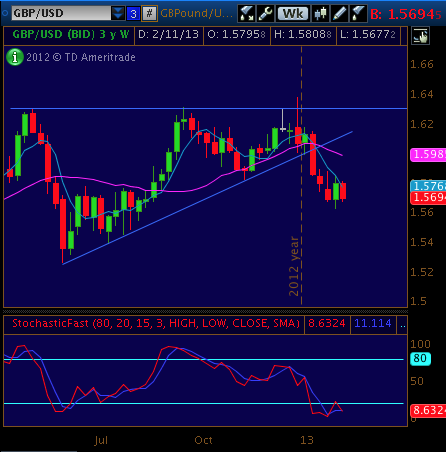 The Japanese Yen needs to consolidate so I'm leaving that one along for a while until it gets ready for the 2nd leg of it's monster move.
VRTX:
This turd started to move back up again, very strong. I thought about staying in but with the option losing it's value quickly I decided to exit it and wait for a clean breakout to the upside.
Sold stock @ $46.02 for a -0.51 loss.  Sold the put @ 1.70 for -0.10 loss.
Total loss was -$0.61 so the trade performance was R = -0.264  or put it another way I lost a little over a quarter of the original amount ($2.31)I had set aside as my loss amount.
RSH
I'm still holding on to 20% of calls my remaining calls which are up over 400%.