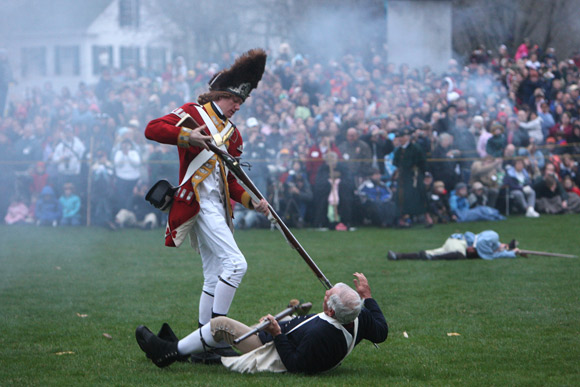 Today was that rarest of days — an entirely red painted day for the Jacksonians.  Even when the PM's are having one of their regular group regurgitations, I can usually count on MON or NRP, or one of my less precious groups like TC , sturdy TBT or even blessed Mr. ANDE to come to my aid.   But not today.
All bloody red.  Impaled on the hard cold grounds of Boston to the tune of  some 2.5% down.  
 But that's the breaks when you are building a hard money portfolio that was up some 25% in a month.  You are going to have to expect some pullbacks and yes, drawdowns.  We will talk about certain hedging strategies over the weekend and I will have a later post tonight to go over the specific individual Jacksons and some of my other picks in more detail.
For now, it's off to a well-deserved libation and the start of my weekend.   I will see you all later tonight with the roundup.
Addendum:  I did add some today but just a bit.   1,000 shs of [[TIE]] at $11.01 and 1,000 shs of [[CDE]] at $12.50.   They looked like they had pulled back to some stability.  We'll see, as I plan to add more of both in future.
Special Addendum:  Vincenzo explains to Fly what happened with the servers this afternoon:
____________________________________________
Update:  "Bloody" Jacksonian Results for Today:
Name
11-Jun
12-Jun

% Change

 

Comments

ANDE

 

$

  

30.70

 

$ 29.79

-2.96%

 

Nice move down, next stop 20day–$26.40

EGO

       

9.15

     

8.79

-3.93%

 

Hung right on the 50-day @ 8.74

GDX

     

40.92

   

39.54

-3.37%

 

50 day at $38.39

GLD

     

93.70

   

92.17

-1.63%

 

POG under $940.

IAG

     

10.08

     

9.85

-2.28%

 

50-day @ 9.44.

MON

     

86.85

   

86.54

-0.36%

 

Relative strength is strong here.

NRP

     

24.21

   

23.85

-1.49%

 

Right on the 20-day line at 23.63

PAAS

     

22.61

   

22.04

-2.52%

 

Tested 20 day holding here.

RGLD

     

43.92

   

42.64

-2.91%

 

Bounced off 50-day EMA @ 42.22

SLV

     

15.13

   

14.63

-3.30%

 

PO Silver down 56 cent.

SLW

     

10.26

   

10.05

-2.05%

 

Held 20 day trendline pretty well.

SSRI

     

22.81

   

21.95

-3.77%

 

Closed just a hair below 20 day EMA

TBT

     

57.52

   

56.59

-1.62%

 

Continued pull back. 20 day @ 54.90

TC

     

12.13

   

11.76

-3.05%

 

Even TC needed a rest today.

TSO

     

14.98

   

14.98

0.00%

 

Flat, sold out.

AVG (daily)
 

-2.35%

 

 

AVG (monthly)

 

-2.67%

 

 

AVG (inception)

 

22.40%