Sometimes a chart can be a thing of beauty. Take for instance this point and figure chart of the Russell 2000.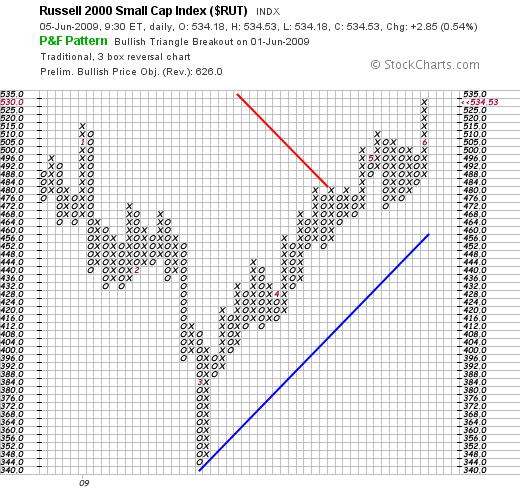 Yes, a bullish triangle breakout is a thing to behold. How feel you about this?
The Russell, being a small company index, is trading like we will be coming out of this recession within six months. Therefore, it behooves us all to continue to focus on early to mid-cycle stocks in financials, consumer discretionary and also tech and industrials, especially in the smaller to mid-size capitalizations.
If investors continue to focus in these areas, we should expect to see a sell off in energy and materials-based stocks, as money rotates to the early cycle growth names. That, in and of itself, might confirm the thesis that we are, in fact, going to see a recovery in our economy begin by year end.
Other signs to look for along the way are the continued narrowing of spreads between high yield bonds and Treasuries, the strength of the EUR/Yen cross, a significant drop in unemployment insurance claims and any pick up in M&A activity.
We shall see.
Good day.
If you enjoy the content at iBankCoin, please follow us on Twitter