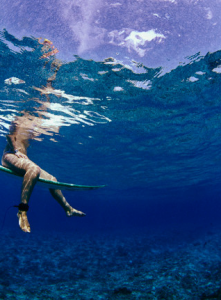 Save Your Energy for a Better Wave
Right now, I'm afraid of the flop.  We could get another Ace or Jack… really, we are "50/50" on the medium term, and being here on this tight range means we could easily move big.  But which way?…
… it's really really tough to say, and don't let anyone trick you into thinking they know, because really, they don't.  Half of us will be right, half of us will be wrong.  Half of us will think we know the market, the other half will say it was 50/50 anyway.
Whatever.  If you have a heavy bias, bull or bear, you cannot go to sleep without first checking overseas markets.  You cannot call your girlfriend without first checking a stock quote on your phone.  You keep refreshing iBankCoin.com to see if Fly or the other tabbed bloggers have picked a side, or changed it.
I see it.  I see it all in the tape.  I feel the market when it's afraid, when it's hopeful, when it's vengeful.
Look, I am a sentiment trader specializing in trader psychology so I know what both sides are thinking.  Whenever I am outside the box, looking in on traders, then I understand the market.  For a short moment, I admit, I was inside the box and that is why I have been confused.  After successfully shorting the market with the Vix in the 35-38 level, I thought the market was due for a relief rally and so I covered.  Two days later, and we still are going down, on low volume, but still down.  I can feel the bulls and bears in a long, trench warfare that is currently at a stalemate.
That is why, right now, if you're holding mostly cash, then you are holding two aces in your hands.  Once the flop is down, then place your bets because you are in control.
Both sides have great arguments and that is why we are stuck in a dangerous carbon monoxide-filled channel that is slowly and silently killing any animal that resides in it.
However, in your mind you should understand that first, cash rules, and secondly, the winning side is the short side as long as we are under the 200 and 50 day moving averages and you've been short since the breakdowns.
What happened to you bulls? What happened to that "This stock will breakout above the 50 day!"  You know what, it didn't.  What happened to that "I will wait for a pullback on this rally before buying"?  We've pulled back, but no one is buying.
And you bears, where are your testicles?  What happened to "No worries, we're rallying on low volume", well guess what, we've been fading on low volume too.
Investors Business Daily still has us as a "confirmed rally" on their front page… well, this is the most unconfirmed rally in the history of rallies.
Yesterday I did some portfolio shuffling, and today I will probably do the same.  I mean, I just don't feel comfortable with what the market is whispering right now- Vix consolidating; leaders reversing (education/medical); doji charts… feels like the market is cooking up something.  We could launch up or down, but I do NOT want to be a part of this.  I really don't.  Not until I see more "cards."  Thus, I will exit more long positions (sold my education longs already) and remove all recs on swing longs for now; I also intend to cover shorts that have lost a lot of volume in the past few days.  I have to let these stocks "re-set", or, in a Poker analogy, I have to wait for the cards to be dealt before making bets.
Don't get me wrong, I'm not full blown bearish here.  In fact, I advise not to enter new shorts here either (especially fades) because on the short term, we are really oversold, and the Vix is "overbought."
Simply put, if you are long or short here, you are merely hoping.  Hoping the indexes bounce or fall through support, because that's what you were taught.  Sorry folks, you're too early; you're jumping the gun on hopes.  In the long run, the market doesn't make hopeful people money… it makes disciplined people money.  If you're not comfortable with your positions, go to cash (don't cover shorts that are working) because you really aren't missing out on anything.  Sometimes you just have to let the small waves pass in order to catch the big one.
ALoHa,
Gio
If you enjoy the content at iBankCoin, please follow us on Twitter