"It's all one big card game" says Fly over on Alpha's strategic game plan post.

Couldn't agree more!  Here's another way we can look at the market… as a poker game.  This actually helps to illustrate how to "position size" your trades and the timing of them.  Basically, the rule of thumb is… higher probabilities, mean bigger bets.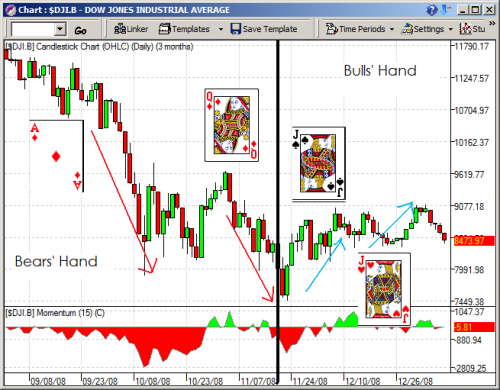 Here's the scenario:
1)  Bears were dealt card first. Nice hand!  Ace Queen suited always brings a smile to my face (actually it doesn't… you will never see me smile during a poker game. Unless I'm bluffing.)

In October Bears were dealt an Ace of Diamonds when the House rejected the big bailout plan.
Weeks later, bears were dealt a Queen of Diamonds as many financials/banks/commodities sold off on institutional selling.
… this Ace-Queen suited gives bears a huge edge from the beginning, with chance for high pairs or even a straight, or a flush.  Nice hand bears!
2)  Bulls finally gets their cards
First card comes out at the end of November.  A Jack of hearts.  Wish it was a Jack of diamonds.  The market was just way oversold from a technical standpoint and fear was too high.
Next card comes out… bam!  Jack of Spades.  Things look good for the bulls after Quadruple Witching week when Bernanke cuts borrowing rate to zero!
… pocket Jacks shift the tables and we are almost dead-even here before the flop!  Right now, the Jacks are favored 52.4%. There are now 6 cards in the deck out of 48 that can beat these pocket Jacks.  This is what makes this hand so dangerous!  Many players with pocket pairs go "all-in" on this strong hand, only to get knocked out on the flop. Bulls keep telling themselves "market is oversold" and so go "all-in."  Yikes!  Wait for the flop.
Soon the flop will be shown!   I think the cards will come sometime around January 20.  Yeah, you all know what happens around there.  The bulls are obviously waiting for another Jack, or NO queens or Aces. Stay tuned for the cards!
So, what cards are in your hand?
If you enjoy the content at iBankCoin, please follow us on Twitter