$SZYM reflects a beautiful cup and handle breakout pattern today with relative high volume.
Take a look at the daily chart.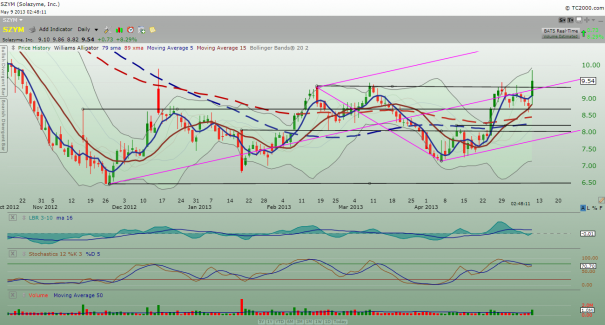 It is important that price action stays above the $9.50 support line and not fall back underneath it going forward.  Giving the catalyst of increased capacity will be "on schedule" in the near future according the the earnings CC call, the possibility of price action heading higher is good.
I finally bought back some position this morning to take advantage of the early downdraft.  Although I'm not holding as much as I used to (I wish I did); but that is ok since I've to manage the risk I'm in on this one.  Risk management comes with the price of missing some money on the table IF price action reacts in your favor; on the other hands, reducing my position will also reduce the damage if price action reacts negatively.  So, I'll have to look at $SZYM price action on a going forward basis.  In other words, I will add only if price action continue to go higher.  The number of shares I used to own is no longer relevant to my current risk profile and I will have to trade accordingly based on price action.
My 2 cents
If you enjoy the content at iBankCoin, please follow us on Twitter