The 82nd Airborne is somewhat of a unique entity. Being a 'trooper in this unit you are neither special operations, nor regular infantry. You have to be on 2 hour recall, with all of your bags packed, ready to jump into anywhere in the world, yet you train with the same budgets as other army infantry units. Thus, a unit like the 101st, is probably "on par" with the 82nd in actual real infantry training– if not better.
However, the 101st requires their helicopters to air assault objectives. There's not a lot of places to air assault within 300 miles of the Kentucky and Tennessee border, where Fort Campbell is. The 82nd Airborne provides roughly 2000 troopers, "gun trucks," anti-tank capabilities, and airborne artillery, to be dropped from the sky, on moments notice.
One brigade, from each division, had recently returned from a short 5-6 month stint invading Afghanistan– Army standard at the time. One division received orders to deploy the entire division, while the other one received orders to deploy one brigade, and put another on DRF1. DRF1, is Division Readiness Force 1, this means that all paratroopers in that brigade and its battalions cannot go outside a 25 mile radius, and cannot have a blood alcohol content over .05; because they have to be ready to jump into anywhere in the world within a moment's notice.  Get the difference?
The 101st, aka The hundred-and-worst (jest), had a sweet little parade, filmed on TeeVee. Meanwhile, we assembled in our company area, were given our deployment orders, and said goodbye to what loved ones that could come. My parents were in California, I only had a day or two's notice to let them know that I was deploying. I had just seen them at Christmas on leave, and I think it was probably better not seeing them before I left. All I saw was the other cold hard killers around me– read: suburban white kids with chips on their respective shoulders.
After the families left, the brigade chaplain, and battalion commander said some words. We then had one more "layout," the last of countless others to see if we had the required "packing list" in our bags. With the help of our buddies, we managed to get our over 100 lb rucks on our backs, our stuffed to the brim duffle bags– aka "A Bags" –on our fronts, and pack ourselves in "nut-to-butt," in the "cattle trucks." These trucks are merely metal containers with poles to hold onto down the middle, connected to semi trucks.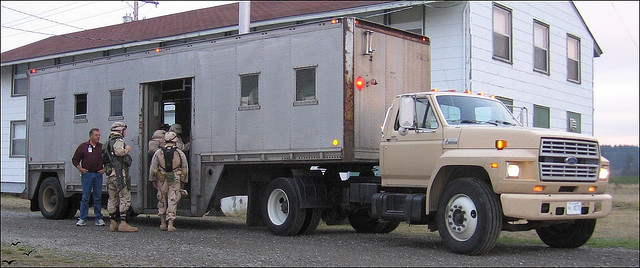 Example of an Army "Cattle Truck"
We left our company area and were delivered upon Pope Air Force Base, which is/was located within Fort Bragg. the commercial airliners were lined up, but they lacked the ground crew you would see at major airports. Thus, my platoon was tasked with the "detail" of loading all the rucks and A-bags on the plane. After all the cargo was loaded, each platoon had to walk across the scale and see how much they weighed, in order to make sure that it was not too much for the plane to fly. My platoon was the last to go, and at the end the First Sergeant (1SG) let us know that we all got to fly business class on the 747 for loading on everybody's bags. This turned out to be super awesome. We made a quick stop in Germany, then headed straight for Kuwait.
The first thing you notice when you land in the "Middle East,"  is how dry the air is. Even in the middle of the night at roughly 45 degrees Fahrenheit, is feels like there is no water within 100 miles. We formed up, off of the flight-line,– in the middle of the Kuwaiti night –then moved out to collect our bags,we formed up again, then marched to our respective tents and setup our cots for s short night's sleep.
Air Control Tower at TAA Champion/Kuwait International Airport
In the morning we immediately began training. The engineers built "kill houses," and we immediately got into a routine of PT (Physical Training) in the morning, training at the sites setup at Champion, eating at the "chow hall," and going to the "PX Truck." This quickly changed, as we boarded tour buses with curtains over the windows and headed out into the desert to the Udairi Range Complex to train. Udairi is extremely isolated.
This was a first time sleeping in the desert, seeing our "Hadji" bus driver go "number two" and use his water and left hand, or peeing "online" during a convoy. This was also our first time facing a sandstorm, having to just huddle underneath our ponchos and ride out the misery in silence, and boredom.
Sand Storm At Udairi
After running the ranges, zeroing our weapons, etc., we went back to TAA Champion. After a few days to recoup and get some "hot chow," we left again by ferry to Failaka Island in the Persian Gulf. Click the link for the history on the island. We did PT every every morning, then went off to train and clear all the abondoned buildings, and ran drills taking down whole the neighborhoods, etc. One night we had to pull guard with live rounds– my first time ever –and it was ridiculously creepy, another post in itself.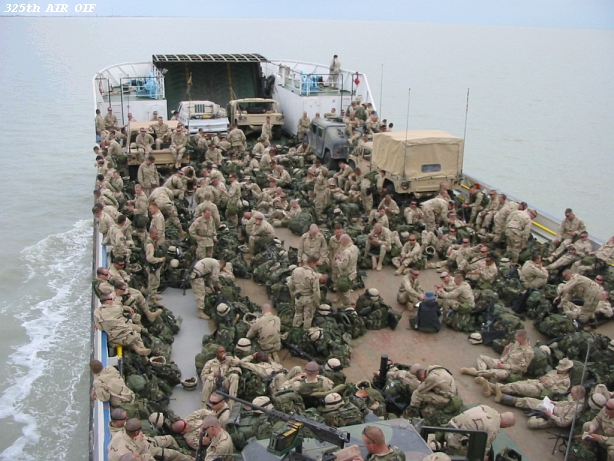 While we were on the island, we received our "top secret"  orders to jump into Baghdad, specifically Saddam International Airport (now BIAP: Baghdad International Airport). The jump was supposed to follow this order: 2/75, 2/325, 3/325, and 1/325. I forgot to put my "Pro Mask" on my leg for that briefing, which again, is a whole 'nother post in itself.
We ran a few "mock-ups" of the mission while still on the island, then caught a ferry back to Kuwait City, and TAA Champion. When we got back the mood was light but serious at the same time, training had become a welcome reality, and the TeeVee in the "chow hall" was already beginning to show the bombings of buildings in Baghdad, etc.
Somehow that idiot Geraldo found a way to make it to Champion and take a rather long segment with our "sand table" in the back. This would change the mission. While we were gearing up to go, Saddam started hucking Scuds our way, and we often had to run to get our pro masks on and get in the "scud bunker," often times leaving in the middle of chow, etc. The word "lighting" would come over the loud speaker, and you would have to jump out of your bed in the middle of the night, to squat in a concrete "bunker."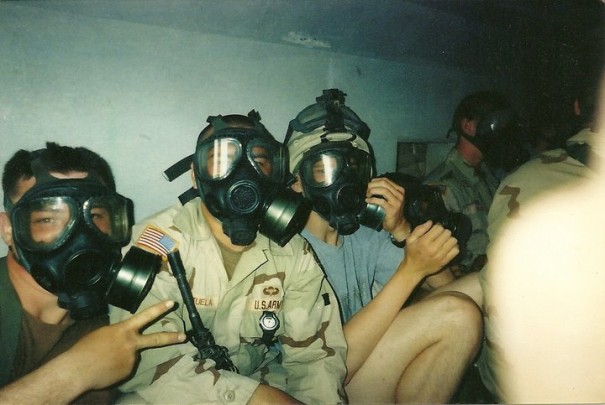 Squatting in the Scud Bunker
This was a huge screw-up on both sides, and the jump was scrapped, not just because of this, but because of the weather, and based on the fact that the enemy had vastly reinforced the drop zone. Because I had Strep Throat during that last JFEX, my first jump out of Airborne School, would have been into combat. I feel robbed, but I would have probably been robbed of my life had it gone through. 2/325 was brought back from the compound they were in, in another country with 2/75, to deploy with us. After turning in all of our parachutes, we donned our "MOPP (Mission Oriented Protective Posture) suits," and headed for the flight line. After the Rangers jumped in and secured Talil Airbase, my unit was flown in on the same c-130's that were supposed to drop us over Baghdad.

One of the Squads Ready to Deploy (9 men is standard)
From Talil we were trucked up to As Samawah, Iraq, to pick a fight with the enemy. An enemy that was pinning down the advance of the Third Infantry Division (Mechanized) toward Baghdad. The tankers couldn't handle it, so they brought in the paratroopers. This is the subject of my next post.
[Some of these pictures (generally the ones without quotes), and references, come from http://carryingthegun.wordpress.com, which is my boy @dongomezjr 's site. He invaded Iraq with the 2nd Brigade, 82nd Airborne too, and is now a commissioned infantry officer]