Earlier today, The famous Jim Cramer from CNBC said he likes to pick a stock that encompasses the market as a whole, a market tell. Right now he sees that tell as $WFC. Wells ended the day down slightly, but the daily chart is even more troubling. The March lows were at 25.11, but those lows may be in sight very soon. the financials in general, all look very similar and very weak. Have a look at the daily chart of Wells: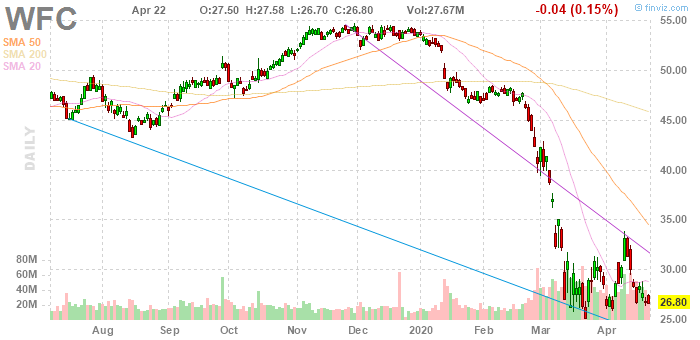 ___
We have more economic data in the morning, but bad equals good as of late. Just look at oil, the commodity trades negative yet the oil stocks are flying. I have yet to get a good handle on the market here and mostly laying low with new swing trades. I made a rookie mistake buying USO, but was able to escape that death trap yesterday with a nice loss. I almost swore off ETFs as a whole, but then made a great trade in SQQQ that same day. I may go for puts or simply shorting the indexes next, I just don't trust the ETFs anymore.
As for momentum today, it was found all over. Here is the latest momentum scan: CLICK HERE FOR CHARTS. $GRUB caught my eye from today's scan, $GDX still solid, but I'm just not enthused to buy stocks.
Chamath Palihapitiya catches a lot of flack as of late, but I agree with him wholeheartedly in his interview on CNBC today. Prepare for mass layoffs in September when the PPP programs ends, just in time for Christmas. This market has just about everyone fooled. And, the IRS indeed knows how to get money to every single American. What a joke this is all becoming, and surely as I type, the government still has my businesses shut down. Watch the banks here for tells, and give the video clip a view too.
Comments »