The NFT space is buzzing once again thanks to Visa entering the ring and buying a crypto punk, jPEG, for $150,000. This comes days after Arizona Iced Tea buys and joins the Boared Ape Yacht Club. See their official tweets below:
Over the last 60 years, Visa has built a collection of historic commerce artifacts – from early paper credit cards to the zip-zap machine. Today, as we enter a new era of NFT-commerce, Visa welcomes CryptoPunk #7610 to our collection. https://t.co/XoPFfwxUiu

— VisaNews (@VisaNews) August 23, 2021
BIG NEWS, ZONIE'S! AriZona APED into the @BoredApeYC – We're stoked to introduce our Bored Ape #NFT & have some huge things planned!

Shout out to @BoredApeComic & check out https://t.co/dIYyQOZEWT Issue #1 for a huge surprise reveal. #NFTcommunity #BAYC #BoredApeYC #NFT pic.twitter.com/qs3CVNCGl3

— AriZona Iced Tea (@DrinkAriZona) August 20, 2021
____
Indeed, we are only getting started in the Metaverse, and this form of marketing, digital art, is not only genius but could pan out to be a very savvy investment. My kids are being trained as I type, collecting rare items in the $RBLX metaverse. Now I do the same in real life with my rare jpegs in Opensea. One day these two worlds will collide, it's actually happening now. It would be a shame if you did not find yourself with a rare art piece from 2021.
I understand some will never buy an expensive jpeg, aka an NFT. For those that won't, you can always participate in the upcoming metaverse phenomenon via Roblox. This is your metaverse leader with kids, and is on the cusp of a major breakout: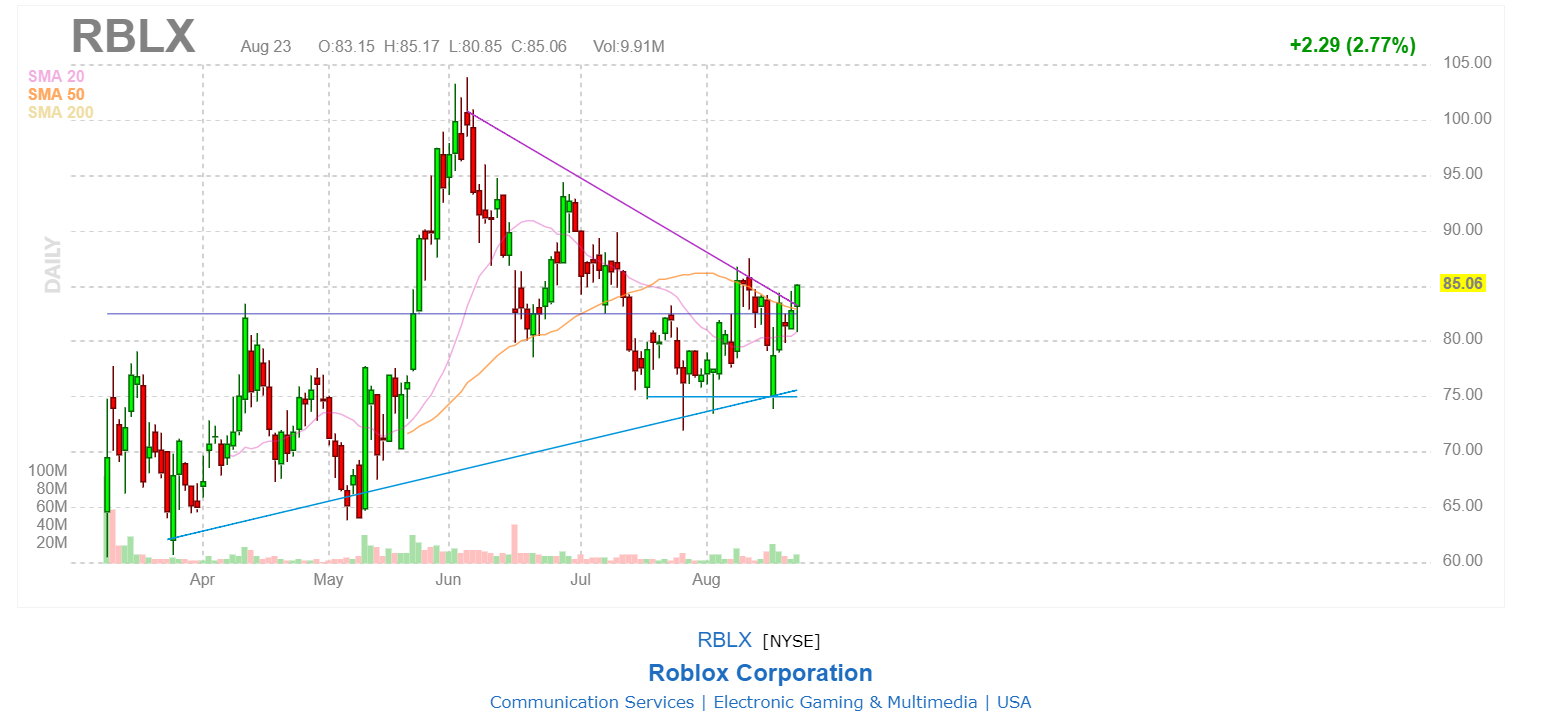 __
I went long $RBLX on Monday as it hit scan and started to flip some key levels.
Momentum appears to be back in the market with the indices breaking to fresh highs once again. Here are some notable movers to watch for the upcoming week: CLICK HERE FOR CHARTS
$RBLX target $120.
World of Women Jpeg floor target 100ETH
Comments »