This is a follow up to my previous post which can be found HERE.
Again, this post is more for myself than it is for you the reader. A post I can come back to reference during the next pandemic crisis. Below, are the tickers I missed coming into the new week. All of which are very speculative in nature and relating to the new coronavirus in Wuhan. If you play any of the tickers below please make sure to have stops in place.
CBLI – Cleveland BioLabs, Inc., a biopharmaceutical company, focuses on developing pharmaceuticals designed to address diseases with unmet medical need.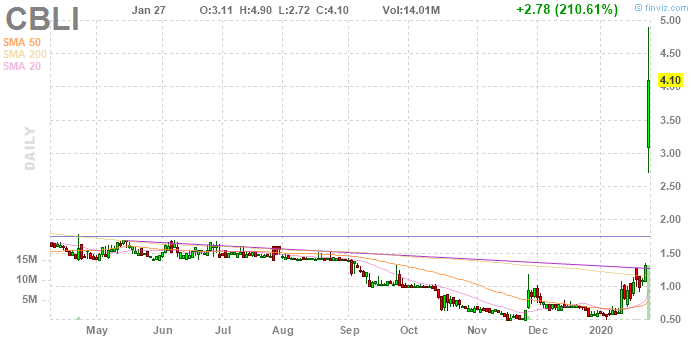 Note: CBLI neither has any coronavirus drug or vaccine in its pipeline nor an experimental one targeting the deadly disease, but has an adjuvant vaccine candidate codenamed SA-701 in early-stage of development. Vaccine adjuvants are chemical substances that may be added to vaccines to boost the immune system. This nano-cap stock was up 200% on a link to this info.
___
AEMD – Aethlon Medical, Inc., a medical device company, focuses on creating devices for the treatment of cancer, infectious diseases, and other life-threatening conditions. It develops Aethlon Hemopurifier, a medical device that targets the elimination of circulating viruses and tumor-secreted exosomes that promote cancer progression.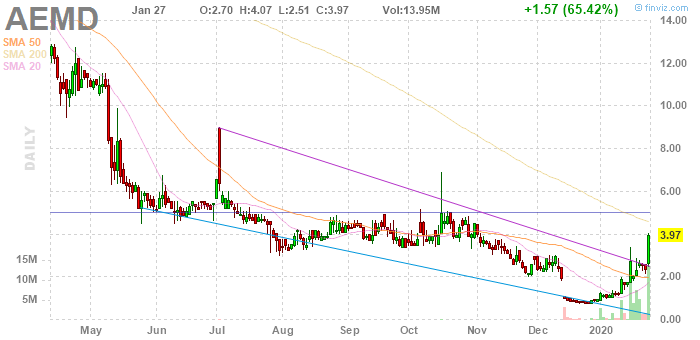 This one traded the entire float today and is a day traders dream. We caught shares early on this morning inside Exodus.
___
CDTX – Cidara Therapeutics, Inc., a biopharmaceutical company, focuses on the discovery, development, and commercialization of novel anti-infectives for the treatment of various diseases.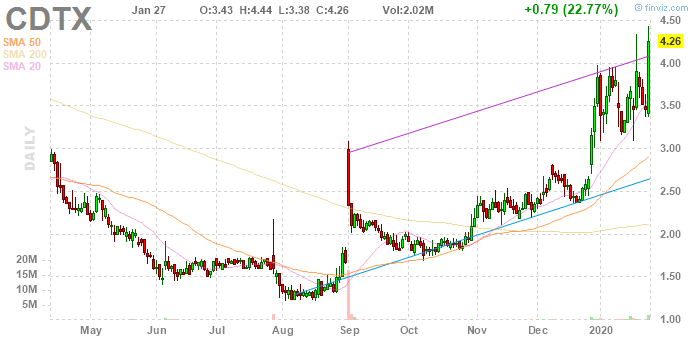 Note: Cantor Fitzgerald Stays Overweight, $8 Tgt On Cidara Therapeutics Believes 'coronavirus brings CDTX's Cloudbreak Antiviral Fc Conjugates (AVC) into the spotlight. The company is developing a universal flu vaccine and the data thus far has been impressive
____
VIVO – Meridian Bioscience, Inc., a life science company, develops, manufactures, and distributes diagnostic test kits primarily for various gastrointestinal, viral, respiratory, and parasitic infectious diseases worldwide.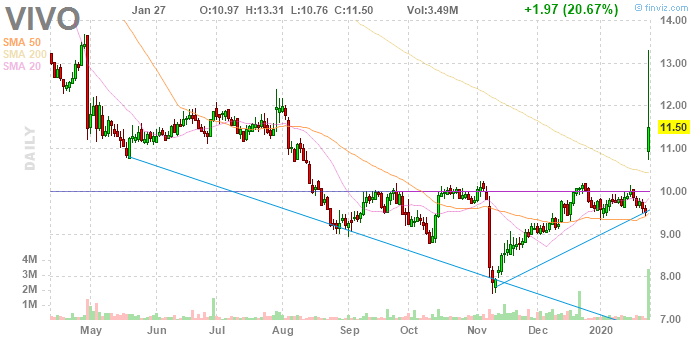 Note: News hit the wire that certain diagnostic companies and labs in China have engaged the company to use its product to develop assyas.
__
Free free to leave any tickers I left out in the comment section.
If you enjoy the content at iBankCoin, please follow us on Twitter