This post is more for me than it is for you, and in no way a recommendation to buy these stocks. It is my journal listing of stocks that are moving on volume on the latest Wuhan Coronavirus scare. What do we know so far? Very little as it seems many are keeping this thing under wraps. However, more details are pointing to a more significant threat.
It's hard to determine what is fact and fiction in this new age of "Fake News" , but here is the current Outbreak map and the RO number:
Current #Coronavirus map pic.twitter.com/bVTXcOg2Yr

— James (@JFJAFJF) January 25, 2020
UPDATE: Transmission of #coronoavirus estimated at 2.6 by another research group (lower than the 3.8 initial reports). But 2.6 is still extremely bad —each infected person will infect 2.6 others. Even the authors admit #CoronaOutbreak containment will be very difficult. Thread: pic.twitter.com/Gg2vyIevL4

— Dr. Eric Feigl-Ding (@DrEricDing) January 25, 2020
__
Stocks seeing activity due to the outbreak are as follows (Highest price to lowest price): AZN, MRNA, VIR, LAKE, NNVC, NVAX, APT, ICCC, CERS, INO, AHPI, BCRX, AEMD, CODX, CBLI, LLIT
AZN – engages in the discovery, development, and commercialization of prescription medicines for the treatment of respiratory, inflammation, autoimmune, cardiovascular, metabolic, oncology, infection, neuroscience, and gastrointestinal diseases worldwide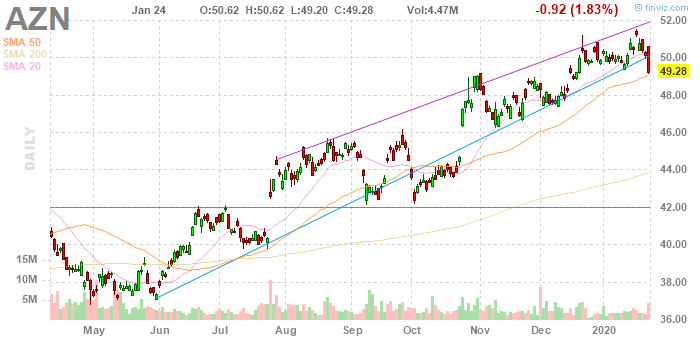 AstraZeneca CEO Pascal Soriot told CNBC. "We have a very large presence in China, and are the number one pharmaceutical company there, we employ 16,000 people — so as you would imagine it matters to us, we really care a lot and we'll monitor this, but it really looks like it's contained for the time being."
___
MRNA – Creating a new category of transformative medicines based on mRNA to improve the lives of patients. From the beginning, we designed our strategy and operations to realize the full potential value and impact of mRNA over a long time horizon across a broad array of human diseases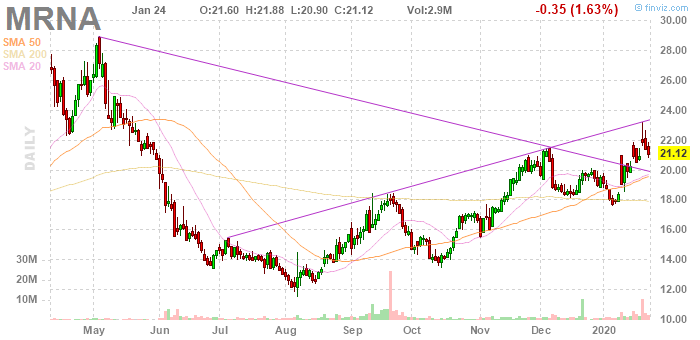 Note: "MRNA has received new funding from vaccine alliance CEPI to accelerate its work on a coronavirus vaccine, and it has joined forces with the Coalition for Epidemic Preparedness Innovations on a vaccine approach."
___
VIR – a clinical-stage immunology company focused on combining immunologic insights with cutting-edge technologies to treat and prevent serious infectious diseases.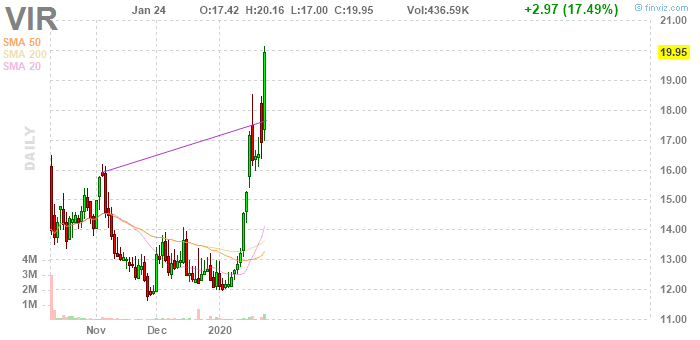 Note: "$VIR holds a portfolio that includes an antibody for another coronavirus strain, but management is testing to determine efficacy on the Wuhan strain."
___
LAKE – The company offers limited use/disposable protective clothing, such as coveralls, lab coats, shirts, pants, hoods, aprons, sleeves, smocks, and shoe covers; high-end chemical protective suits to provide protection from highly concentrated and hazardous chemical and biological toxins; and fire fighting and heat protective apparel, which is used for the maintenance of high temperature equipment, and for military and airport crash and rescue teams.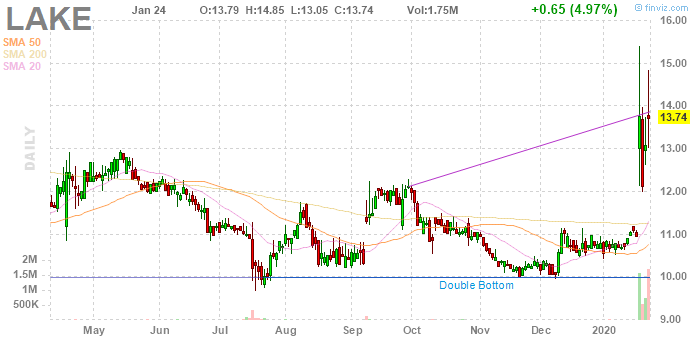 ___
NNVC – NanoViricides, Inc., a nano-biopharmaceutical company, discovers, develops, and commercializes therapeutics for the treatment of viral infections. The company is developing anti-influenza drug candidates at pre-clinical and advanced pre-clinical stage, which include two FluCide drugs comprising NV-INF-2, an oral anti-influenza drug and NV-INF-1, an injectable anti-influenza drug for novel strain of H7N9, Bird Flu H5N1, and other Highly Pathogenic Influenzas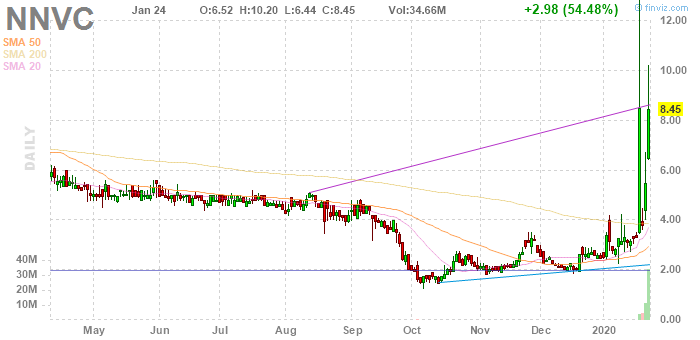 Note: The company announced a secondary offering after the first day spike. Investors gobbled it up, buying the dip like madmen.
___
NVAX – Novavax, Inc., a clinical-stage vaccine company, focuses on discovering, developing, and commercializing recombinant nanoparticle vaccines and adjuvants. The company also has pre-clinical stage programs for various infectious diseases, including the Middle East respiratory syndrome coronavirus; and develops technology for the production of immune stimulating saponin-based adjuvants.
Note: Like NNVC, the company has already announced a secondary offering and the stock is recovering from the news.
___
APT – engages in developing, manufacturing, and marketing a line of disposable protective apparel, building supply products, and infection control products in the United States and internationally.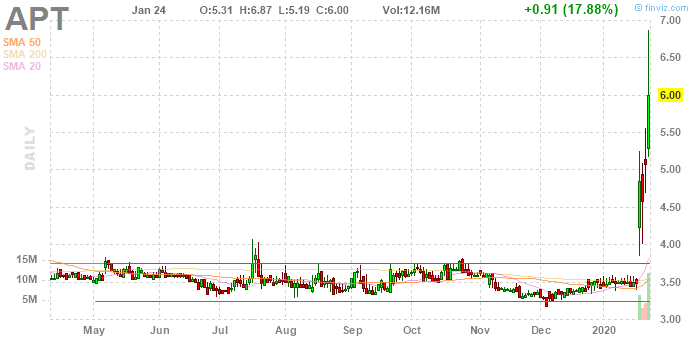 Note: APT is LAKE's little cousin. They almost always move in tandem with each other.
___
ICCC –  is involved in the development of Mast Out, a Nisin-based intramammary treatment of subclinical mastitis in lactating dairy cows; and treatments that prevent E. coli K99 and bovine coronavirus, as well as calf scours caused by enteric pathogens.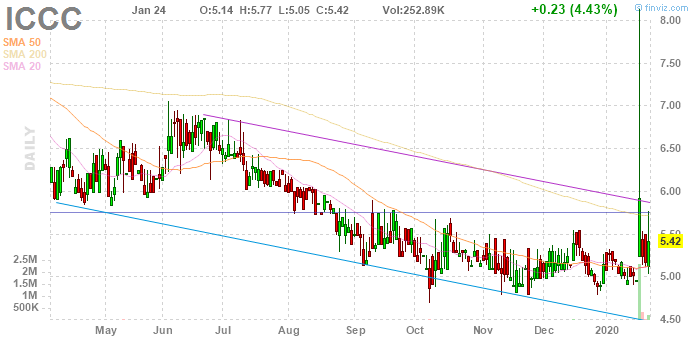 ___
CERS – Its INTERCEPT Blood System is based on its proprietary technology for controlling biological replication; and targets and inactivates blood-borne pathogens, including viruses, bacteria, and parasites, as well as harmful white blood cells, while preserving the therapeutic properties of platelet, plasma, and red blood cell transfusion products.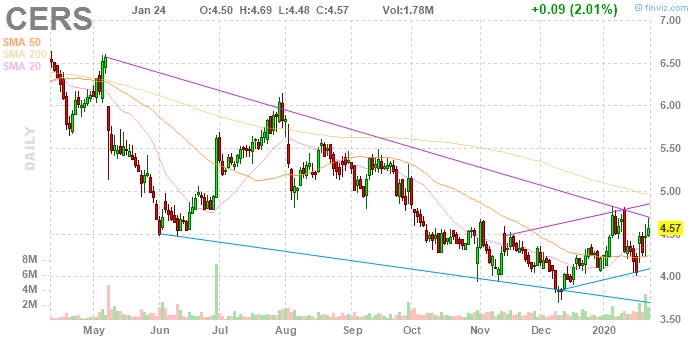 NOTE: Cowen notes that it is encouraged by prior data suggesting that Cerus's Intercept could be an effective tool against the Coronavirus family.
___
INO – a clinical stage biopharmaceutical company, develops active DNA immunotherapies and vaccines in combination with proprietary electroporation delivery devices to prevent and treat cancers and infectious diseases.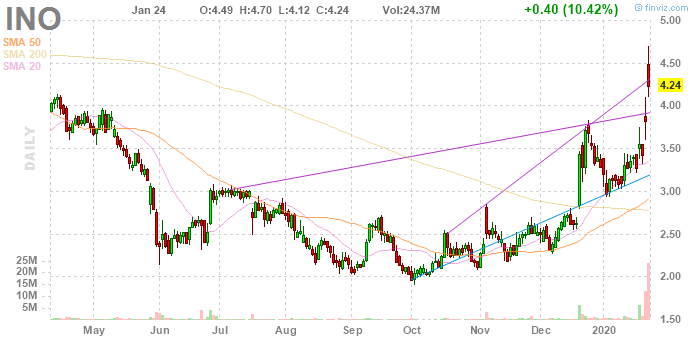 NOTE: "INO is developing a vaccine to treat the MERS strain of coronavirus, management may be able to contribute its research toward the Wuhan coronavirus effort."
___
AHPI – Allied Healthcare Products, Inc. engages in the manufacture, marketing, and distribution of various respiratory products for a range of hospital and alternate site settings to the health care industry in the United States, Europe, Canada, Latin America, the Middle East, the Far East, and internationally.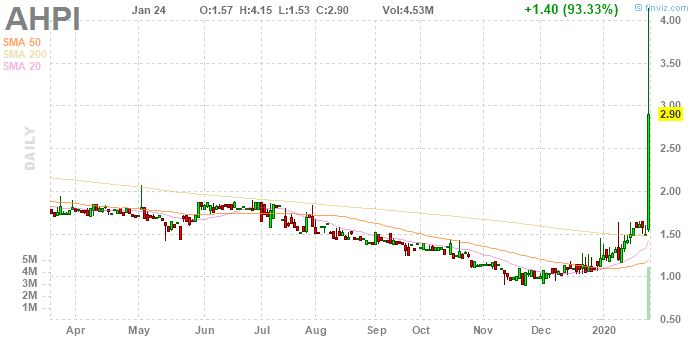 Note: A sleeper Coronavirus play that popped up after traders started searching for companies that had products to treat respiratory problems. The stock was halted on Friday for a few mintues as traders rushed to buy up shares.
___
BCRX – a biotechnology company, designs, optimizes, and develops small molecule drugs that block key enzymes involved in the pathogenesis of diseases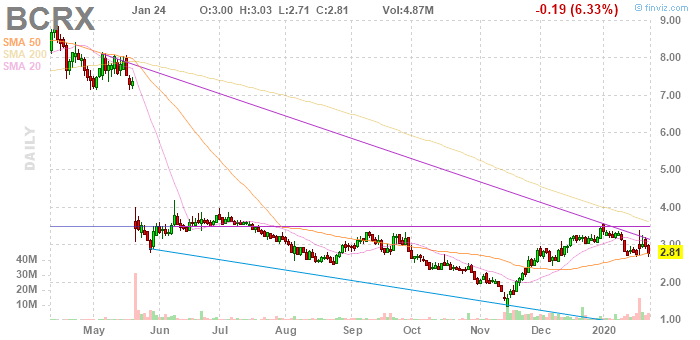 NOTE: galidesivir is in a Phase 1 study for a range of viruses, including coronaviruses. The early stage of development may prohibit material contribution in the immediate outbreak, but BioCryst may be able to lend some useful data.
___
AEMD – a medical device company, focuses on creating devices for the treatment of cancer, infectious diseases, and other life-threatening conditions. It develops Aethlon Hemopurifier, a medical device that targets the elimination of circulating viruses and tumor-secreted exosomes that promote cancer progression.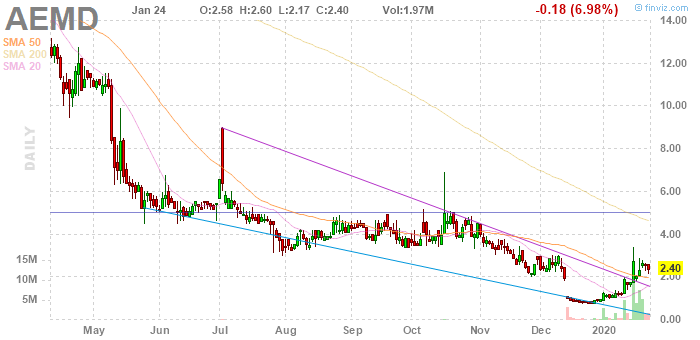 ___
CODX – is a molecular diagnostics company that has developed and intends to manufacture and sell reagents used for diagnostic tests that function via the detection and/or analysis of nucleic acid molecules (DNA or RNA), and to sell diagnostic equipment from other manufacturers as self-contained lab systems.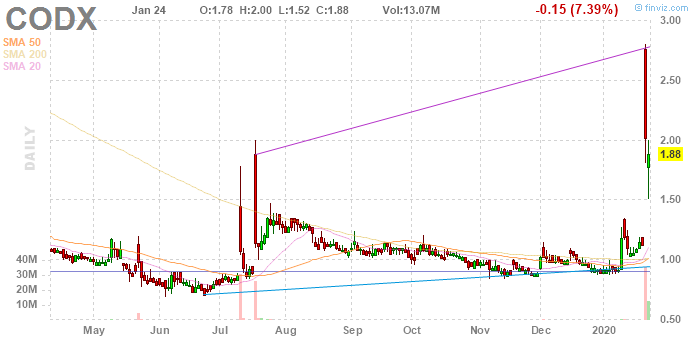 NOTE: Similar to NNVC & NVAX, the company issued a secondary offering right after the one day spike. Investors gobbled up the dip quick on Friday.
____
CBLI – a biopharmaceutical company, focuses on developing pharmaceuticals designed to address diseases with unmet medical need.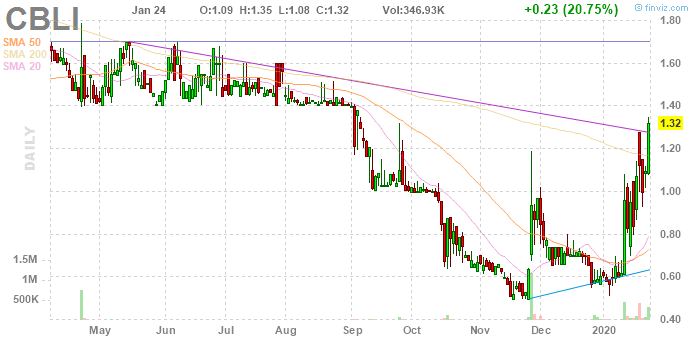 __
LLIT – offers medical devices, including medical ventilators, general hospital products, medical compressors, and wireless medical products, as well as related supporting products.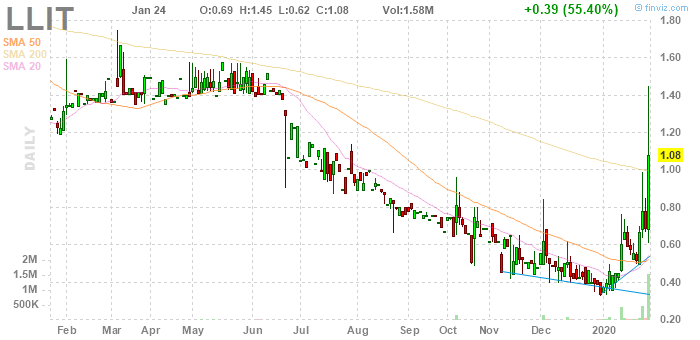 NOTE: Similar to AHPI, the stock was halted serval times as traders went down the food chain for respirator products.
___
Feel free to add tickers to this list in the comment section.
If you enjoy the content at iBankCoin, please follow us on Twitter