$TSLA has been on fire since the summer lows of 2019, one can't help but to think the squeeze is on all the way to the magic target price set by Elon himself, $420. Fintwit, meaning Financial twitter traders, were out in masses calling out the breakout today. Let's see if the momentum will carry over into tomorrow's session, the chart definitely supports a move higher from here: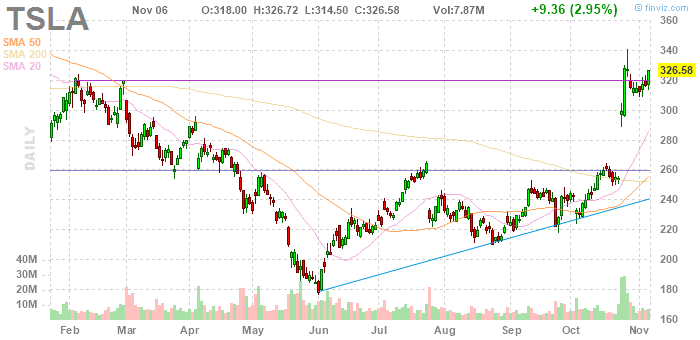 Other than TSLA, momentum has been hard to spot this week. Biotech has been notably strong over the last week, but can be a hard industry to trade. Oil names started the week strong, but took a nice pause today. And, does one really buy $AAPL up here @ $260?
So where do we go from here in the overall market? Is it time to pullback to lower trend support levels? or will the market continue to squeeze higher? I'm waiting for some key tells, but so far I got nothing.
Earnings season is in full swing and a trade deal seems to be delayed another month, continue to watch for landmines here. As for what worked today, here is the momentum screen imported from Exodus: CLICK HERE FOR CHARTS.
If you enjoy the content at iBankCoin, please follow us on Twitter