I've been getting the question a lot via Twitter and the comment section (what is a hybrid mover?), so I figured I should do a post. Some wonder why I post hybrid movers as today's movers vs. the actual percentage movers. The answer is simple:
The hybrid score is a mix of the fundamental score as well as the technical score of the underlying security. There is also a sub rosa score that gets factored into the equation that is a secret recipe The Fly put together.
In this sub rosa score there are a bunch of factors that play into the score. For example, one ingredient is the price of oil, another is treasuries. Now I don't want to give away the full formula, as it is top secret, but just understand it is sublime mathematical precision.
This is one of the reasons why when oil is up, you get a bunch of oil names on the hybrid screen.
The key to the hybrid screen is to pick a chart that has yet to move, but up huge in hybrid score. The algorithm is signaling things changing in favor of price appreciation whether you can see it or not. Couple that with a chart that is pleasing to the trained eye, and you've found a winner.
The hybrid screen, in my opinion, has been the most valuable screen to my trading, and if you are a Exodus member you should be paying attention to it.
Also, Exodus holds an overall hybrid score to the market which can be found at any time inside Exodus. The score can assist you with timing turns, it's not fool proof, but does a fairly decent job. When the score is above 3.20 it is time to take profits and step to the sidelines, when the score is under 2.60, it is time to close your eyes and buy with both hands. Currently the overall sits at 2.91.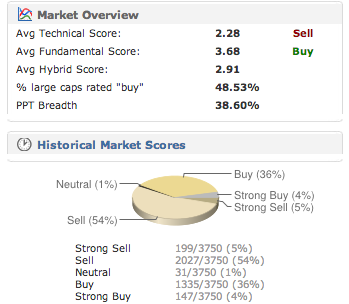 There's no telling how long Fly will allow me to continue to post the hybrid movers screen, so while it's here, enjoy it.
I hope this clears up a few questions.
If you enjoy the content at iBankCoin, please follow us on Twitter