Nothing is certain in the market, but I have found in my trading career that breakout plays can be very rewarding. Some seem to run forever, some seem to last for seconds, and some fail. So make sure you have a plan, know your exit, and have a stop in place.
Take a look at one of my first posts on JRCC. Now take a look at the recent chart of JRCC below, notice it moved higher, almost in a straight line, after it traded above the area of resistance.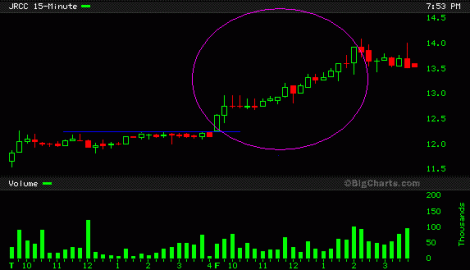 I love trading breakouts. There are times where I will not list my trades, because these trades require me to be in and out of a trade in minutes. My goal for listing breakout plays/charts is to help you understand what I look for myself to bank coin.
New feature: Breakout posts will be categorized in Breakouts, on the left sidebar. This will help my readers keep an eye out for breakouts, as well as help me organize my thoughts. Just one of many things to come from the Cajun.
Note: Remember nothing is certain. Before you trade a breakout play, it may be a good idea to review The Anatomy of a Breakout
If you enjoy the content at iBankCoin, please follow us on Twitter