Life has a way of slowing you down, much like a solid piece of market resistance.  We gauge the health of an index, commodity, or stock often not by how it handles resistance the first time around, but rather upon subsequent tests.  The pullback is where a stock can build strength and momentum to blast through an obstacle.  Curious enough, the same goes for support.
Let's say you missed Friday's session, like me.  You may feel very out of sorts.  If you build an understanding of the market profile, you'll find it quickly telling the story of Friday and getting you back up to speed.
First off, the "free exposure" given from the rally held true, but only for an hour of Friday's session, after which the market gave back over half the move.  On the surface, this is bad news for the bulls.  But if you're in the mindset that we're in a corrective phase of the market, this action is expected and normal.
Given these conditions, we need to be nimble, rank our positions, be ready to cut old favorites loose and perhaps initiate new positions in better served areas of the markets.  I'll be back later this morning with thoughts on this.
If we lose Friday's low, things get slippery fast as we traverse Thursday's dynamic trend.  Up above, we mostly can key off last Monday's tight auction, and the relevant levels produced from its auction.
To my eyes, the major hand tip comes from accepting price either over 1639.50 value area high 06/10 or Thursday's low at 1601.
There were two major distributions occurring Friday.  I've split them accordingly in the below chart, and they give us clear guideposts as we progress today.  We were very strong overnight.  This can be interpreted as bullish, but more so I see it as an opportunity for bulls to give it up.  We need to be on guard for that, and armed with these levels of support we can measure the progress made by sellers: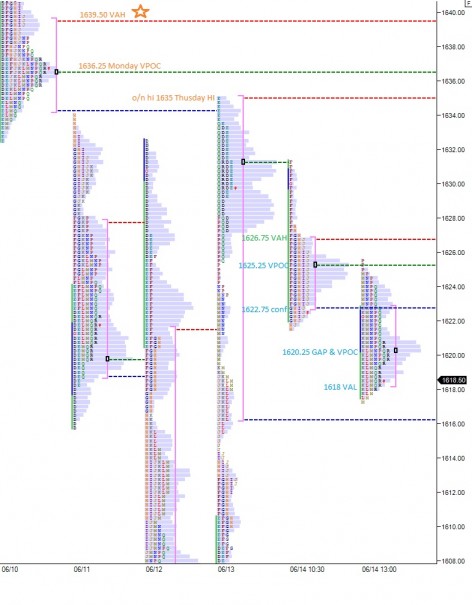 Comments »