The economic calendar is quiet to start the week but will be ramping up as we progress.  We have NAHB Housing Market Index at 10am, Bank of New Zealand Inflation Expectation just before midnight, and UK and USA CPI data out before the open of Tuesday trade.
Nasdaq futures are currently set to gap higher to begin the week.  We are right about at the threshold of "pro gap" territory where seeking to fade the overnight action can require deeper pockets than most traders have.  The key however is to observe how we open and especially any attempts to reject the higher prices.  Opening like this, to start the week, up at contract highs, elevates the risk of an opening drive in either direction.
If instead we see an open auction and then some chop, we know the other timeframe is waiting before making a decision.  Either way, the discovery process is active until the market is done finding sellers.
I have noted the nearest low volume nodes on the following intermediate term chart.  If sellers can push trade down through 3958.25 then the market likely has done a good job finding sellers on the intermediate term timeframe and we can begin balancing again on this timeframe.  This may not be a welcomed development for the market.  I have also noted my measured move targets to the upside.  These serve more as reference points then specifics, but are upside road signs to gauge the action.  See below: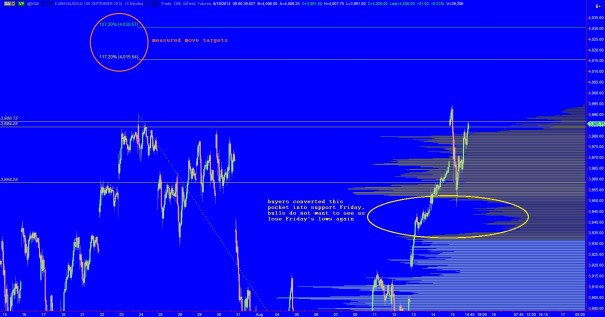 Therefore, should we see sellers push down and fill the overnight gap, we need to be keying off of Friday's market profile.  I red starred the VAL at 3958.25.  If we start trading below that level, especially today, then you should take caution on the long side.  I have noted the key levels below: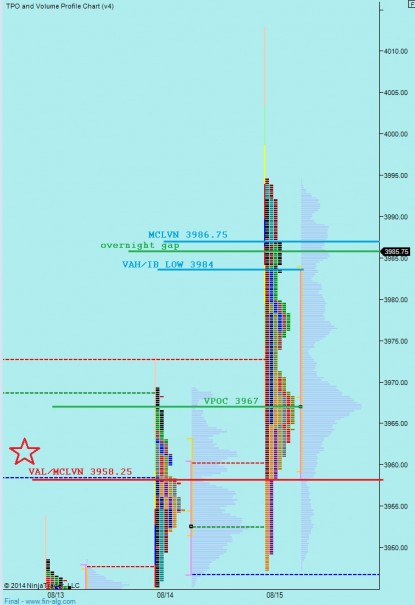 Comments »