Nasdaq futures were set adrift higher overnight after closing out the session at a new swing high. Volume and range are a bit light but still well within the confines of normal. The behavior has a 1-timeframe feel to it, never managing to put in a counter rotation of significant magnitude during the session.
We have U of M Confidence numbers at 10am. It is the preliminary read for February. Last month this data had an elevated impact on price. Fed Fisher is speaking at 1:30pm.
Yesterday the market had a "pro gap" up and didn't give much of it back before working higher for most of the session. The resulting profile has an air pocket from 4335 – 4329 in what looks like a double distribution trend day.
Intermediate term we are bullish with a slight neutral skew given we are just above swing high. When the market takes out a major level I like to take my eyes out to a weekly chart of the composite to see what has happened. See below: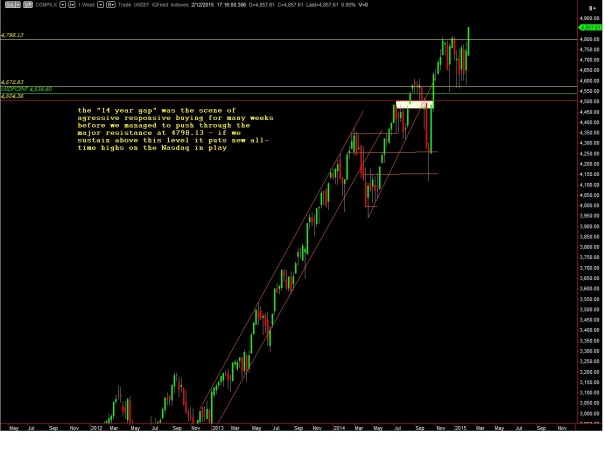 My primary expectation heading into today is for sellers to push into the overnight inventory and work at a gap fill down to 4345.75. Sellers can penetrate yesterday's range and work through the volume pocket 4335 – 4329 to ultimately target the naked VPOC at 4326.75.
Hypo 2 is sellers cannot press into yesterday's range and we take out overnight high 4362 and continue exploring higher prices.
Hypo 3 is a gap and go drive higher.
Hypo 4 is stronger than expected selling which takes out the air pocket 4335 – 4329 early and works toward testing yesterday's low4315 putting yesterday morning's gap into play for a sharp reversal back into the multi-month range.
Key levels are highlighted below: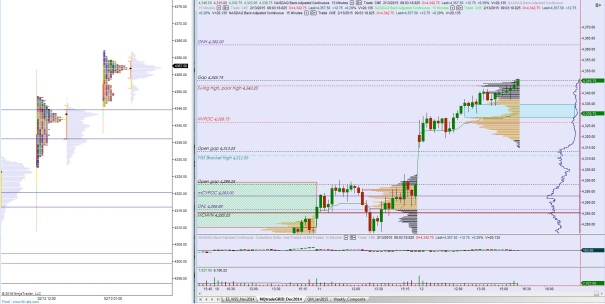 Comments »