Range and volume are compressed on the globex session despite the GDP data at 8:30am. The data came in a bit stronger than expected which esoterically is a negative occurrence because it may be seen as evidence the economy is ready for Feds to raise rates. Price is flat on the news as we head into cash open with a small gap down.
We have Chicago Purchasing Manager at 9:45am, Pending Home sales and the Final U of M Confidence read at 10am.
The market traded sideways with a slight upward skew all week and today is the final day of trade in February. Early on my primary expectation is for buyers to close the gap up to 4462.50 and attempt a test above overnight high at 4464.75. Up here I will look for responsive selling back down to the mCVPOC at 4440.
Hypo 2 is we ush lower off the open and take out mCVPOC 4440 opening us up to break the weak low at 4429.25 and target the NVPOC at 4417.75.
Hypo 3 is we drive above overnight high and target measured move 4480.
Levels: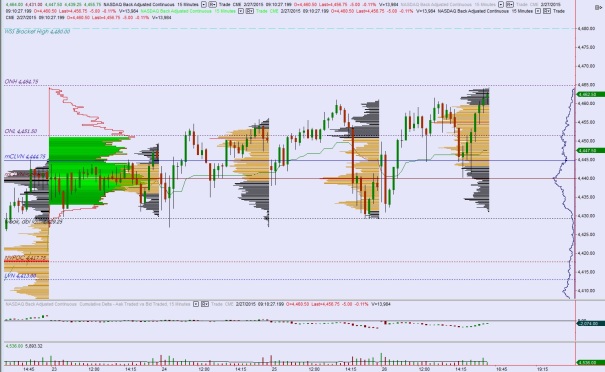 Comments »