As an intermediate term balance ages more and more fine lines begin to show on the face of the distribution.  The more crowded the profile becomes with lines, the more likely we are to see the profile left to explore for new, youthful prices.  Such is the case with our current intermediate term profile which is becoming rather crowded with relevant prints.
Don't assume I mark this chart up all willy-nilly with lines simply to obfuscate my own job.  These levels have proven significant both via price action and the resulting volume footprint.
We are currently priced to open just below the VPOC of our intermediate term balance.  Whether buyers respond to these prices like they are a sweet discount or hold off will telling as we close out the week.
Nasdaq futures are pricing in a gap higher overnight after a liquidation trade took hold yesterday.  With U of M Confidence data out at 9:55am and the gap higher, we may see some murky trade early in the session before finding direction.  Google is gapping higher after announcing earnings yesterday after the bell.  Today is also OPEX for monthly stock options.  Earnings are just around the bend for most stocks and we are heading into an uncertain weekend according to the news cycle.  This is a challenging environment to possess conviction, however the reward for either side is great.  With that in mind, we pay see other time frame (OTF) participants active today, jockeying for position ahead of the weekend.  That means larger intraday rotations and stronger conviction then the fickle day trader or local.
I have highlighted the key characteristics of the intermediate term balance profile, as well as the key market profile levels on the below charts.  Note yesterday's profile is split in two.  When a catalyst (news, Fed) hits the tape and creates a change I will split the profile the better see how participants are behaving the new environment: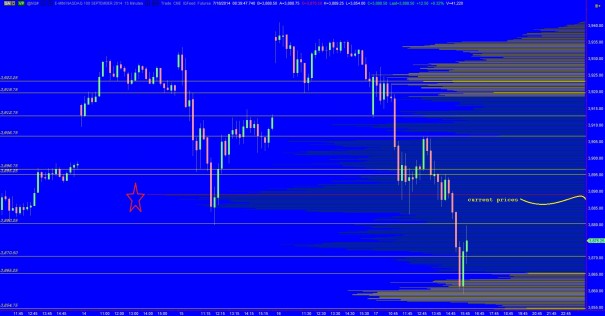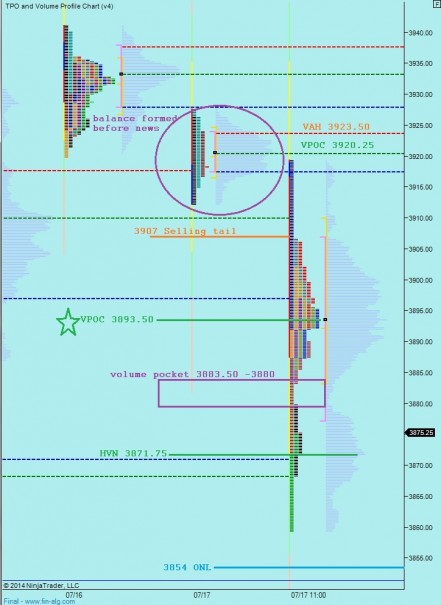 Comments »