Nasdaq futures were down over 40 points early this morning but are paring back some of their losses after a weaker than expected jobs report which seems to be easing the expectation of a rise in interest rates sooner by The Fed.  As we approach cash open Nasdaq futures are trading down about 20 points but are moving fast.
We have the final July read on manufacturing from data firm Markit at 9:45 a.m. and the final July read on consumer sentiment from the Thomson Reuters/University of Michigan Surveys of Consumers at 9:55 and we are expecting a rise to 82 from 81.3.  Most sensitive of the economic news comes at 10:00 a.m. when the Institute for Supply Management's read on July manufacturing is due and is seen rising slightly, while June construction spending is seen rising 0.5 percent.
The market also is digesting a default from Argentina after they did so 12 years ago.  This country is not fiscally responsible, to say the least.  There are also rising tensions in the Gaza Strip, and Russia is in a tiff with Europe and the USA.
This is also the first of the month, typically today and the following three trading sessions have a bullish skew for equities.  It is also Friday meaning new longs would have to sit through the weekend which may create some hesitance.
The intermediate term profile is in many ways out of balance and very active.  Yesterday's gap-and-go trend day down is seeing some continuation today.  The speed will be telling, and I have highlighted two low volume nodes below yesterday's close which will be the tell for me.  I do not want to see the market rush to test these levels (3870.50 & 3865.25).  If we are testing these levels before lunchtime, that in and of itself says the velocity in the market has changed.  Remember, bears can take back a month of gains in one week.  I will be most keen on these intermediate term prices to dictate my actions today: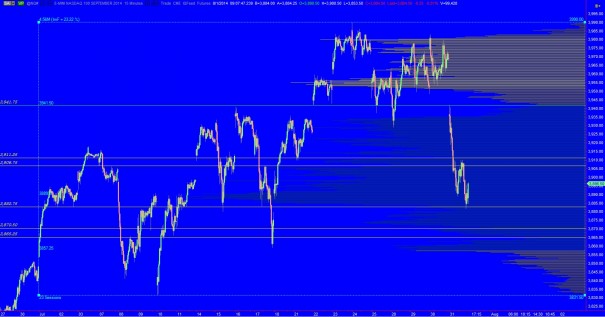 However, should pace shift and back to slow, I will be watching the following market profile levels intraday: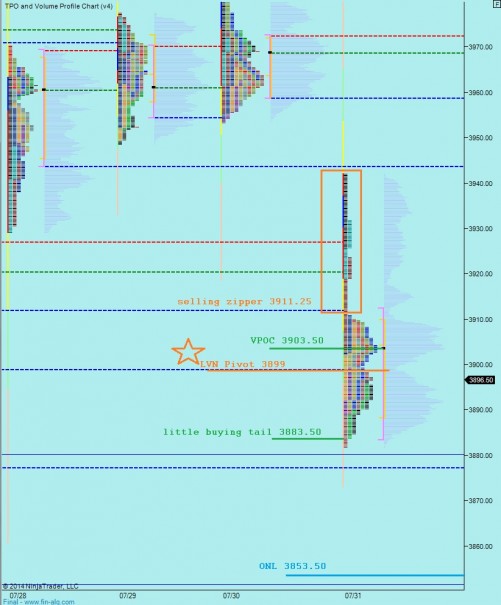 Comments »