Yesterday afternoon we started to see a behavioral shift from the marketplace. The Nasdaq slowed down and flagged about, much like it did last Friday. The violent waves as we explored the southern tip of the charts opened up to a peaceful, calm, quiet pond. Whether this behavior sticks is unknown but the change has so far carried over into Globex. Overnight the Nasdaq traded on the low end of its normal range on normal volume. Prices drifted above yesterday's cash highs briefly before finding responsive sellers.
Last night the biggest post-earnings price action was seen in SBUX which traded higher after reporting. At 8:30am we had Chicago Fed Activity and it brought some selling in. At 9:45am we have Markit PMI stats set for release. This announcement shortly after the open may induce some early chop. We also have Existing Home Sales and leading indicators at 10am.
Yesterday was the third straight day of advance in the Nasdaq and price action tends to become a bit rocky on the fourth session. However, bulls have done well to negate the intermediate term seller control, pushing us back into a more neutral-to-bullish stance. We are currently trading in the upper pocket of our triple volume distribution, see below: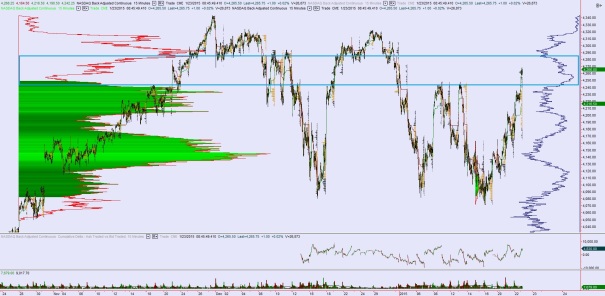 Drilling a bit closer to the action, we can see prices are coming into the lower end of a large balance area above. It makes sense to expect some overhead supply in this region. Given the pocket-nature of our current trade location, we might still see some speed in the market.
Early on, I am expecting a choppy open auction, inside Thursday's range before buyers make an attempt at the overnight high 4275.25. Not far above there I will be looking for signs of responsive sellers who work us back below Thursday's close 4266 and choppy-two way action takes hold.
Hypo two is sellers a bit more aggressive on the open, pushing us over the ledge at 4258.25 and sliding us down through most of the afternoon push higher to test it's starting point down at 4235.
Hypo 3 is strong bulls push up through 4277.75 and begin exploring the upper balance zone.
These levels can be seen below:
Comments »