What website has 1.1 billion user hours in the month of May, 70% mobile traffic, and an effective mobile advertising strategy?  Yes exactly, Pandora.  So 770 million hours of mobile traffic were glued to Pandora.  Wow, big number.  That's plenty of time to throw in a MILLION commercials or so.  You think commercials are free?  All this I'm saying to pry your eyes from the subscriber rates.  They don't matter.  Stop it.  They don't.
I know people enjoy Spotify.  That doesn't bother me.  What, we can only have one online radio in the world?  Watch for Pandora listening hours to continue increasing and this to inevitably lead to a profitable quarter.  Then calmly walk to the nearest door and slam it on your toe if you think the company is a broken business model.  People take pride in curating their Bon Jovi channel.  They love fingering the "thumbs down" and mentally saying, "Fuck you and your music John Mellencamp.  You pussy!  It's my life!"  So while Spotify lets you share how culturally sound you are with your Facebook friends, Pandora takes your input and builds stations you love to listen to.
It's not broken.  And it's going to be harder to obsolete than maps and business reviews.
Perhaps it doesn't stroke the ego as much as other social companies.  But what it lacks in wack it more than makes up in panache.
Now that I've aired out a bit of objective data and a whole slew of subjective data, let me briefly show you what actually has me positioned aggressively in P.  Behold! The chart art: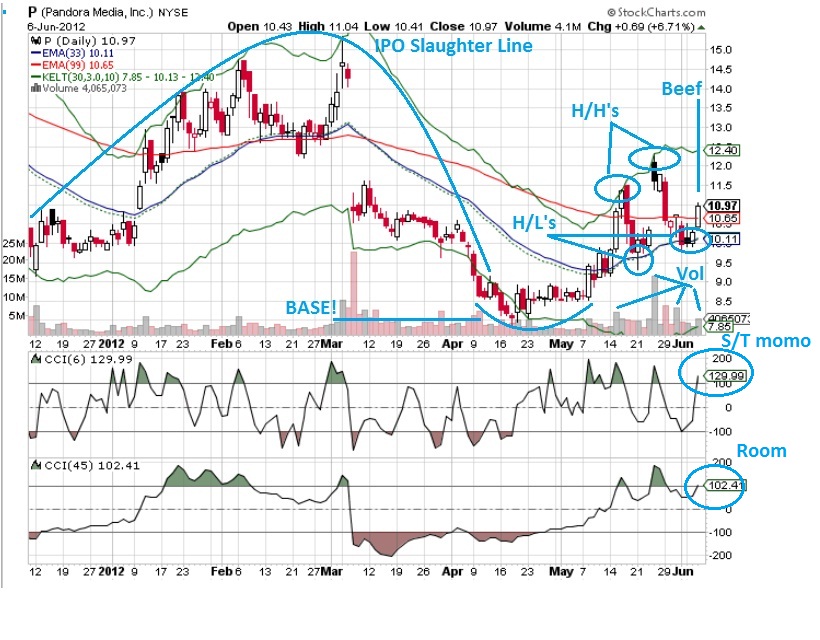 http://www.youtube.com/watch?v=_bGjWPRIG5A&feature=youtube_gdata_player
Comments »