Happy New Year and it's time to address the important matter of a market with a deal.  I'm currently 40% long, 2.5% short, and cash heavy.  The stance made sense considering the headline risk coming into today's trade.  Now I must pick spots to add long exposure.
The anatomy of this move could have many participants caught short or downright underexposed.  Pare that with the jostling of many allocations and the environment is ripe for some big moves higher.  I'm using a Keltner channel on the SPY ETF to give me an idea of the range we could see in the intermediate term.  Expecting an open near 144.50 I see room to the upside: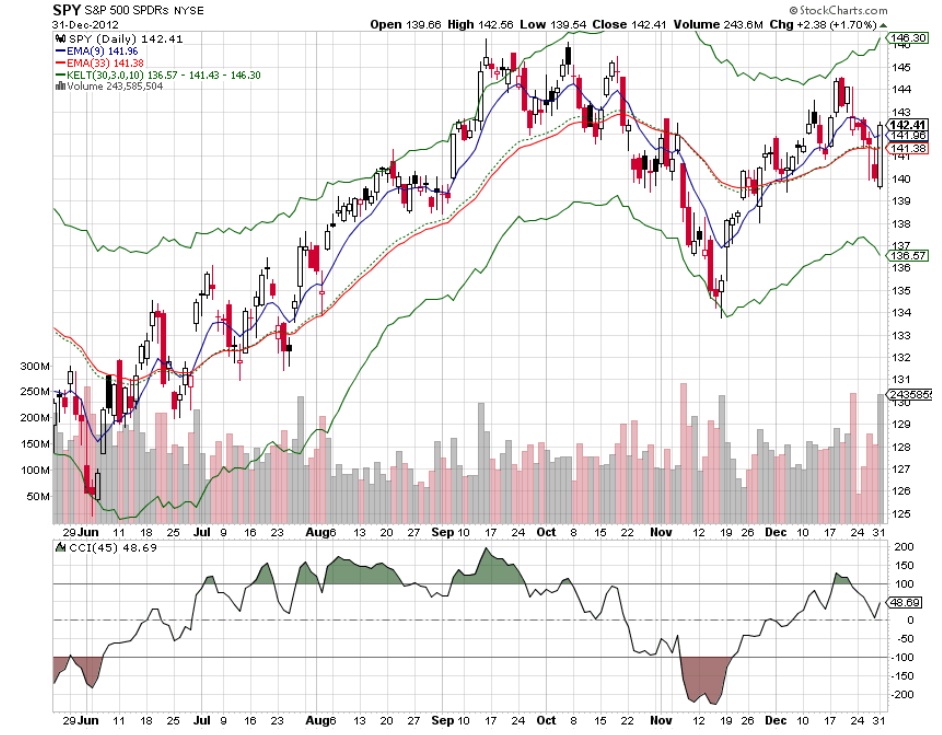 I'm not going to get too fancy, I have a few names I like and most of them are my current longs: ATML, CEDC, FB, GS, LULU, and SINA.  I intend to ratchet up my net exposure by adding to a few of these names, while searching out a decent entry on C and few short squeezes.  I also have to manage my way out of this SKS short.
The cash market hasn't had a chance to react to this market, so I'll watch the first half hour of trade to determine aggression.
http://youtu.be/WtqS4WX4urg
Comments »