HIT PLAY to unleash this jam as you read on good people of the internet:
Perhaps I'm being romantic whist envisioning the future and the architectural wonders it holds, but I seem to have caught the LED bug. I like everything I read about them. I like their features and hues.
The industry has the characteristics of a space race. The companies participating aren't clinging onto old technology, spending millions on litigious hostility to defend their edge. Instead they forge forward casting aside old products at a modern rate and boaster higher performance. Their press releases boast about MORE lumens per watt, longer life, and the race for lowest cost per lumen. They're creating solutions for businesses as amorphous entities. It's quite exciting really.
With my mind halfway down the LED rabbit hole as I fired up The PPT this weekend, it was hard to direct my attention elsewhere.  Last week I bought shares of CREE post earnings as they're clearly the leader in lighting grade LED.  They're Chuck Yeager and everyone else is a Soviet henchman.  I expect big things from this name both in terms of revenue growth and human architectural advancement.
In an attempt to clear my head of all the excitement I have for LEDs I started running screens.  I see a few good setups but was nearly frustrated to see GTAT keep popping up.  GT Advanced is a sort of a shell of a company that set out to chase the renewable energy dream.  They grow rocks, essentially.  Their crowning achievement in the LED business is growing sapphire.  They will either sell you the sapphire or the machine to grow it yourself.  Seems odd to sell your tools in such a way but perhaps that's how an outsider sees things.  Cree seems to have done away with sapphire in many of their 2nd and 3rd generation bulbs and that can only spell trouble for a lonely little rock grower in New Hampshire.
But of course after seeing GTAT pop up all over The PPT I had to pull up the charts.  I must say this play is a blaring short squeeze opportunity.  Starting first with the weekly chart you can see short sellers enjoyed to nice pullbacks where they sunk their teeth in and drove price lower.  The behavior in 2012 in many ways tells me this company was toast, and likely heading to zero if Obama lost.  The company is behind the curve but having a symbiotic administration in place gives them old fashioned government hope.  That hope may or may not be behind the force that has thus far thwarted the bears onslaught.  Regardless, the "third dip from the well" from a momentum standpoint is the lowest probability.  That also means it's the highest probability to bet against.  SEE THE WEEKLY NOW: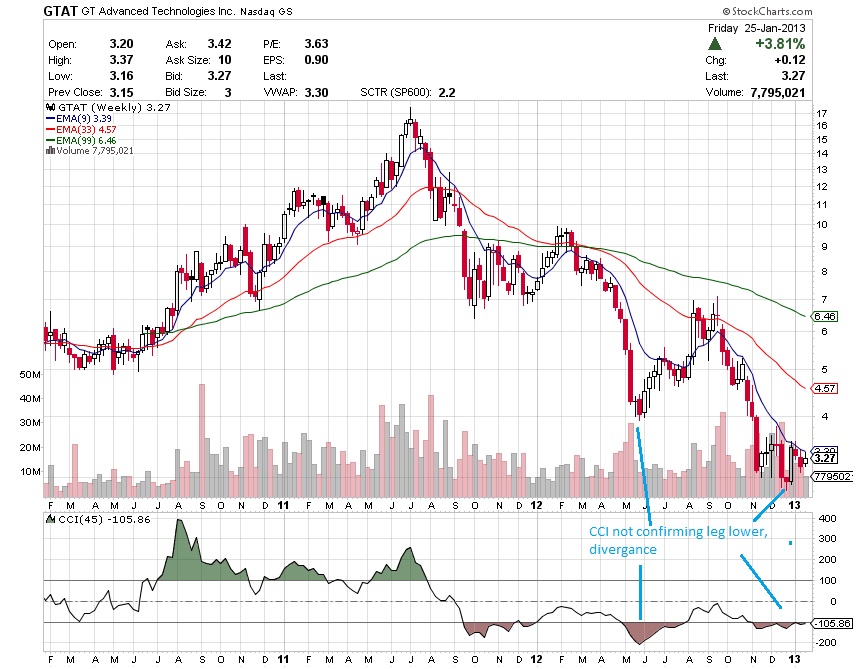 Then we get to the daily chart.  It's touting a highly visible inverse head-and-shoulder.  Is it too visible or just visible enough to get skittish bears to cover?  Fly's out with comments tonight that it's a kill the shorts type of environment.  I smell short blood in this name.  Stockcharts.com says the VWAP (volume weighted average price) is at $3.30.  Oh how lovely some good threes.  CUE OFF OF IT: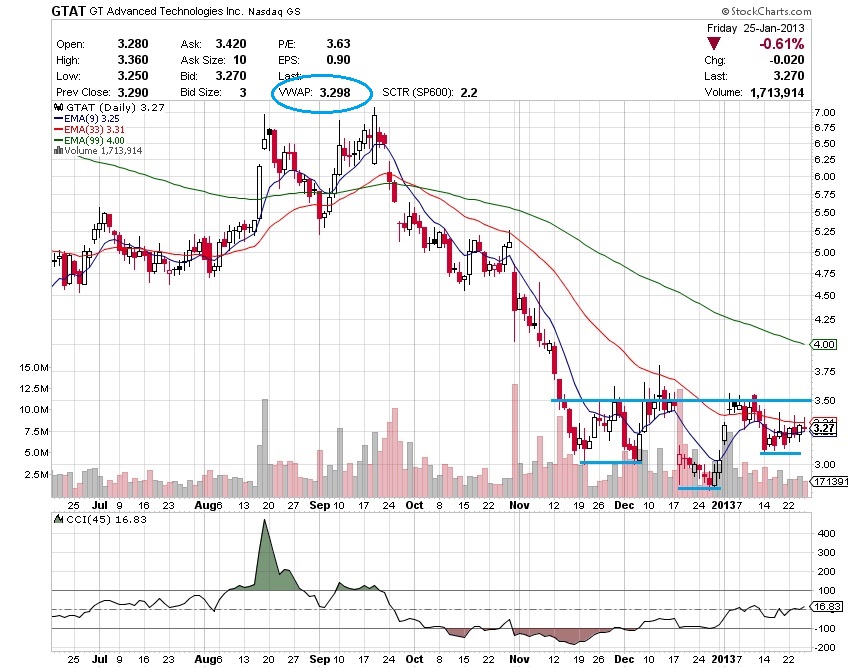 Comments »