Was surprised this morning to see that we are already heading into the final full week of March. Options have expired, the sun is out, and I am still bogged by this kitchen remodel.
The only work I am contracting out is the counters. The installer scheduled himself to come out Tuesday and take measurements and then he's running two-to-three weeks out. Yep. I cannot install the back splash, range hood, upper shelving until then. I haven't had a kitchen sink for nearly three weeks and it is going to be three more until I do. Same with the dishwasher. I have no idea how people live long-term without a dishwasher.
So much of my strength and ability to help others comes from my kitchen. Even when I am trading, I often place my trades, work to neutralize the risk on a position, then head into the kitchen to let my runners work while I monitor from a distance, via the 70-inch sammy, whislt listening to tunes and frolicking to-and-fro from the garden to the kitchen. Making tasty health foods, the real medicine of the good life, for myself and familia.
The kitchen is where I consult weary travelers and apply salves. It is where I do much of my reading and writing. It is so essential to everything I do.
Now I've been 'work-from-home' for nearly nine years. What has been new to many of you is modus oporandi over here. I've been developing Mothership as a place of business this entire time. I usually have every inch dialed in and could tell you from memory where anything (ANYTHING) is. Losing the kitchen has been eye-opening. So many of my projects are off the rails. I can hardly remember to pay my bills on time.
Thankfully I have my office. I've managed to put down some good trades. Good enough to keep the lights on and pay for all the dang carry-out I've been eating.
The Mothership updates are likely to elevate my game to a new level. Along with the kitchen modifications I have big plans for the fields this years. I've expanded my working land significantly. I have three different non-gmo corn strains I am working with this year along with a variety of other foods. But the big show for me is corn. Being of Italian decent, I am the first of my people to take corn seriously. They're too busy growing pomodori and basillico and frijolis. For whatever reason, they never made the leap to american agriculture aka corn babay. But look at me. I am the captain now. The elders are taking it easy these days and rightfully so. They've earned it. They've built more in the last 50 years that most of yous could ever dream. They are TIREDT. Not me. I shall take the reigns and continue our legacy.
Moral of the story? If your clan has been in america for more than 50 years and you are the patriarch, and you're not holding shit down, sewing the land and operating a state-of-the-art kitchen to keep yourself and your family as happy and healthy as possible, you are going to fall behind those of us with the immigrant hustle embedded in our bones.
Okay back to work.
I am bullish heading into March. Time to do nothing with the accounts. They should have been added to back on the Bunker Buster. I am the captain now.
Raul Santos, March 21st, 2021
And now the Strategy Session. Be sure to check out the notes about concentrated money flows. They are telling a story.
---
Stocklabs Strategy Session: 03/22/21 – 03/26/21
I. Executive Summary
Raul's bias score 2.95, neutral. Powell works price higher through Wednesday, then look for third reaction to GDP and jobless claims data due out Thursday morning to provide direction into the second half of the week.
Major NASDAQ component Adobe Inc. is set to report earnings Tuesday, after market close.
II. RECAP OF THE ACTION
Choppy. Buyers drove higher through Tuesday. Wednesday markets gapped down then marked time until The FOMC announcement then shot higher. Thursday through Friday morning saw sellers erasing the Fed move. Then buyers resumed control into the weekend with a mellow rotation higher.
The last week performance of each major index is shown below: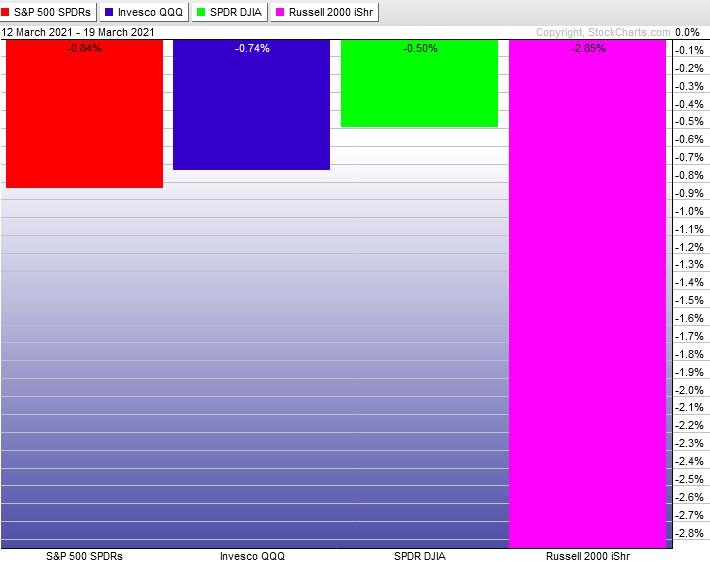 Rotational Report:
Energy slammed lower and continues to trade independent of the rest of the market. Otherwise mild sell rotations across the board. Slight green shoots from Healthcare and Staples.
slightly bearish
For the week, the performance of each sector can be seen below: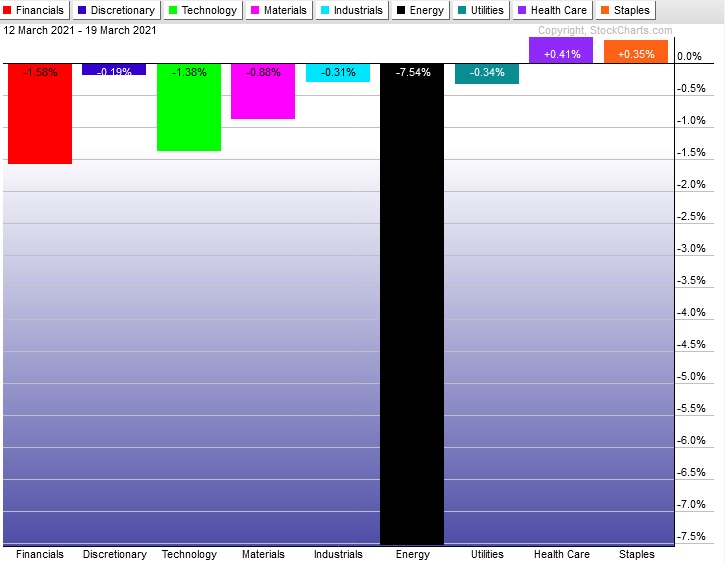 Concentrated Money Flows:
Don't forget the major buy flows two weeks back. We have not seen any follow through on them yet, nor have we seen any selling of a magnitude that would expect us to doubt upside follow through.
Check out last week's flows — most of the selling was seen in energy industry groups which we've already established trade independent of the overall market.
Median return on the week was right around -1% and volume delta over the last 30 days is essentially flat.
Money flows are slightly bullish.
Here are this week's results: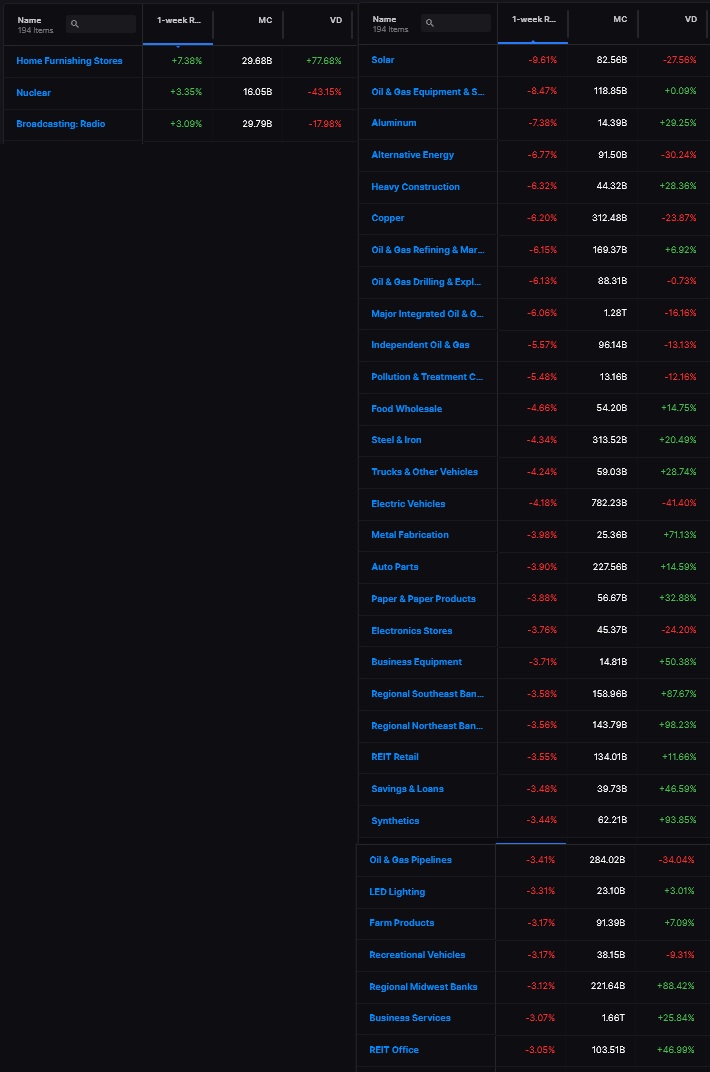 III. Stocklabs ACADEMY
Three month oversold signal is useful
On Thursday, March 18 Stocklabs flagged oversold on the 3-month technical and hybrid signals. You may notice I never include any 3-month signals in the Weekly Strategy Session, but lately I've been giving it more consideration.
There are two bits of data from the 3-month oversold signals that are slightly better than 50/50 odds. The 5-day return on both Tech and Hybrid is around a 58% win rate with an average return of about 25 basis points. And the 10-day return of the hybrid algo. It has a 59.26% win rate with an average return of around 33 basis points.
This is useful, especially since we can draw statistical significance from the 10-year back test due to having at least 50 samples.
Note: The next two sections are auction theory.
What is The Market Trying To Do?
Week ended searching for sellers.
IV. THE WEEK AHEAD
What is The Market Likely To Do from Here?
Weekly forecast:
Powell works price higher through Wednesday, then look for third reaction to GDP and jobless claims data due out Thursday morning to provide direction into the second half of the week.
Bias Book:
Here are the bias trades and price levels for this week:

Here are last week's bias trade results:

Bias Book Performance [11/17/2014-Present]:
Semiconductors still show balance, Transports could launch
Markets fluctuate between two states—balance and discovery.  Discovery is an explosive directional move and can last for months.  In theory, the longer the compression leading up to a break, the more order flow energy to push the discovery phase.
We are monitoring two instruments, the Nasdaq Transportation Index and the PHLX Semiconductor Index.
Transports clearly are in a continued discovery up phase. We can see how steep the ascent is. This is likely, at some point, to resolve with a sharp move in either direction to break from the wedge. My primary expectation is for a blow off buy move higher, but the break could just as well happen to the downside. For now, discovery up continues and is bullish.
See below: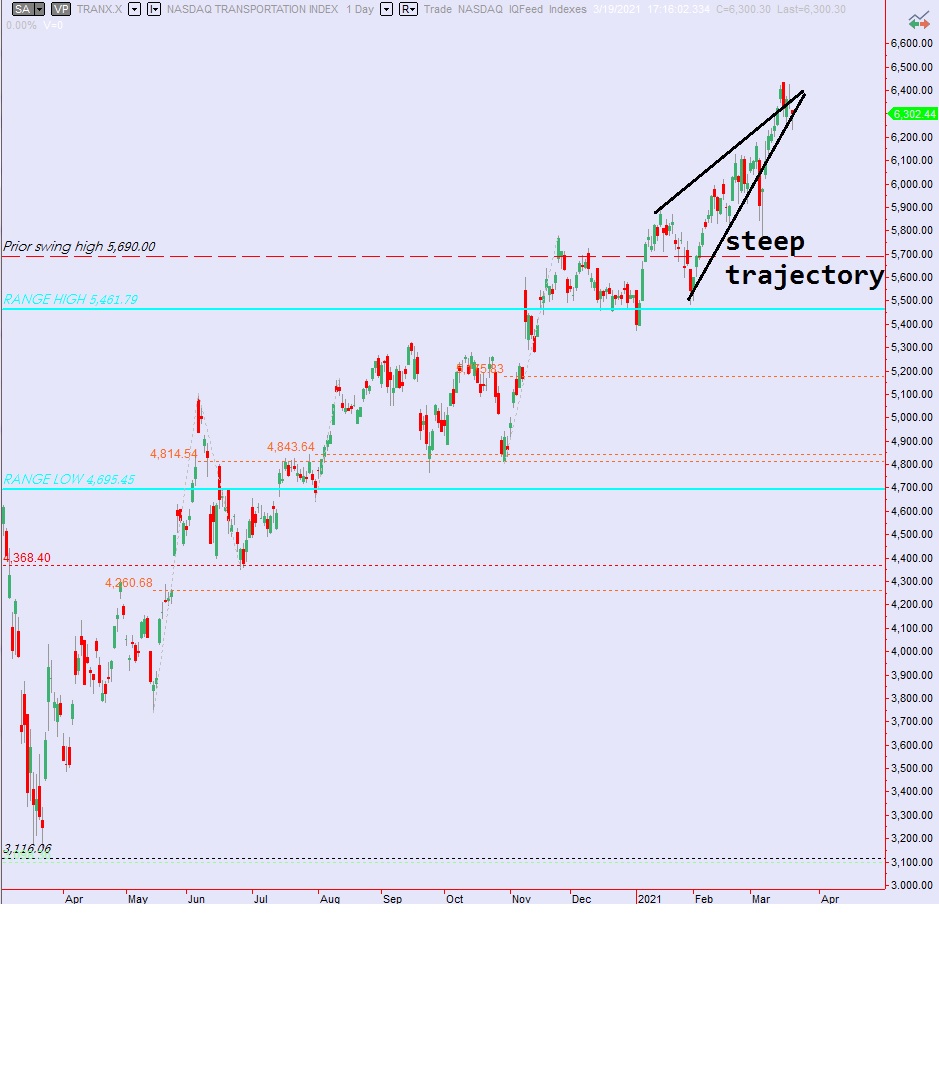 Semiconductors have a head-and-shoulders pattern printed but more importantly we have a clear range to work with. Balance is the call until one of these edges cleanly breaks.
See below: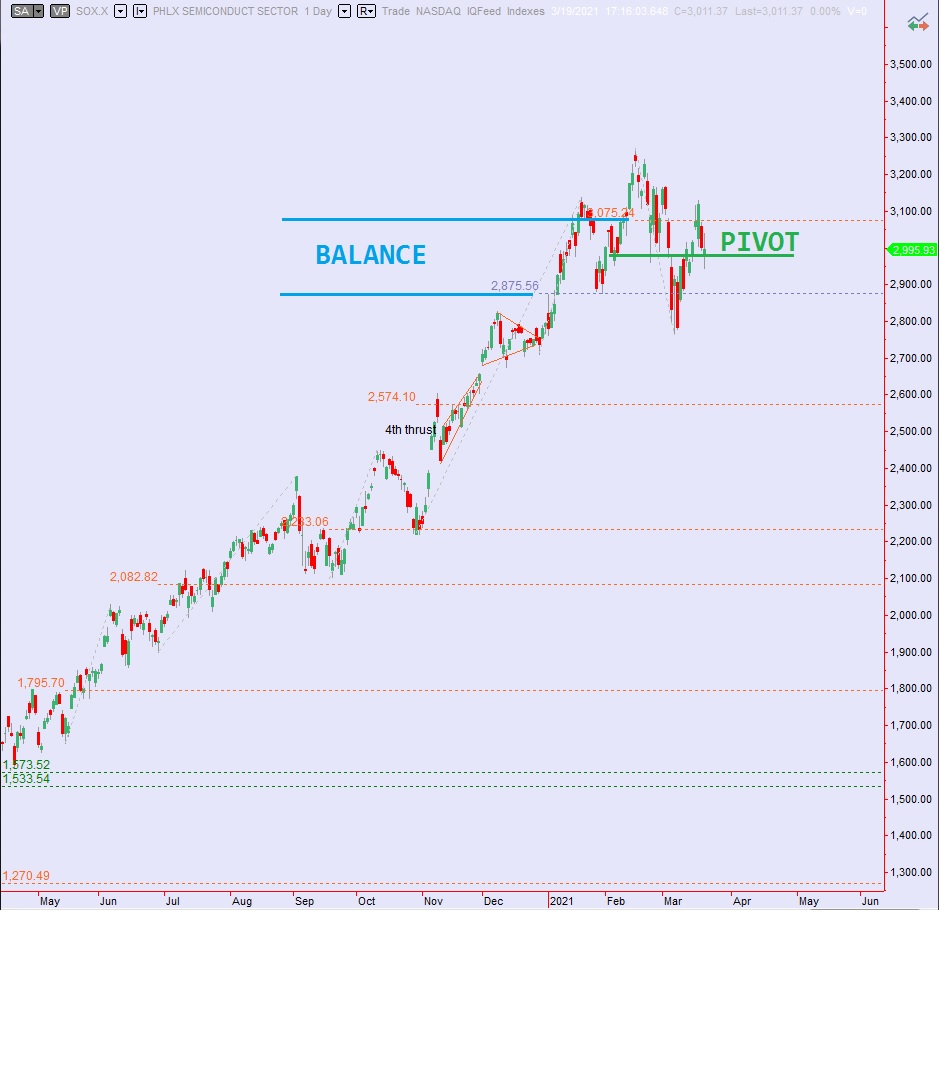 V. INDEX MODEL
Bias model is neutral for a third week after signaling Bunker Buster three weeks ago and being neutral for the thirteen weeks prior to that. No bias heading into next week. Here is the current spread: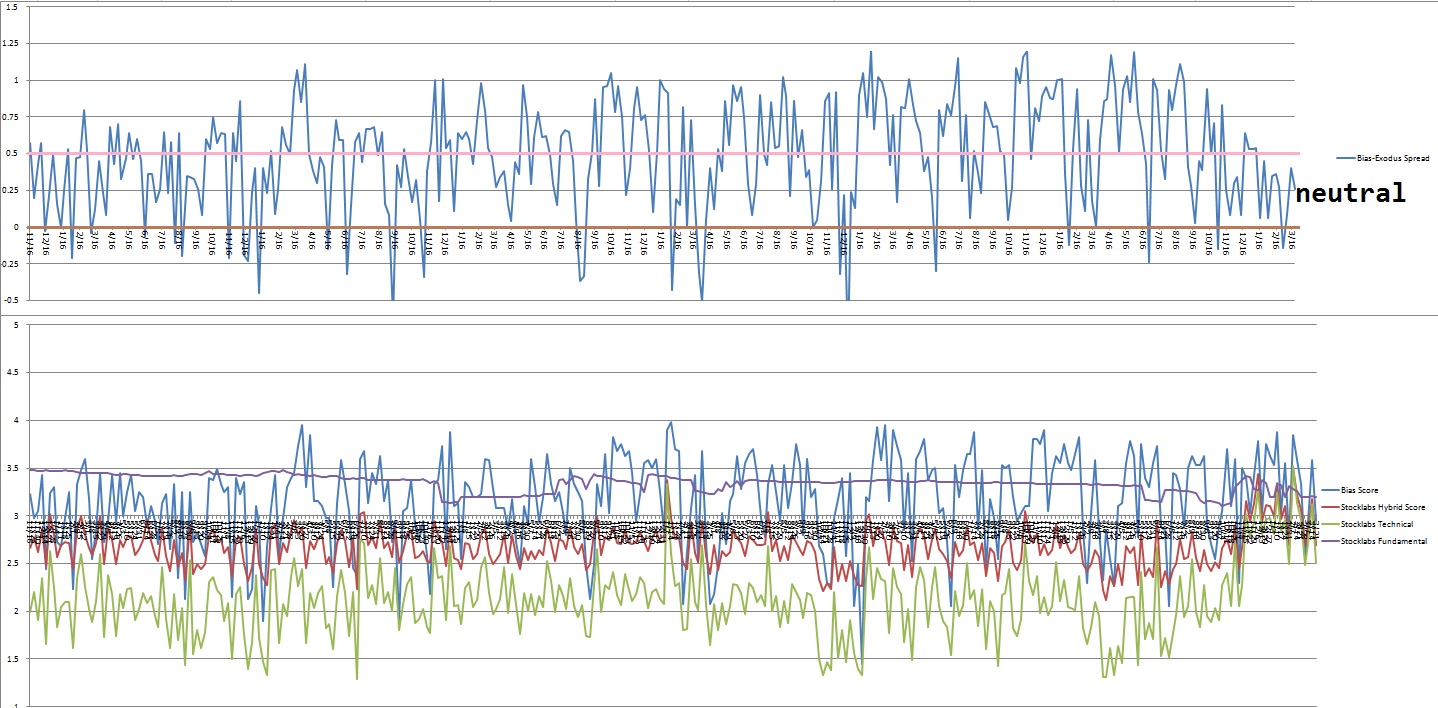 VI. QUOTE OF THE WEEK:
"Of course I deprecate war, but if it is brought to my door the bringer will find me at home." – James A. Garfield
Trade simple, be ready
Comments »