Howdy gents. Happy Memorial Day and all that jive.
I have to be brief. There are many plants needing water and boots and pants discos to enjoy before I bug out to Canada for a few days of healing.
I am continually mystified by how difficult it is to coach someone through watering plants. Something that seems so simple, mundane, mindless even. I've set up so heckin many irrigation pipes because folks can't seem to take a hose and give a plant a proper water.
Anyhow.
Markets caught a decent bounce last week. Contextual charts appear to have a bit more room to the upside and IndexModel is flashing signs that it is time for equities to mellow out and mark time. And that sentiment seems to align perfectly with the calendar.
Summer is here for real for the first time in two years. We sort of 70% had summer last year but this year it is back on.
Who the hell wants to sit in front of monitors all days poking at these auctions.
Let the algos and interns and the intern algos do nothing for a bit whilst we savor these sweet 90 days.
Okay for now.
Raul Santos, May 29th 2022
And now the 388th edition of strategy session.
---
Stocklabs Strategy Session: 05/31/22 – 06/03/22
I. Executive Summary
Raul's bias score 3.73, medium bull. Expect volatility to recede a bit during the holiday-shortened week. Price stabilizes and holds last week's gains.
U.S. markets will be closed Monday, May 30th in observation of Memorial Day.
II. RECAP OF THE ACTION
Choppy sideways action through Wednesday then a strong rally Thursday and Friday.
The last week performance of each major index is shown below: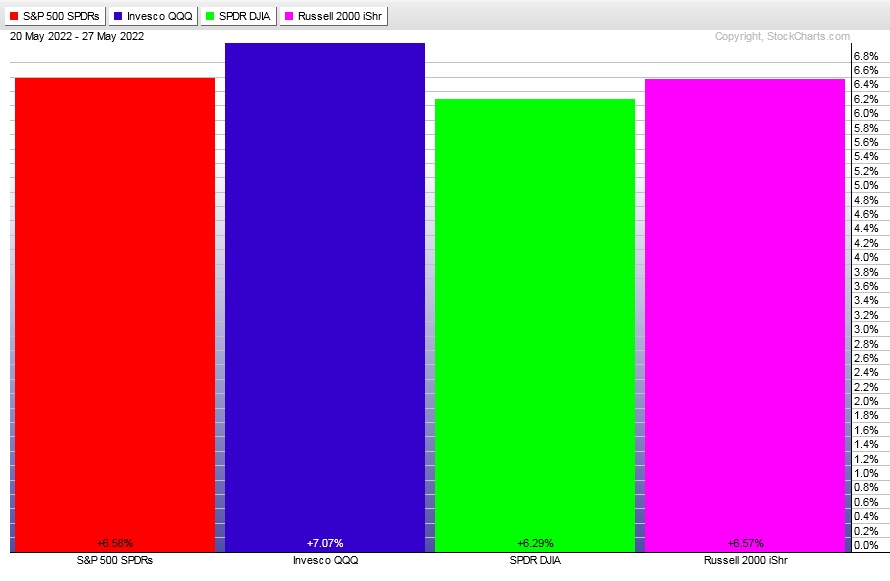 Rotational Report:
Strong rotation into the equity complex across the board with leadership in the 'right' sectors.
bullish
For the week, the performance of each sector can be seen below: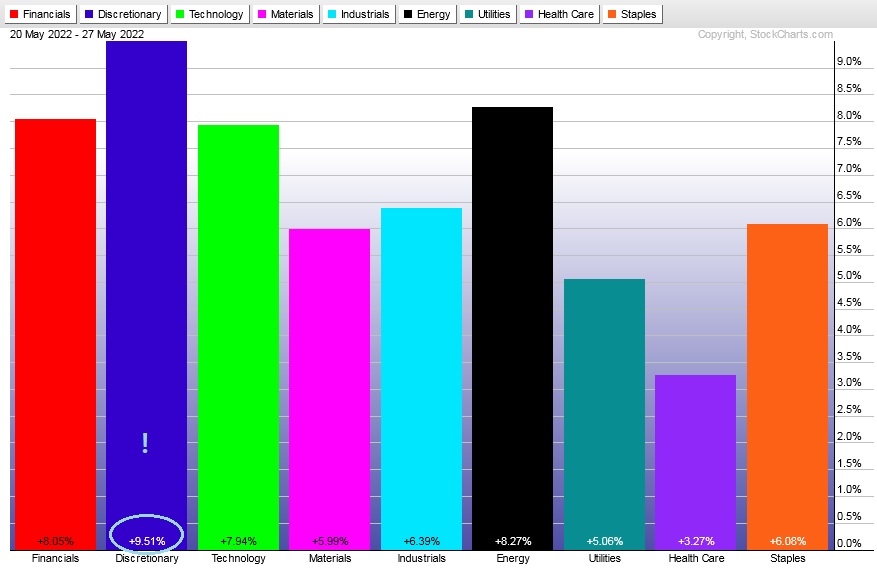 Concentrated Money Flows:
Bulls took back control of money flows eleven weeks back after sixteen weeks dominated by sellers, dating back to mid-November.
But then eight weeks ago sellers negated that control and maintained control. Until last week.
Last week's ledger shows strong money flows that effectively negate the last eight weeks of seller control.
bullish
Here are this week's results:

III. Stocklabs ACADEMY
Hybrid Change % is really intense right now
The large absolute values we are seeing printed on this portion of the algo is indicative of current market conditions, which are pretty volatile.
This indicator still suggests sellers are hitting the tape harder than the buyers, despite the strength seen late last week.
Note: The next two sections are auction theory.
What is The Market Trying To Do?
Week ended searching for sellers.
IV. THE WEEK AHEAD
What is The Market Likely To Do from Here?
Weekly forecast:
Expect volatility to recede a bit during the holiday-shortened week. Price stabilizes and holds last week's gains.
Bias Book:
Here are the bias trades and price levels for this week:

Here are last week's bias trade results:

Bias Book Performance [11/17/2014-Present]: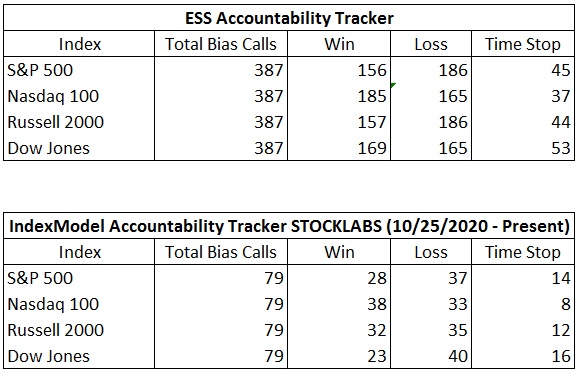 Bounce and push
Markets fluctuate between two states—balance and discovery. Discovery is an explosive directional move and can last for months. In theory, the longer the compression leading up to a break in balance, the more order flow energy to push the discovery phase.
Market are most often in balance.
Every week this newsletter uses auction theory to monitor three instruments, the Nasdaq Transportation Index, PHLX Semiconductor Index and ethereum. Readers are encouraged to apply these techniques to all markets.
Transports caught a bit of a bounce and my primary expectation is for buyers to probe a bit higher into resistance in the coming week.
See below: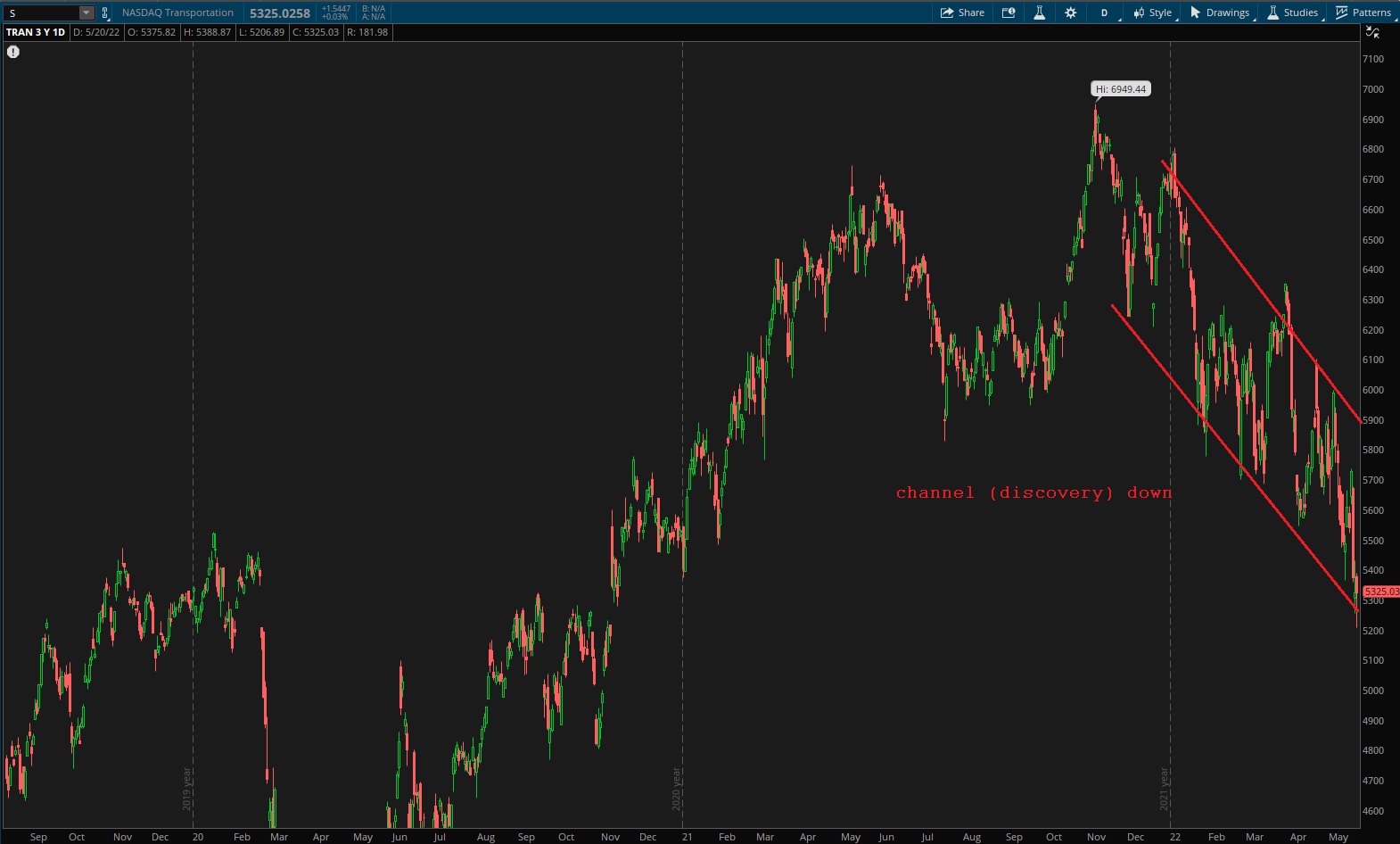 Semiconductors same thing. Looks like there's a bit of room to the upside and an area of resistance that is likely to act like a magnet, drawing price a bit higher.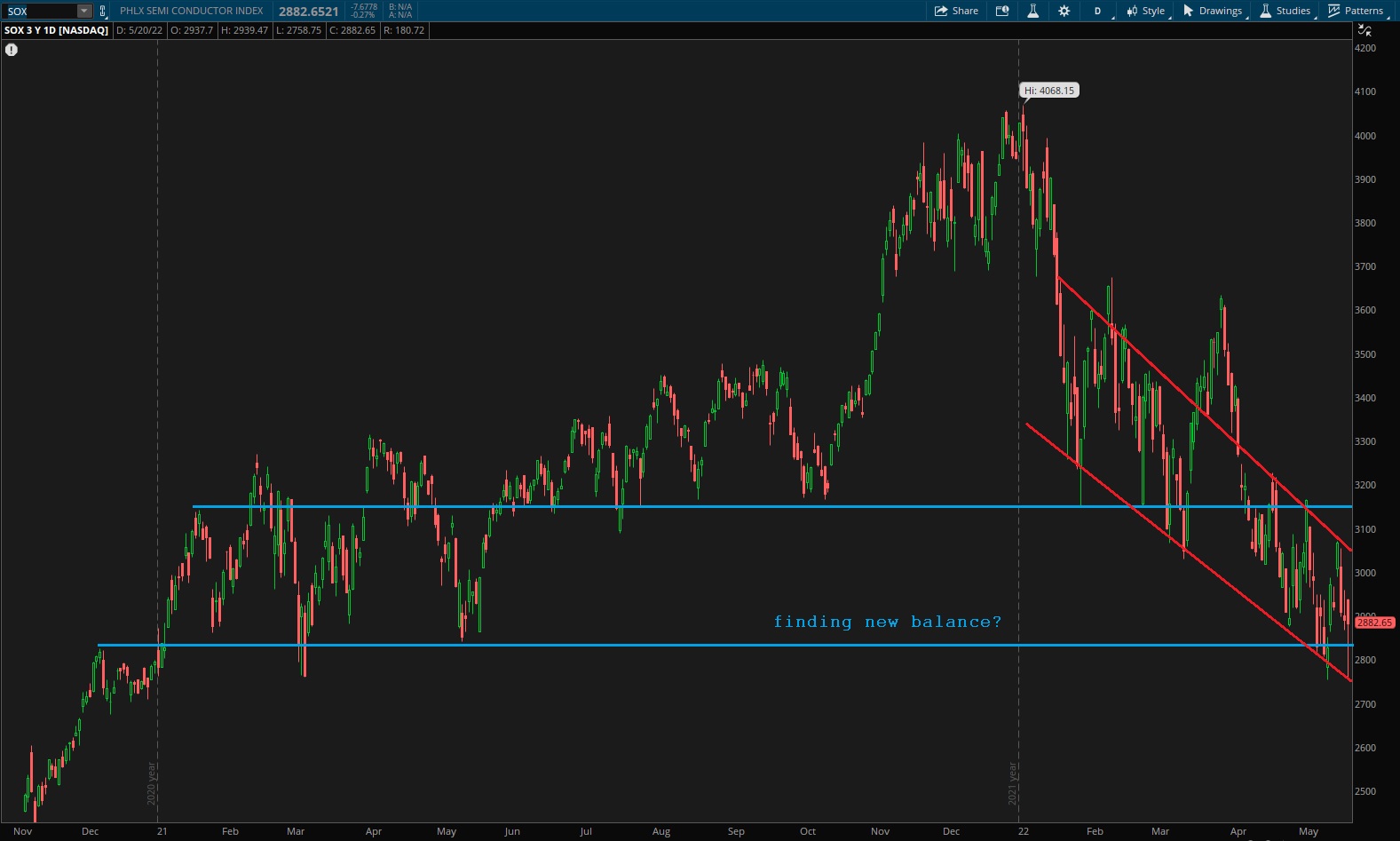 Ether futures only began trading in February of 2021 so there is no price history below about 1370. If we zoom all the way out on the price action since these futures went live we do see a very Gaussian distribution of volume.
Ether grew up and became something different once futures were made available at the cme. Now the most sophisticated participants have a means of discovering the value of this crypto currency (worldwide computer).
And it appears these participants are doing what they most effectively do—test higher, test lower, discover value and facilitate trade.
I could see us probing the abyss soon, and then we'll see if this all is one big balance, with value somewhere around 3,000.
We don't know.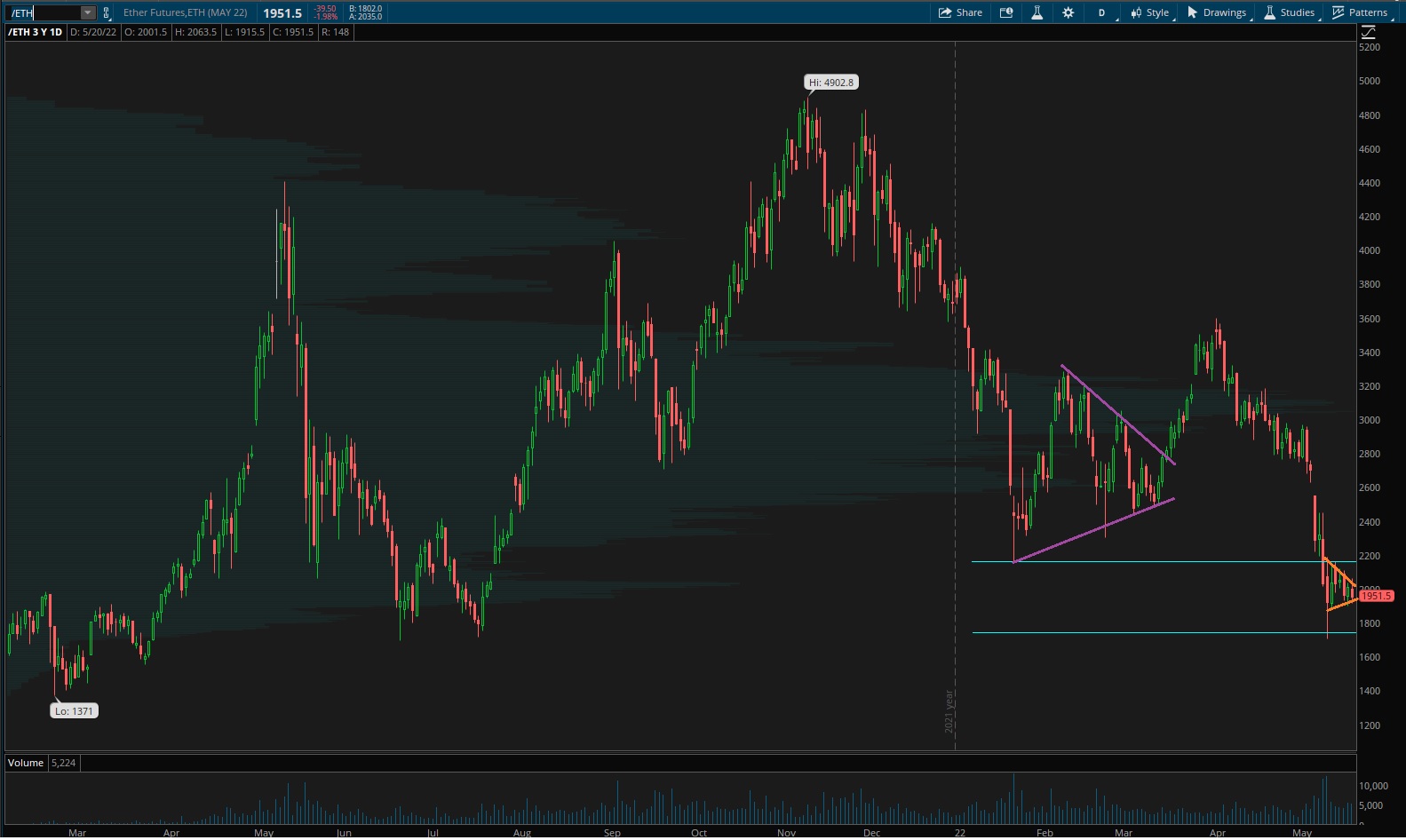 V. INDEX MODEL
Bias model is extreme rose colored sunglasses after four consecutive weeks being neutral. We went Bunker Buster five weeks back after three consecutive rose colored sunglasses bearish signals after two consecutive weeks of extreme RCS bullishness.
We've had three Bunker Busters in recent history, five weeks ago, eighteen reports back and a third twenty-six reports back. The Bunker Buster before these recent three was sixty-four weeks ago.
Here is the current spread: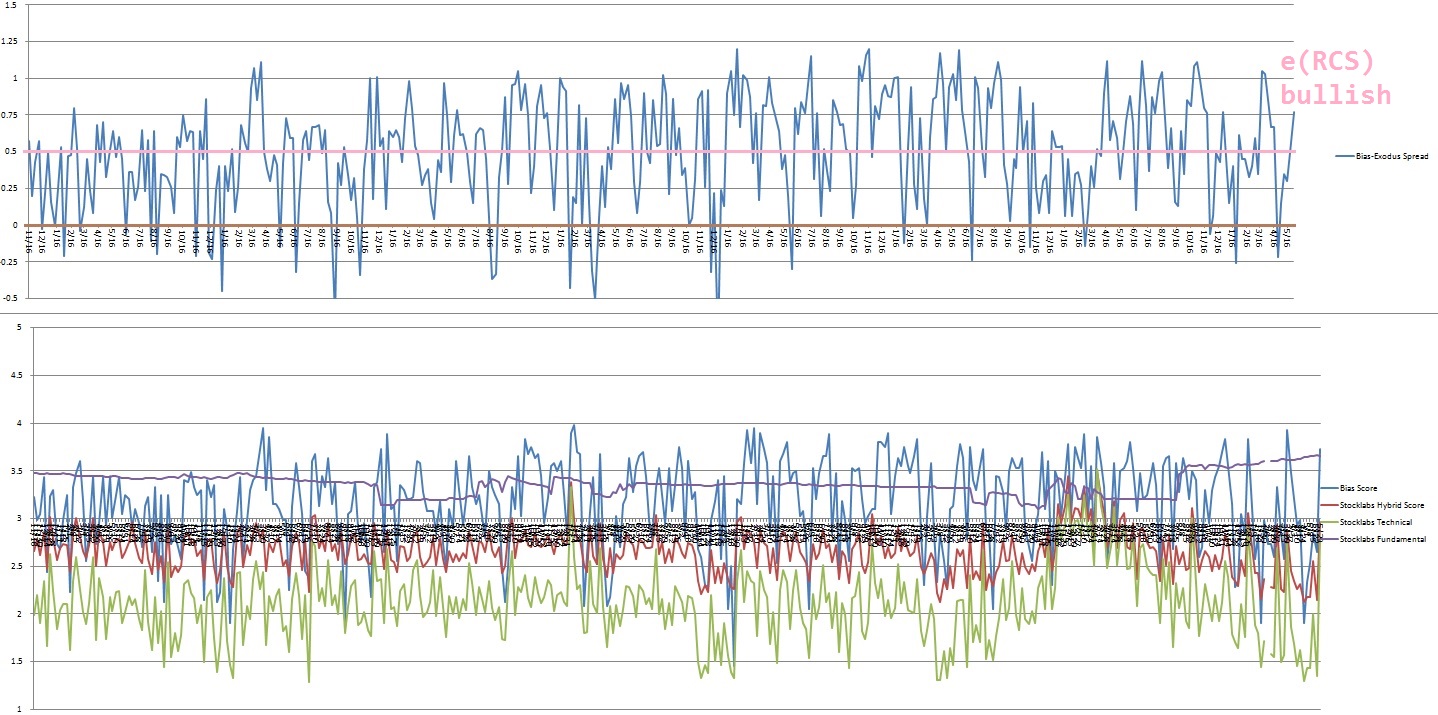 VI. 12-month Technical Oversold
On Monday, May 9th Stocklabs signaled hybrid oversold on the 12-month algo. The 10-day bullish cycle that runs through Monday, May 23rd end-of-day. Here is the final performance of each major index over the cycle: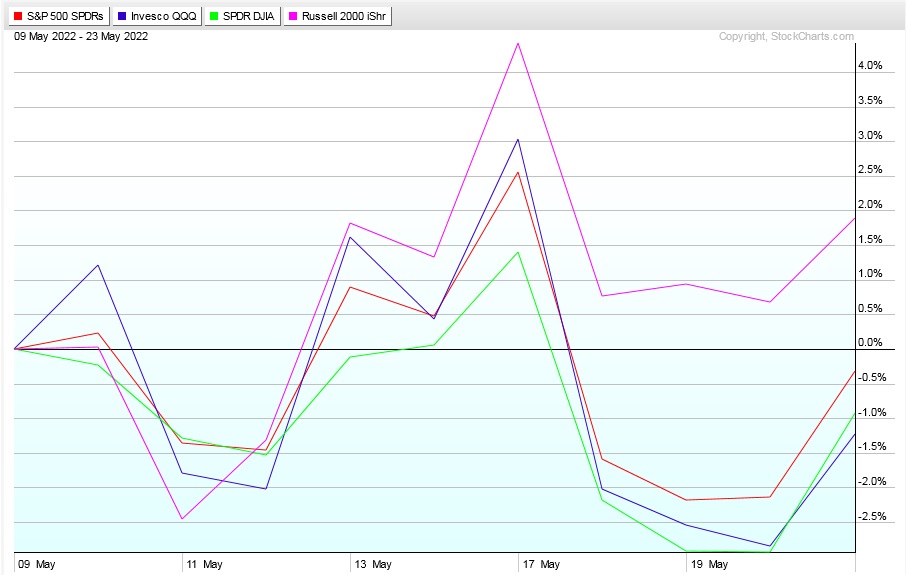 VII. QUOTE OF THE WEEK:
"I am a great believer in luck. The harder I work, the more of it I seem to have." – Coleman Cox
Trade simple, do the work behind every trade
If you enjoy the content at iBankCoin, please follow us on Twitter