We're all enamored with Ukrainian President Volodymyr Zelensky this weekend. Fawning over pictures of his bravery in the face of a battle we don't understand. He's not really French beautiful like Justin Trudeau, more of like Slavic gritty handsome. Stalky—perhaps strong on the grapple but not necessarily as powerful in a court of charged up women as a slim and tall type like gentle Joe Biden is. But nevertheless, the fight for the hearts and minds is being won by the Ukrainian propaganda machine and whomever interest it is to win these Goebbel-esqe campaigns has to be feeling pretty good about that.
On the ground, in the markets, the only place (besides masculine beauty) where I am an expert and should offer my opinion, things are looking decent.
Semiconductors and Transports held their respective range lows and that sets up the potential for a run up through range. Pair that with earnings due out of big daddy Buffett's Berkshire Monday, and the turning of the calendar to March, what with American celebrations of gluttony before giving up their vices for Lent (one of the few christian marketing campaigns I can get behind, thinning those fat fuckers out). And all these events bode well for bulls to win the week.
Of course we also have the Fed doing their semiannual testimony to lawmakers Wednesday and Thursday, but I trust that patriotism may take precedent over inflation concerns and that's the type of conversation that could put off these heckin'rate hikes Goldman Sachs and the other shithead bankers are pining for.
Our dear Costco is also set to report earnings and we have a non-farm payroll wildcard Friday. All-in-all, this week is likely to offer the trigger happy volatility trader lots of opportunity.
Me, I'll be taking it easy. I have to put some work into elder raul's cabin in the woods and perhaps find some time to head over to the local bath house to drink vodka and gain a sense of the spirit of the local Russian community. Then I'll join the Polish in eating their grotesque paczki donuts. Then maybe do some yogas or move some weights around because good lord I am getting soft. And with farm season nearly upon us, I cannot affordt to be soft.
That's it. That's my thoughts heading into March.
It is wise to mute/block anyone who is amplifying chaos. They're is an elevated risk they will cause errors in your execution. Mute and block those jokers. Throw up the blinders and do your job like a strong horse.
Raul Santos, February 27th, 2022
And now the 376th edition of strategy session.
---
Stocklabs Strategy Session: 02/28/22 – 03/04/22
I. Executive Summary
Raul's bias score 3.33, medium bull. Rally into new month. Then watch for reaction to Monetary Policy to put direction into the tape by Thursday afternoon. Non-farm payroll data Friday morning may serve to accelerate or reverse price action into the weekend.
Keep an eye on Berkshire and Costco earnings, due out Monday and Thursday respectively.
II. RECAP OF THE ACTION
Selling pressure through Wednesday then a sharp rally into the weekend.
The last week performance of each major index is shown below: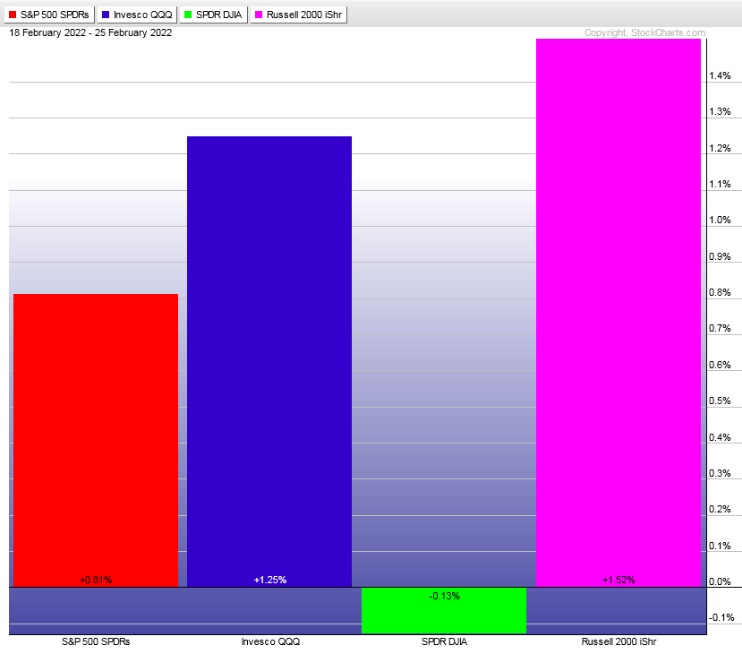 Rotational Report:
Rotations are not ideal, with Discretionary lagging and Utilities somewhat strong. But perhaps a bit of risk aversion is prudent at this time.
neutral
For the week, the performance of each sector can be seen below: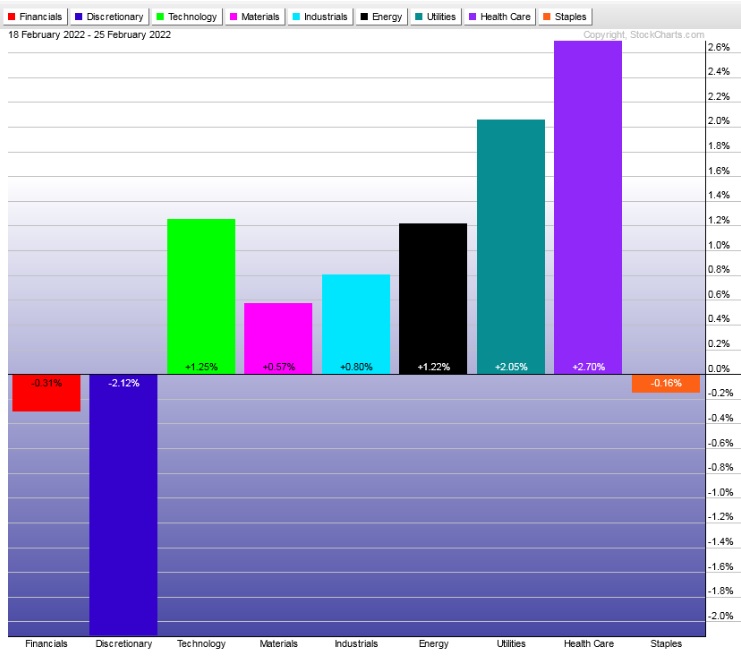 Concentrated Money Flows:
The selling skews over the last fourteen weeks was dominated by sellers. Last week we saw the ledger skew slightly positive.
slightly bearish
Here are this week's results: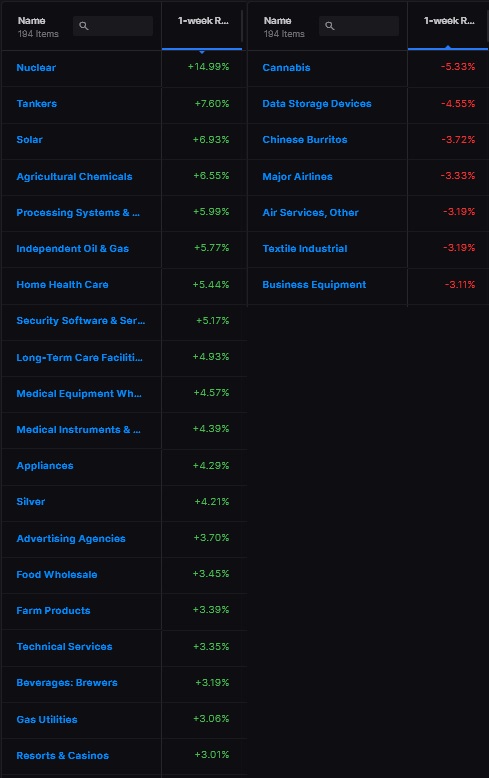 III. Stocklabs ACADEMY
Seasonality
Always a good idea to pop into the Seasonality data heading into a new month. March has historically been a positive month for equities. And with prices having been beaten down since December, the stage may be set for those historically strong April stats to pull forward into March.
Past performance is not indicative of future returns.
Note: The next two sections are auction theory.
What is The Market Trying To Do?
Week ended searching for sellers
IV. THE WEEK AHEAD
What is The Market Likely To Do from Here?
Weekly forecast:
Rally into new month. Then watch for reaction to Monetary Policy to put direction into the tape by Thursday afternoon. Non-farm payroll data Friday morning may serve to accelerate or reverse price action into the weekend.
Bias Book:
Here are the bias trades and price levels for this week:

Here are last week's bias trade results:

Bias Book Performance [11/17/2014-Present]: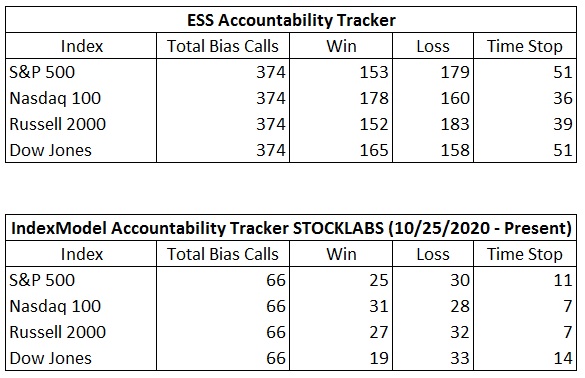 Ranges in tact (for now)
Markets fluctuate between two states—balance and discovery. Discovery is an explosive directional move and can last for months. In theory, the longer the compression leading up to a break in balance, the more order flow energy to push the discovery phase.
Market are most often in balance.
Every week this newsletter uses auction theory to monitor three instruments, the Nasdaq Transportation Index, PHLX Semiconductor Index and ethereum. Readers are encouraged to apply these techniques to all markets.
Transports made a sharp reversal after sellers attempted a move down out of the range we've been observing. Now the stage could be set for a traverse up through the range.
See below: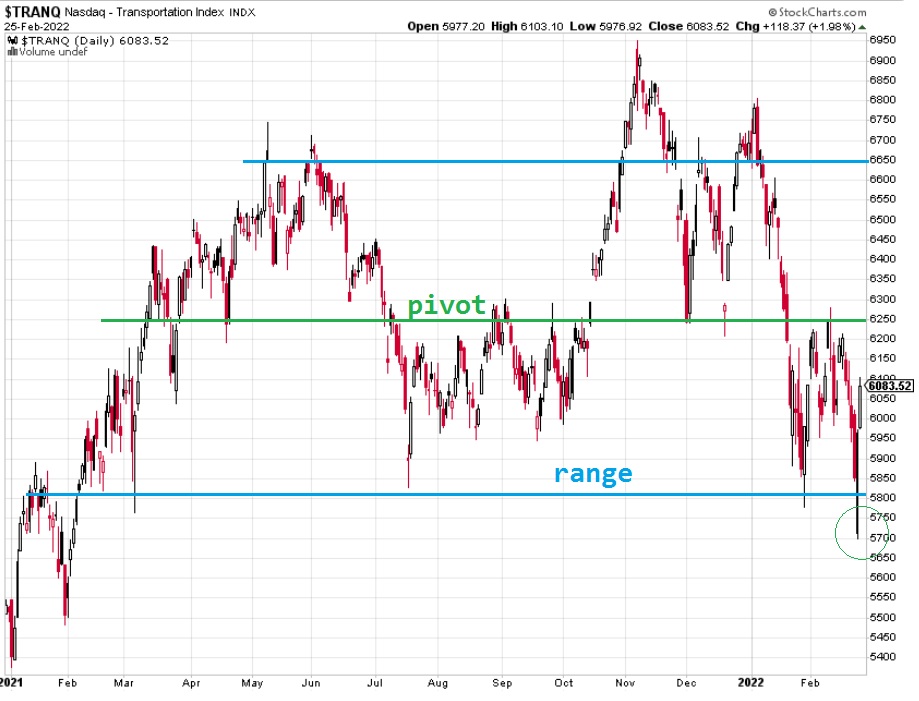 Semiconductors same story. Range held. Now we may be set up to explore the other side of range.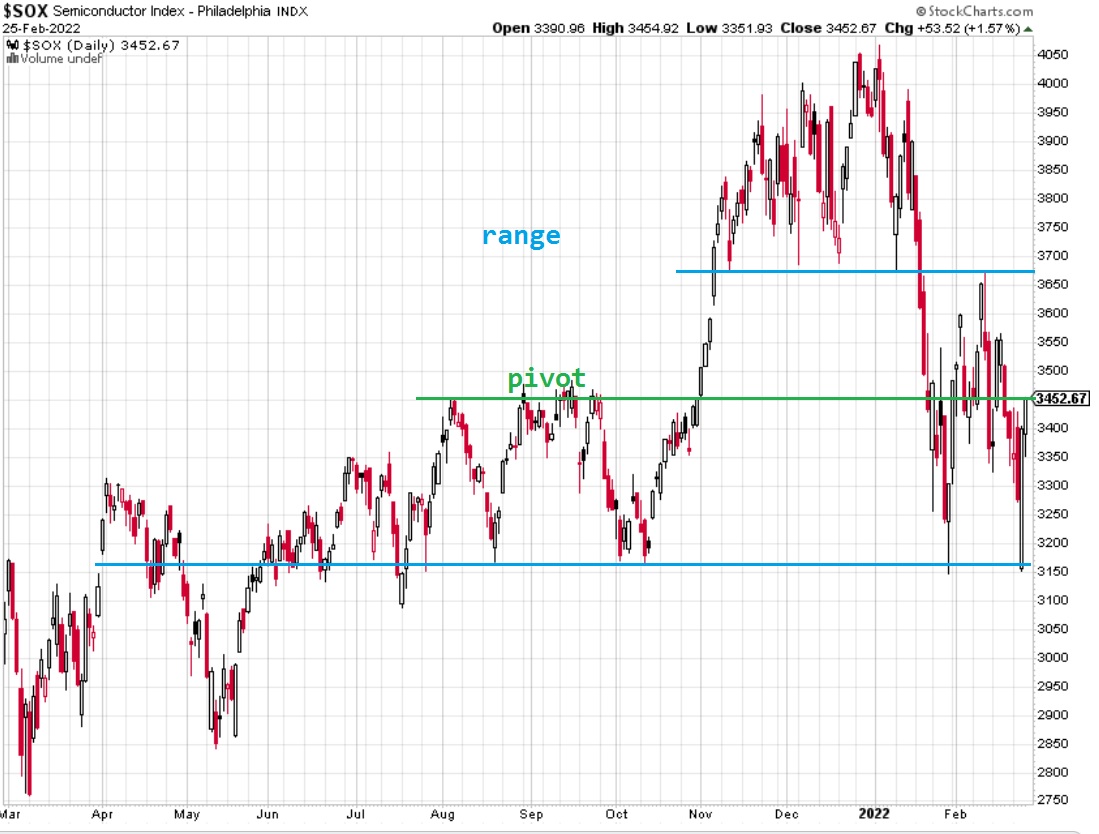 Ether had what now can be clearly observed as a discovery down phase. We cannot as clearly identify a range on this chart. There is an old support level, however, that may be converted into resistance. If this happens we could see a whole new set of discovery down rotations.
Worth keeping on the radar that there is greater potential downside risk for this chart than the other two.
However, if we see a strong thrust lower, it could set up a whole new discovery down phase.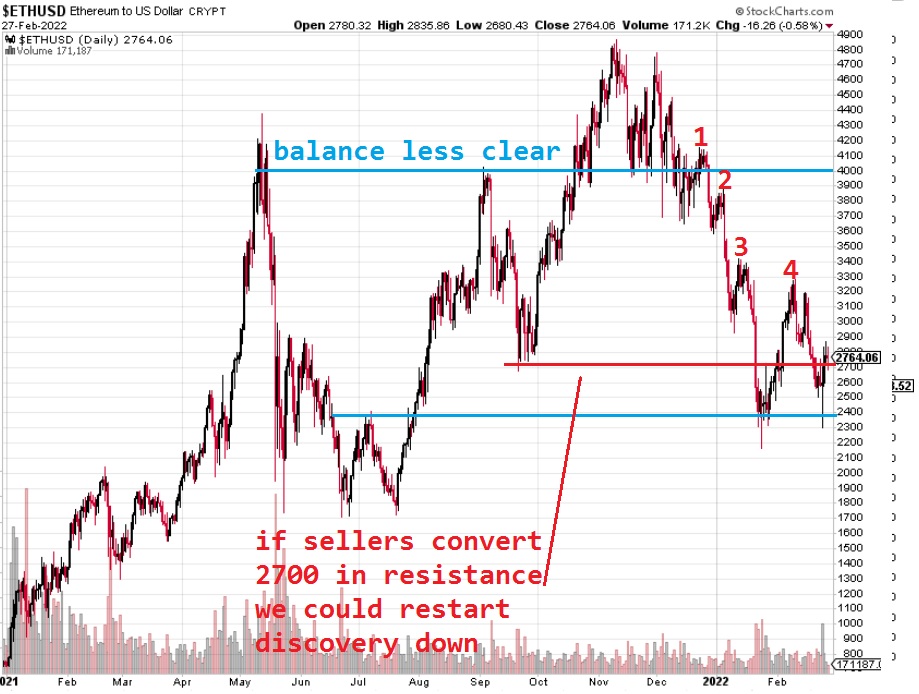 V. INDEX MODEL
Bias model is neutral for a third week. We were Bunker Buster five reports back. This is the second Bunker Buster in recent history, with the previous one being thirteen reports back. The Bunker Buster before these recent two was fifty-one weeks ago.
Neutral heading into next week. No bias.
Here is the current spread: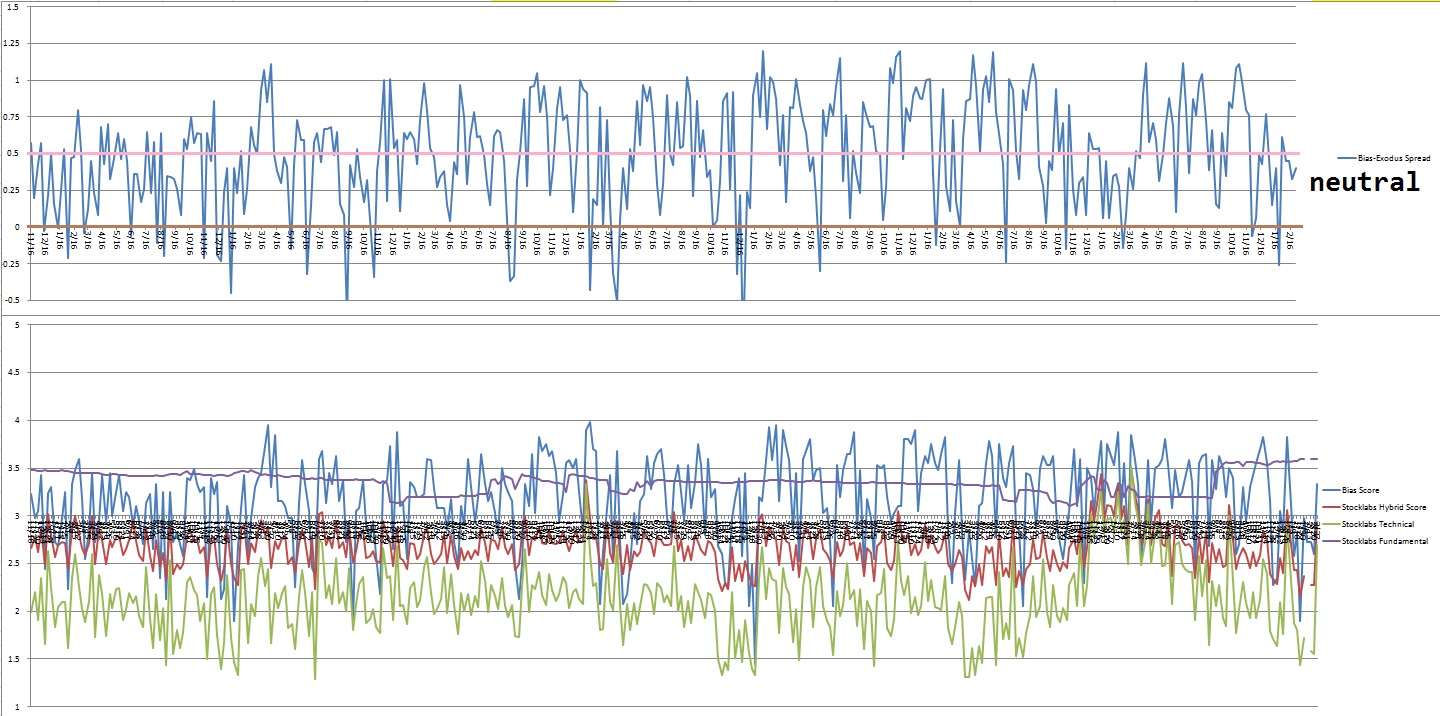 VI. 6- 12-month Hybrid Oversold
On Wednesday, February 23rd Stocklabs went hybrid oversold on the 6- and 12-month algo. This is a ten day bullish cycle that runs through Wednesday, March 9th, end-of-day. Here is the performance of each major index so far: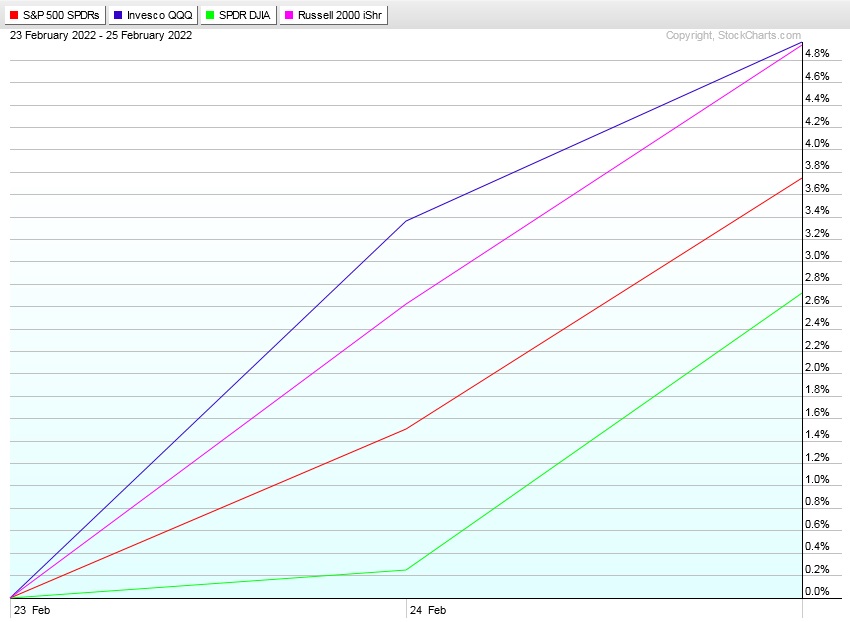 VII. QUOTE OF THE WEEK:
"The coming of the wireless era will make war impossible, because it will also make war ridiculous." – Guglielmo Marconi
Trade simple, stay connected
If you enjoy the content at iBankCoin, please follow us on Twitter