I haven't really worked yet in 2022. I've taken one futures trade and it worked out well but it went against all my rule to take it. The main issue here is my difficulty connecting on some quality cme data. Add to that the undertaking of a floor install for dear old elder raul, and well I haven't found time to work.
Doing flooring is not the best use of my time. If I never installed another floor after elder raul's that would be okay by me.
But who knows — these market conditions may have put me in a body bag. It is hard to say. Some traders love high volatility conditions. I've worked some well and others horrendously. I crush mellow, drifting markets. I just wait for a nice gap down inside the prior days range and I bid into it until it is filled. This trade liberated me from the world of corporate finance.
I do need to get back to work. This not making money thing is super lame. I've been on some legacy flex these last few years, toiling and building, because I expect this salty out vessel of mine to become less capable of doing this stuff soon. My brain keeps telling me to finish everything so I can live out my days sitting around in kick-ass huts writing stories and speculating on the fate of the global financial complex.
These reports keep me dialed into the action enough to manage my long-term holdings, but without my dang market profiles and morning reports I am useless on a short term basis.
I need to get the profiles back up and running.
Maybe not this week though. I have more toils ahead of me.
But perhaps March.
We don't know.
Raul Santos, February 21st, 2022
And now the 375th edition of Strategy Session.
---
Stocklabs Strategy Session: 02/21/22 – 02/25/22
I. Executive Summary
Raul's bias score 2.60, medium bear. Watch for elevated volatility to continue across the equity complex as markets attempt to price in geopolitical risk. There is potential for sellers to pressure the tape lower if recent balance zones break down (see Section IV).
II. RECAP OF THE ACTION
Stable through Tuesday then three days of heavy selling right into the weekend.
The last week performance of each major index is shown below: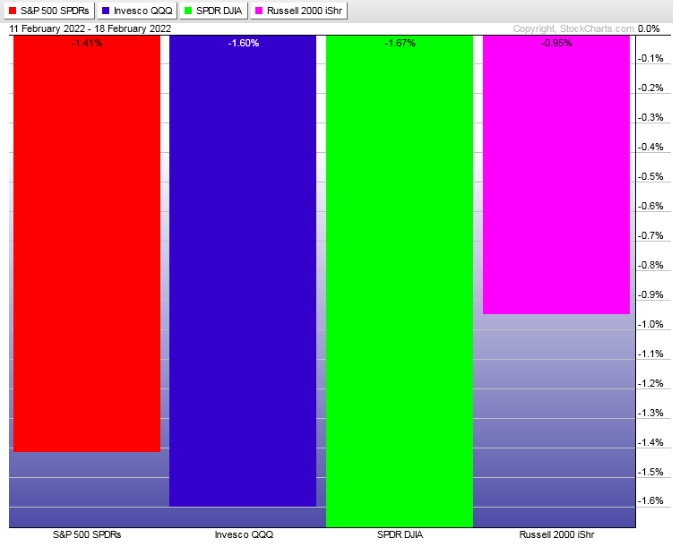 Rotational Report:
Broad rotation away from all sector groups except Staples.
bearish
For the week, the performance of each sector can be seen below: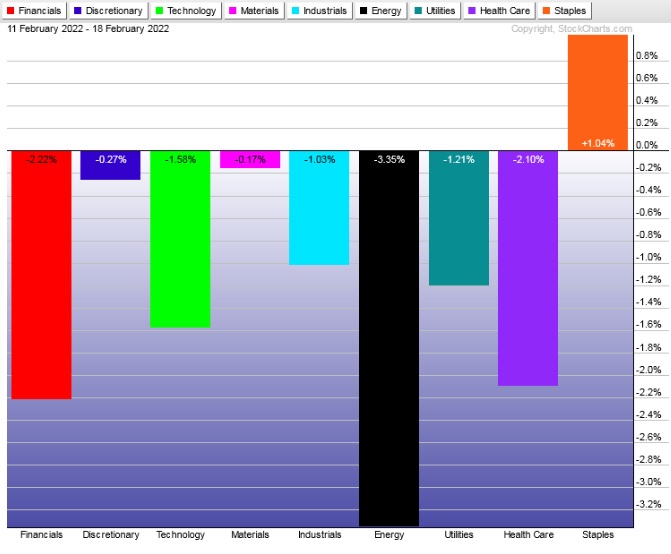 Concentrated Money Flows:
The selling skews over the last fourteen weeks have been dominated by sellers. The ledger skewed negatively again last week.
slightly bearish
Here are this week's results: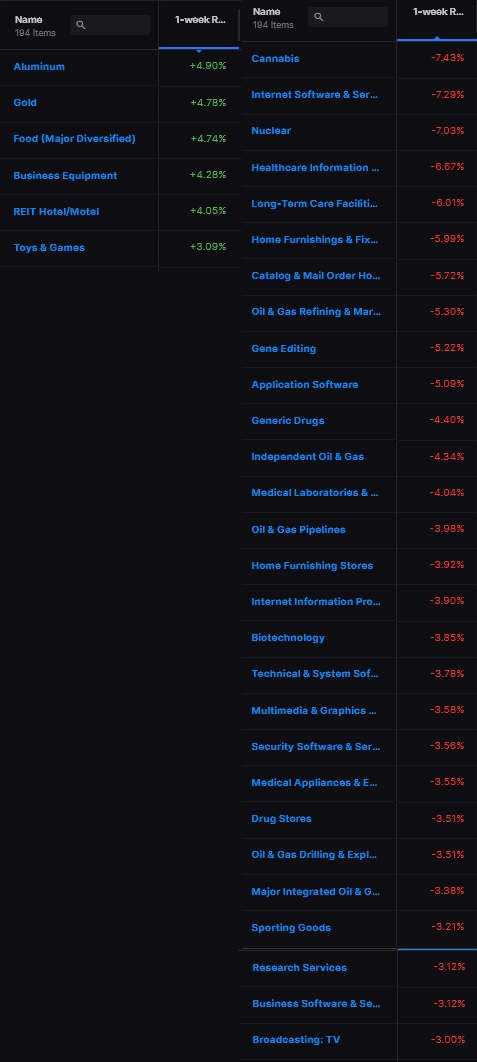 III. Stocklabs ACADEMY
Fitting a narrative to price action
As much as possible this report aims to objectively assess stock market conditions. It is extremely difficult to consistently profit from predicting the effect of something like a country being invaded or interest rate commentary. These types of factors reveal themselves in the behavior of price action. Therefore, if we consistently apply auction theory, we can navigate through these events. As of now we haven't had any identifiable news events we can specifically point to on the charts. Heading into the end of February we can likely gain clarity by ignoring the news flow.
Note: The next two sections are auction theory.
What is The Market Trying To Do?
Week ended searching for buyers
IV. THE WEEK AHEAD
What is The Market Likely To Do from Here?
Weekly forecast:
Watch for elevated volatility to continue across the equity complex as markets attempt to price in geopolitical risk. There is potential for sellers to pressure the tape lower if recent balance zones break down.
Bias Book:
Here are the bias trades and price levels for this week:

Here are last week's bias trade results:
Bias Book Performance [11/17/2014-Present]: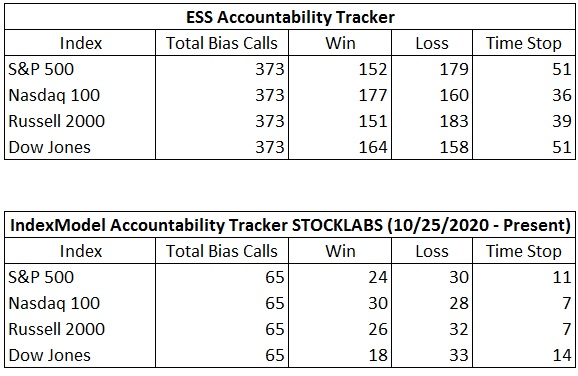 Visualizing downside targets
Markets fluctuate between two states—balance and discovery. Discovery is an explosive directional move and can last for months. In theory, the longer the compression leading up to a break in balance, the more order flow energy to push the discovery phase.
Market are most often in balance.
Every week this newsletter uses auction theory to monitor three instruments, the Nasdaq Transportation Index, PHLX Semiconductor Index and ethereum. Readers are encouraged to apply these techniques to all markets.
Transports may be settling into a balance. But this week we will be looking at potential targets to the downside on all three contextual charts. Primary expectation is for balance to hold, but if not we have some areas to target below.
See below: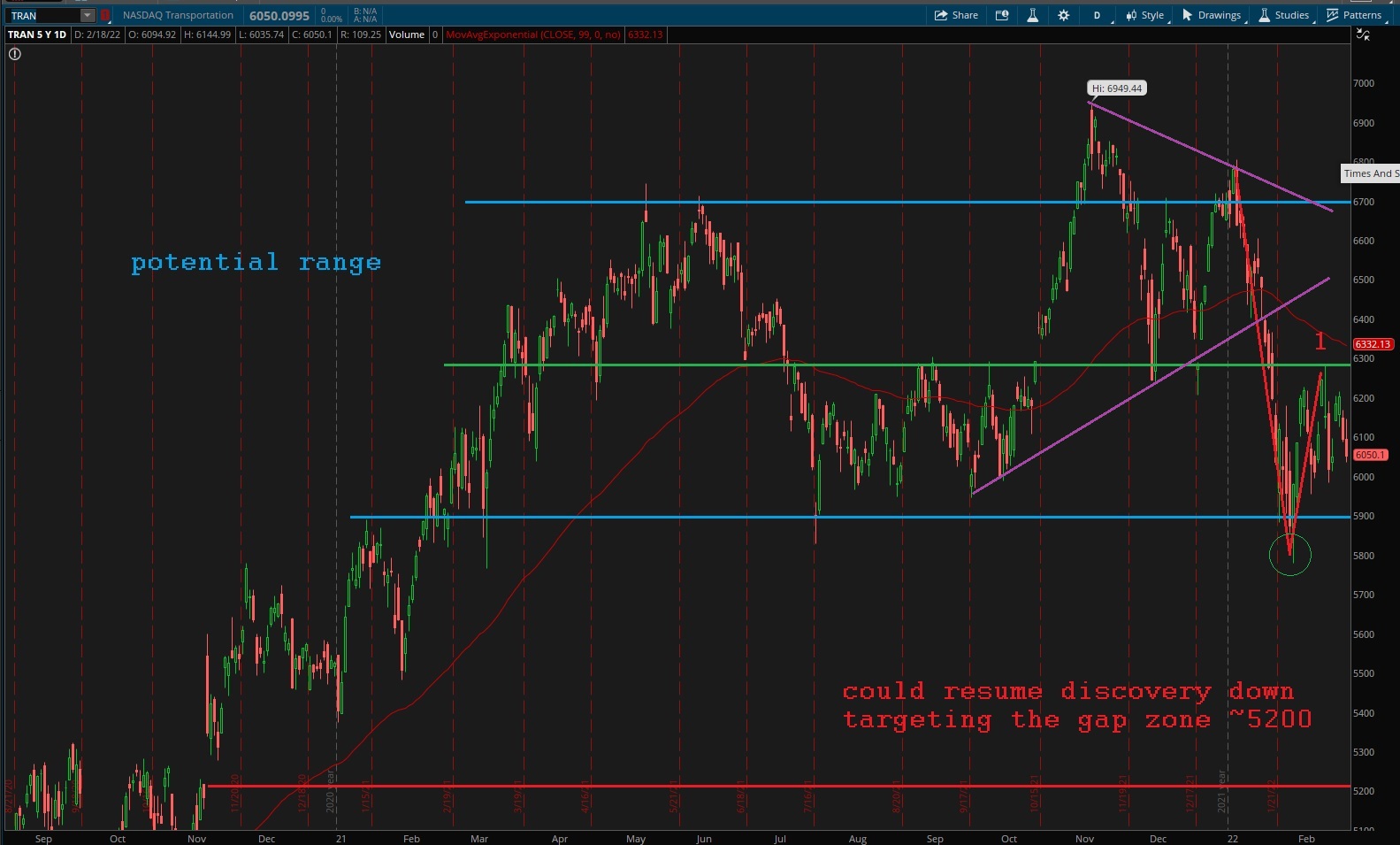 Semiconductors are the most important chart to be aware of during this correction. We have a failed auction above and below and a bias pivot is revealing itself. Should we see a second thrust in the discovery down, the gap zone left behind last May is likely to be tested.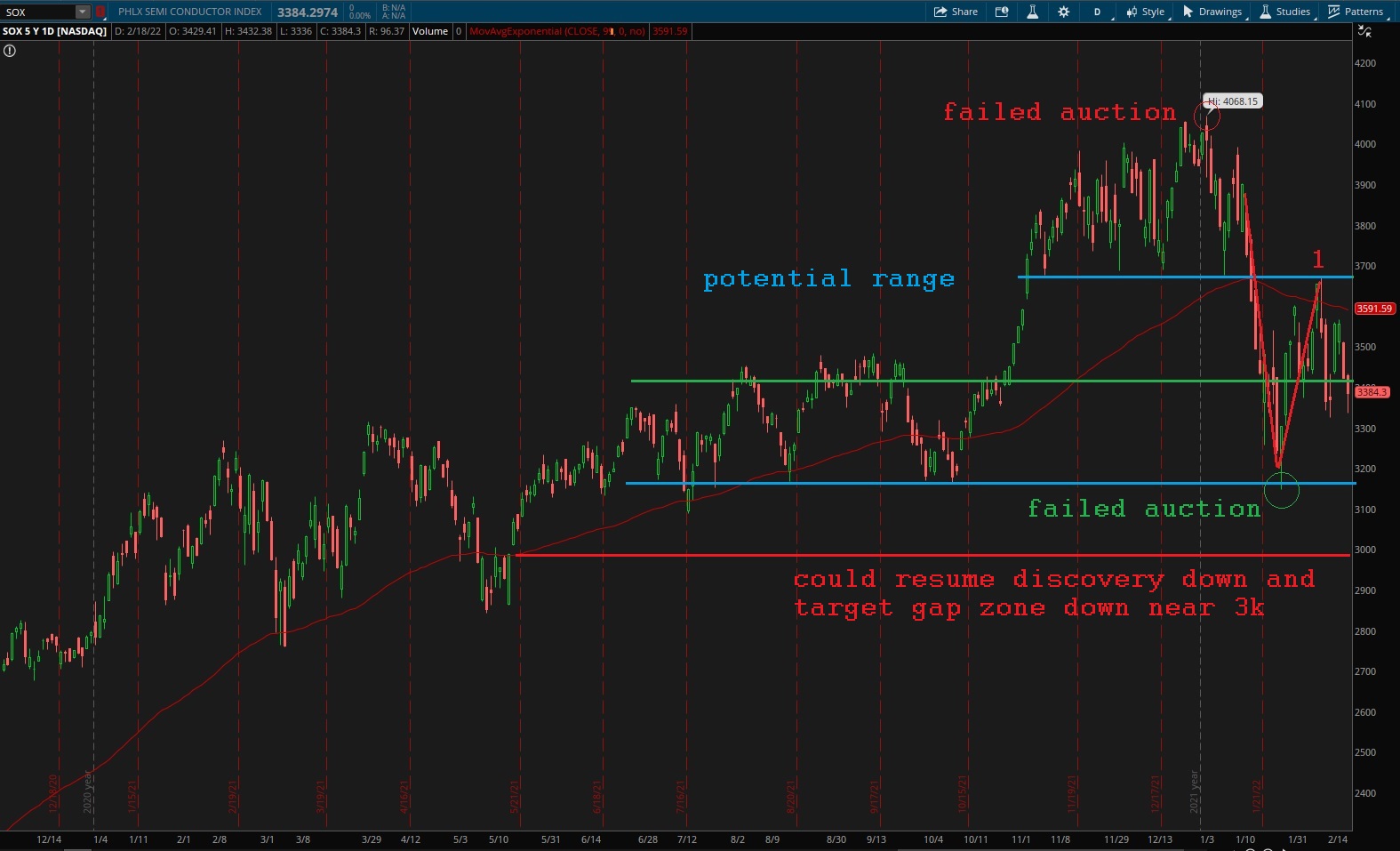 Ether seems further along in the discovery down process than the other two indices. We can see the most recent pullback in the discovery down was closer to the prior rip high. This down phase is becoming more and more likely to trap short sellers.
However, if we see a strong thrust lower, it could set up a whole new discovery down phase.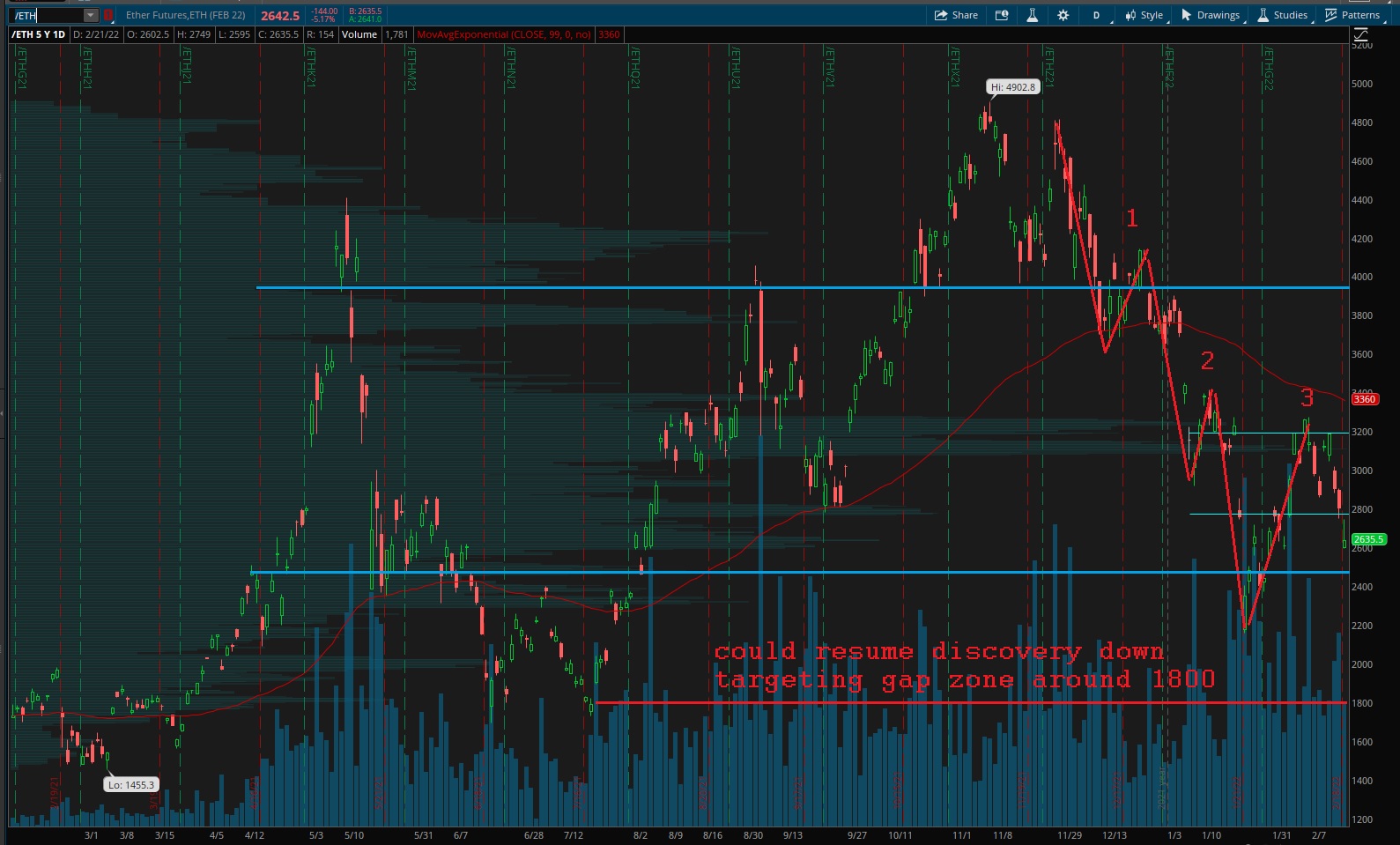 V. INDEX MODEL
Bias model is neutral for a second week. We were Bunker Buster four reports back. This is the second Bunker Buster in recent history, with the previous one being twelve reports back. The Bunker Buster before these recent two was fifty weeks ago.
Neutral heading into next week. No bias.
Here is the current spread: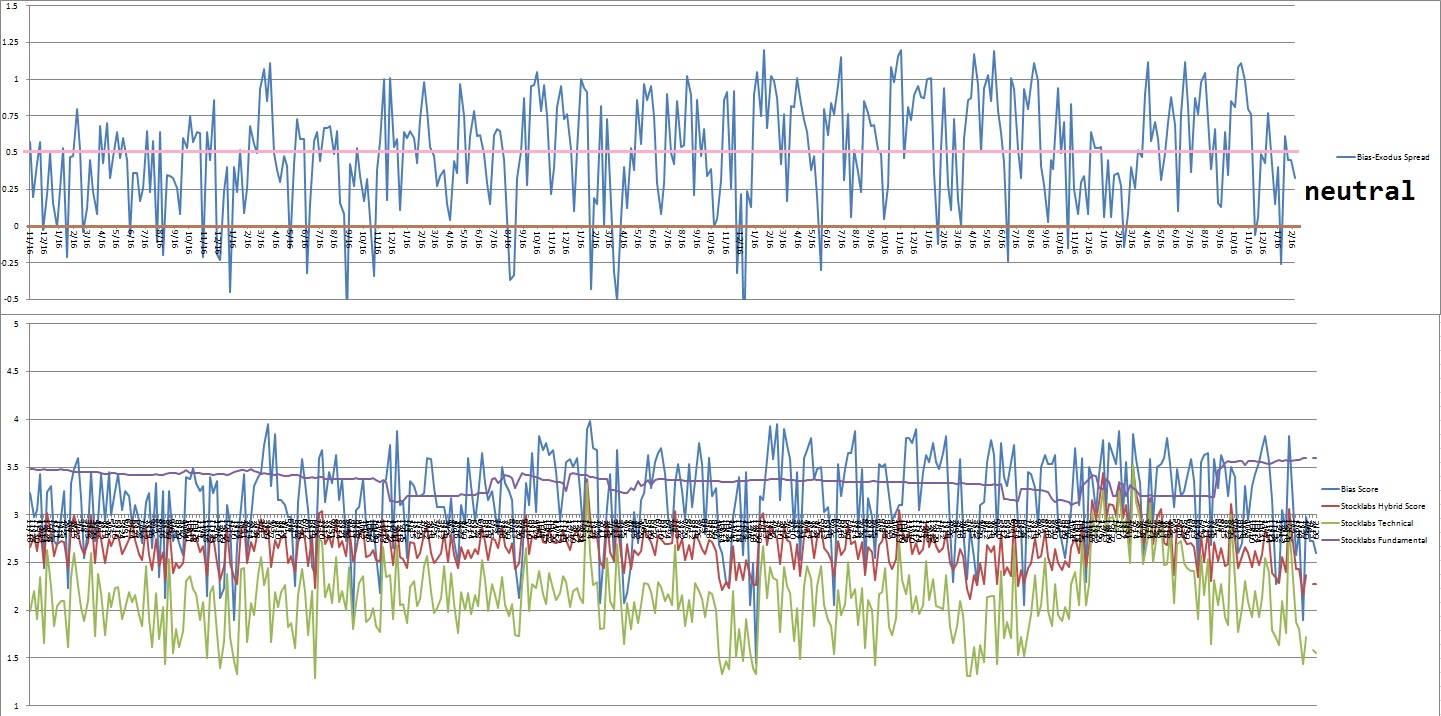 VI. 6 month Hybrid Overbought
On Tuesday, February 1st Stocklabs went hybrid overbought on the 6-month algo. This is a ten day bullish cycle that runs through Tuesday, February 15th, end-of-day. Here is the performance of each major index so far: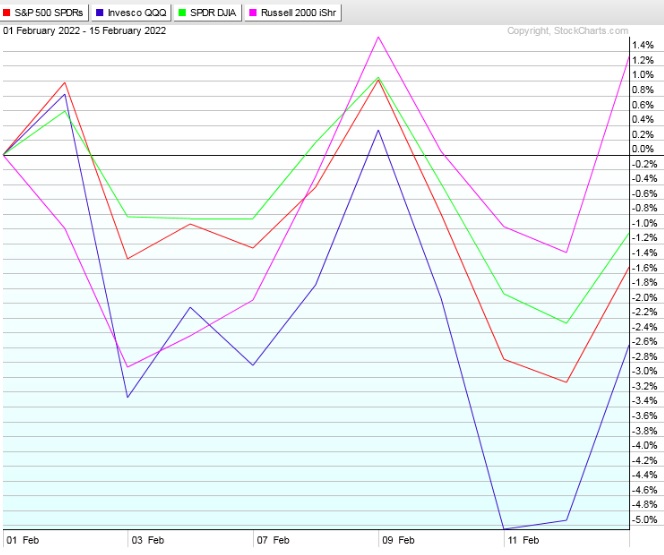 VII. QUOTE OF THE WEEK:
"To know what you like is the beginning of wisdom and of old age." – Robert Louis Stevenson
Trade simple, clarify intentions
If you enjoy the content at iBankCoin, please follow us on Twitter