This game really is beautiful, isn't it? And for the most part we've convinced everyone to play it. Even those red commies committed to putting down the sword and picking up the computer and going to work, toiling, in industry and game. We're all here, clicking buttons and pulling various levers in economic combat, essentially with the only violence being the taking of moneys from one another.
The lines on the map are fading. Nation-states, a popular ethos taken up after the fall of the Holy Roman Empire in the mid-1500s, is finally on its way out. Took hecking long enough but here we are.
I don't care how many crowds full of high-school dropouts pile into the NASEDCAR gaming tracks and chant vugarities, there is no more risk of a revolution.
This drives the jaded liberal nuts. Their faces, constantly kept pushed into the latest news cycle to the point of suffocation, their so hecking on edge that when I tell them nothing matters they go bananas.
But the fact is nothing matters. We've come to far. Western civilization has won. The fairy tails that kept communities under control for many hundreds of years are being clearly seen for what they are. Too many people have the internet. And books and games and documentaries and trivia games, all in the native tounge. And with enough presentation of facts they all come to the same conclusion that it's all a silly power game.
And the rules have shifted. Now it is all about who has the most nimble warchest and who has the ignition keys to the internet cannons?
Numbers on screen flutter around and fortunes are made and lost. The big ponzi keeps on ticking.
The key is to gain a sense of who is currently competing and whether they have the resources to out gun a little squirrel on their home computer with a few 100k in their armory.
Remember, a crocodile can go a decade without feeding. I reference this often. They just sit there, in a puddle of mud waiting for the big meal to stumble down in and then WHACK! They strike and feed and gorge with the speed an tenacity of an apex predator.
In speculation I am the crocodile. That is why I couldn't buy into those bored apes. They didn't fit my ethos. But I knew I needed to feed on the NFTs. There was no reason to look down my nose at that big dinner.
Penguins were close enough. I love the winter and FISH MEAT. So I am a penguin now, while I wait for my rabbit virtual reality hedonist layer to be built. Then when we go 3-d I will be a wiry rabbit who loves a to disco dance and have sex with bunnies.
Okay see I wrote too long and now it has gotten weird.
Trading will be limited this week. I am back to lifting weights again, but I have to go at 7am before all the spittle blowing buffoons show up and stink up the whole place like leaky shit ass.
Ho ho ho.
Raul Santos, December 26th 2021
And now the 370th edition of Strategy Session. Enjoy.
---
Stocklabs Strategy Session: 12/27/21 – 12/31/21
I. Executive Summary
Raul's bias score 3.83, medium bull*. Price drifts sideways throughout the final week of the year, perhaps with a slight upward bias.
*extreme Rose Colored Sunglasses (e[RCS]) bullish bias triggered, see Section IV.
II. RECAP OF THE ACTION
Gap down Monday and test of last week's low. The auction stalled and turned higher and we rallied for the rest of the holiday-shortened week.
The last week performance of each major index is shown below: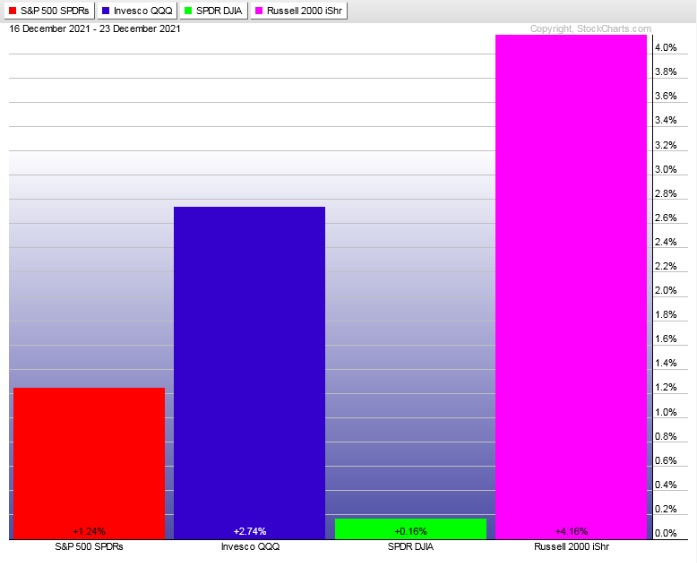 Rotational Report:
Just the most ideal rotations for bulls, especially after seeing Discretionary and Tech come under heavy pressure two weeks back. Utilities, Staples and Financial rotated away from—suggesting risk appetite was elevated throughout last week's rally.
bullish
For the week, the performance of each sector can be seen below: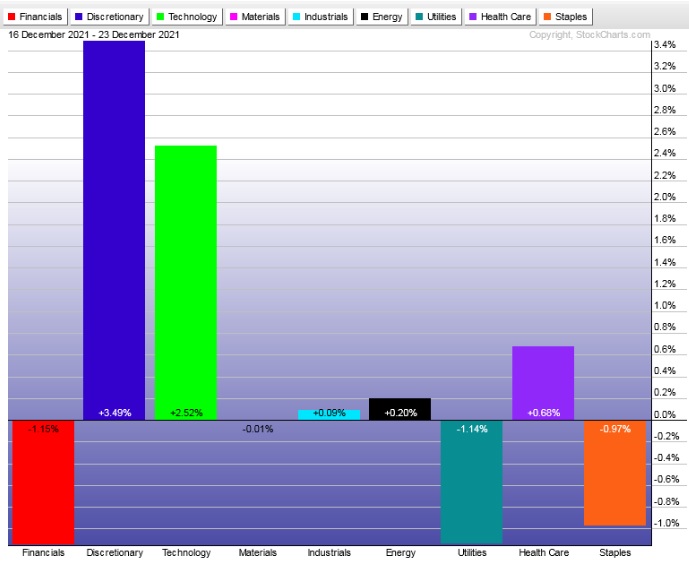 Concentrated Money Flows:
The bullish skew seventeen weeks back was negated six weeks ago. Then we had three consecutive weeks of heavy sell flows, where four weeks back was the most extreme we've seen yet.
Two weeks back we had another may selling skew (ledger dominated by sellers).
Last week the ledger did skew to the positive side, but not to a magnitude high enough to cancel out the heavy selling skews of recent past. Also the positive side of the ledger was populated by less-than-idea industry groups.
slightly bearish
Here are this week's results:

III. Stocklabs ACADEMY
Clean year end
On the last report we leaned on the 11/28 bunker buster as our swing low. Our theses was tested last Monday and prevailed. While the low was taken out slightly, the auction immediately reversed higher. Thus forming a quality-looking low.
Now we have this final week of 2021. I suspect some active market participants are taking the entire week off. But there algorithms or apprentices are surely manning the proverbial work stations to ensure the markets behave.
Barring some unexpected geopolitical event, with all the context we have the expectation is for a drift into year-end. If we push far in either direction early in the week, I will be on the lookout for a trend reversal back to the mean (weekly unchanged).
That said, I see no need to fade a strong rally early in the week (or even to sell down any positions). But I may not buy additional risk should we rally early in the week.
Note: The next two sections are auction theory.
What is The Market Trying To Do?
Week ended searching for sellers
IV. THE WEEK AHEAD
What is The Market Likely To Do from Here?
Weekly forecast:
Price drifts sideways throughout the final week of the year, perhaps with a slight upward bias.
Bias Book:
Here are the bias trades and price levels for this week:
Here are last week's bias trade results:
Bias Book Performance [11/17/2014-Present]:
Lows rejected // finding balance
Markets fluctuate between two states—balance and discovery. Discovery is an explosive directional move and can last for months. In theory, the longer the compression leading up to a break in balance, the more order flow energy to push the discovery phase.
Market are most often in balance.
Every week this newsletter uses auction theory to monitor three instruments, the Nasdaq Transportation Index and the PHLX Semiconductor Index. Readers are encouraged to apply these techniques to all markets.
Transports have us monitoring a compression. The short-term discovery down we called for last week came to an end last Monday when this key contextual index printed a failed auction. A three day rally followed. Now it appears we have indeed made a higher-low in an intermediate term discovery up phase. The short-term auction is in balance/compression.
See below: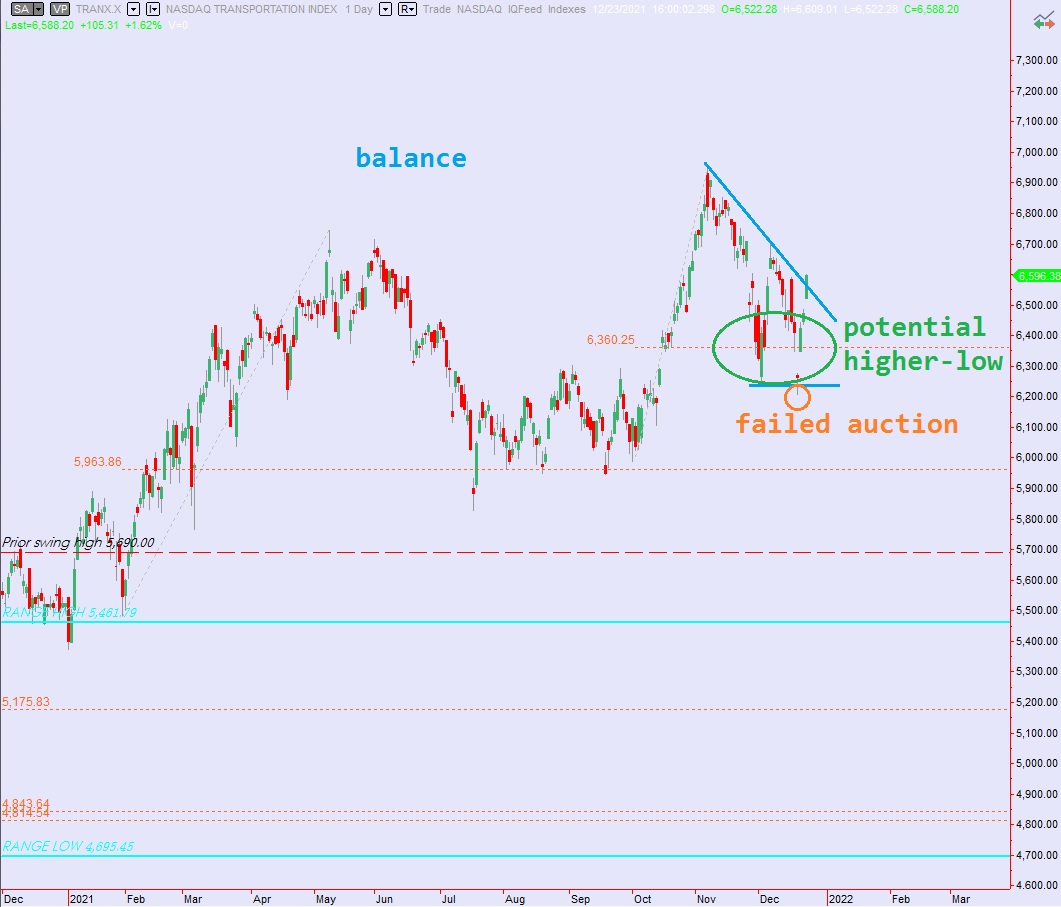 Semiconductors held the low-end of range and still appear to be in balance.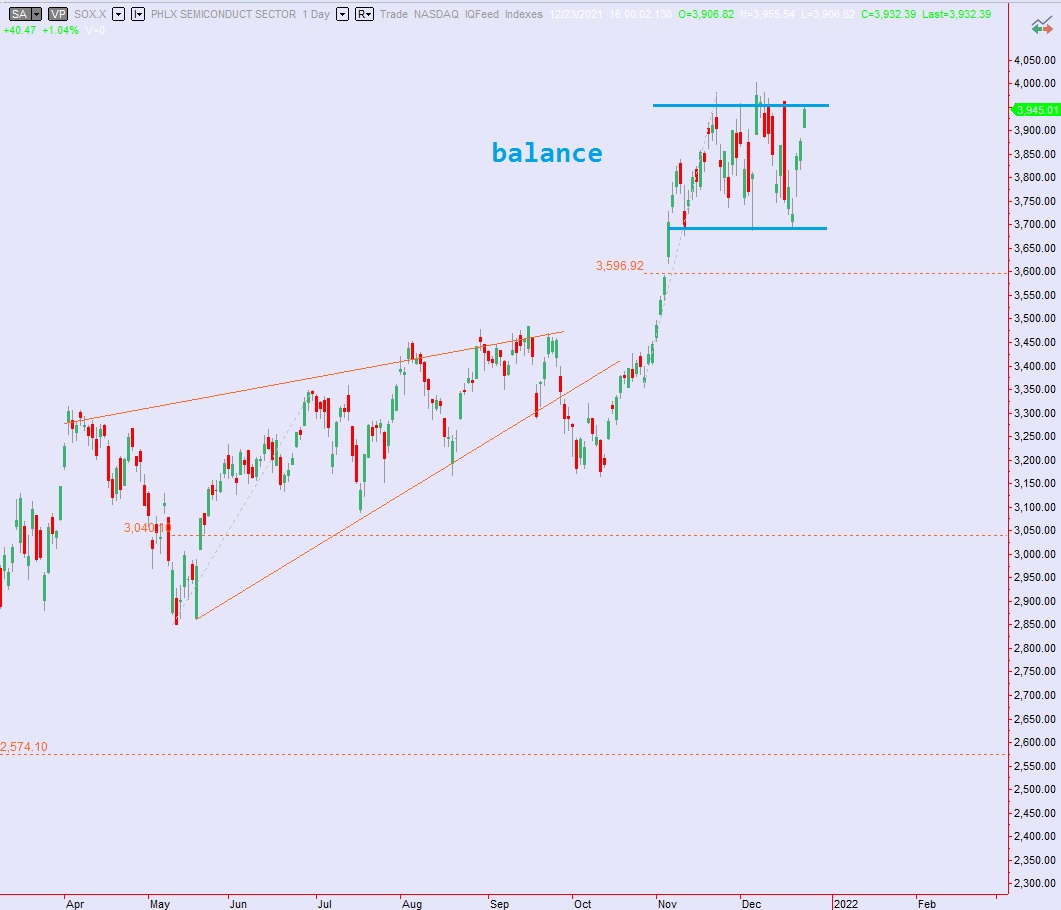 Ether will be monitored going forward as a third contextual component. The ethereum network currently has a market cap just under $500B. The PHLX is about $3.5T. Therefore while we analyze ether alongside semiconductors, we ought to give more contextual weight to semiconductors than ethereum.
Ethereum could still be in discovery down. The $4,000 millennial mark appears to behave as a pivot between discovery down and balance. All that stated, the call heading into next week is for balance.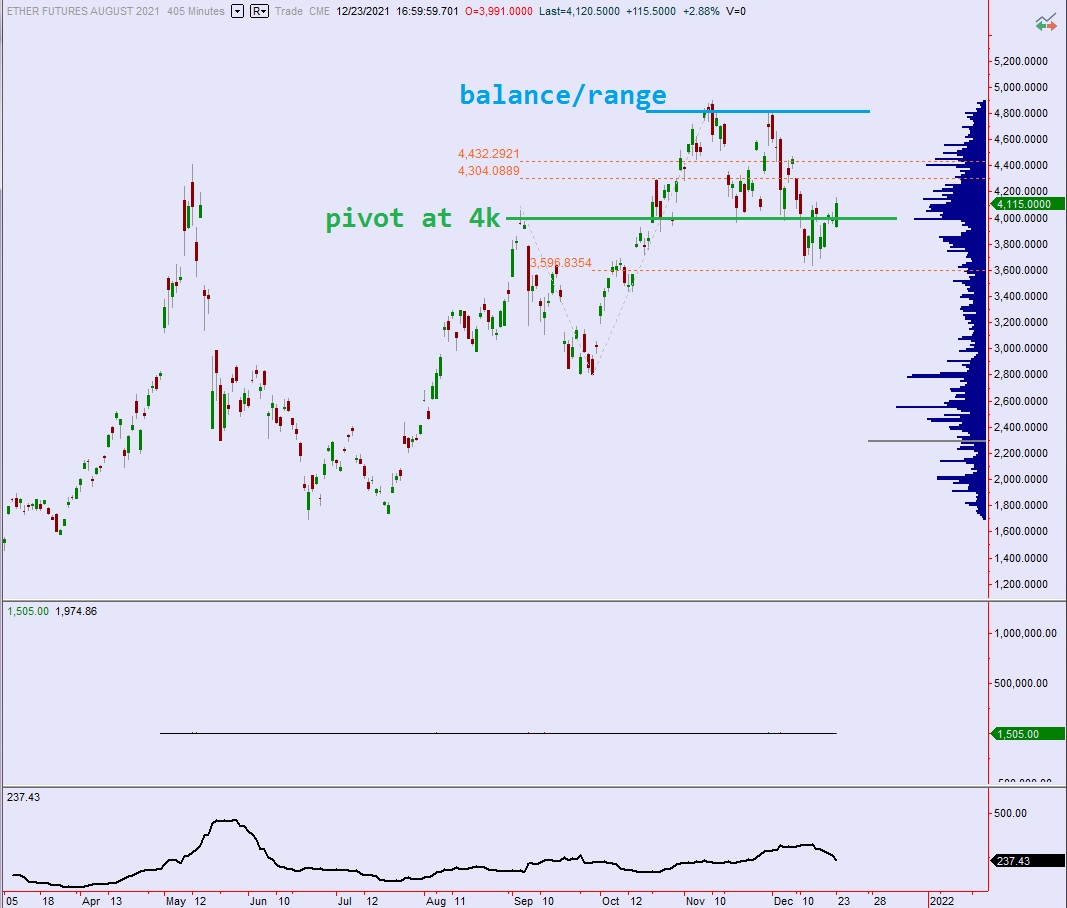 V. INDEX MODEL
Bias model is signaling extreme Rose Colored Sunglasses (e[RCS]) bullish bias after being neutral for three weeks. Before those neutral prints we had a Bunker Buster signal four reports back. The Bunker Buster before the most recent one was forty three weeks ago.
Heading into the final week of 2021 Index model is calling for a calm-sideways drift perhaps with a slight upward bias.
Here is the current spread: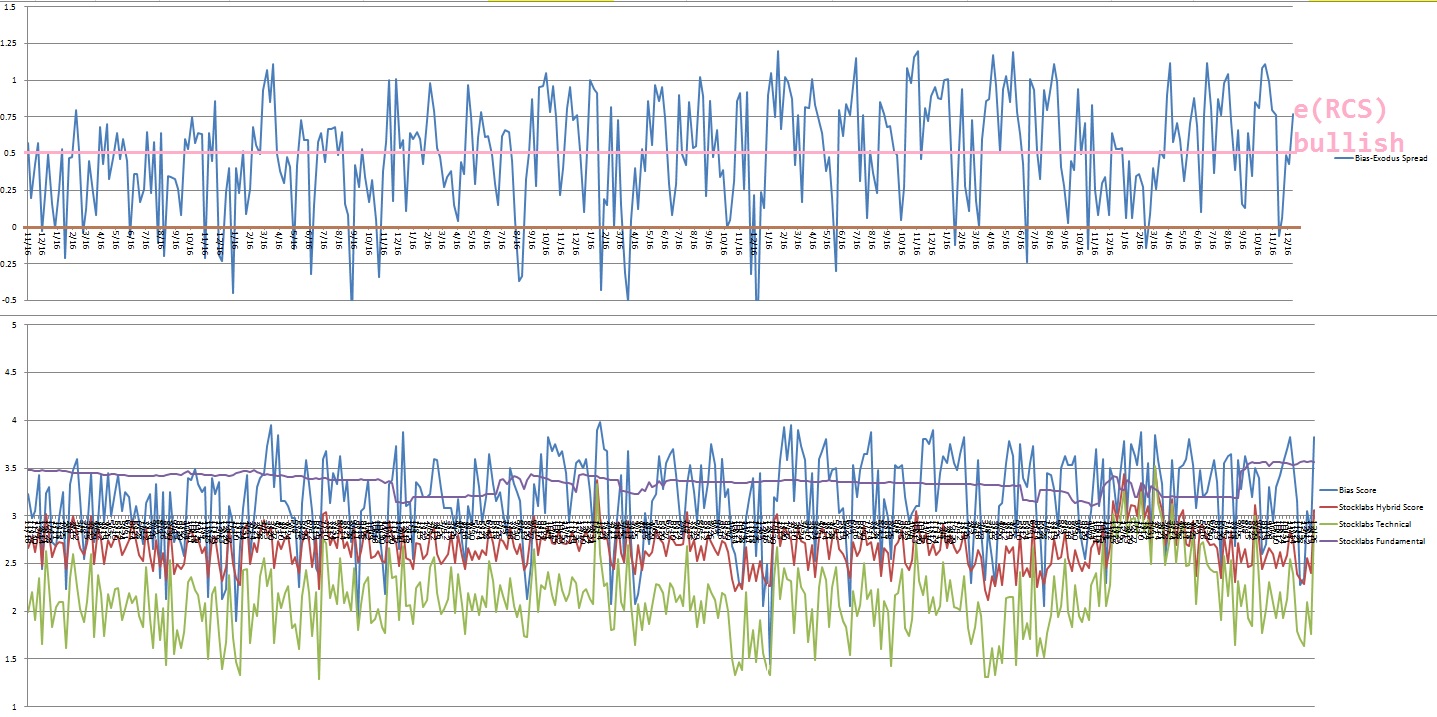 VI. 3 month Hybrid Overbought
On Wednesday, December 8th Stocklabs went hybrid overbought on the 3-month algo. This is a bullish cycle that ends Wednesday, December 22nd end of day. Here is the final performance of each major index: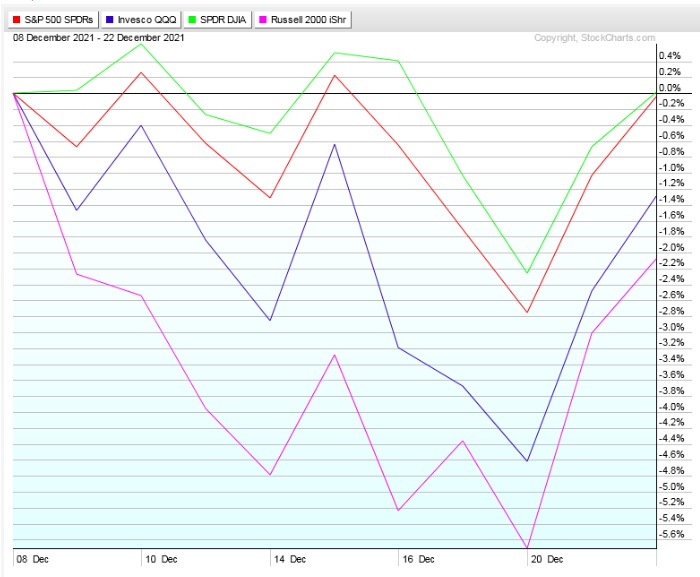 VII. *new* 3 month Hybrid Overbought
On Wednesday, December 22nd Stocklabs went hybrid overbought on the 3-month algo. This happened right as the prior signal ended, thus generating a fresh 10-day cycle. This is a bullish cycle that ends Thusday, January 6th end-of-day. Here is the performance of each major index so far: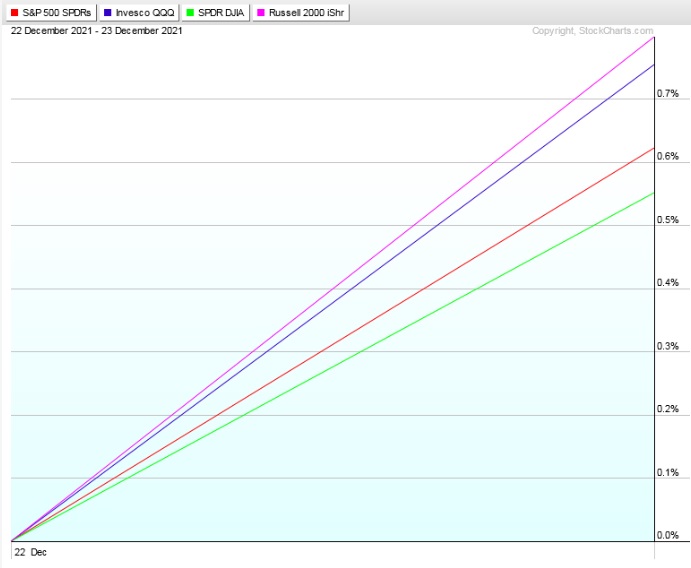 VIII. QUOTE OF THE WEEK:
"In this formative period, the soul is unsoiled by the warfare with the world. It lies, like a block of pure, uncut Parian marble, ready to be fashioned into—what?" – Orison Swett Marden
Trade simple, step away and refresh the mind as needed
If you enjoy the content at iBankCoin, please follow us on Twitter